Sumo wrestlers from a stable in Adachi Ward were among those who rescued a woman after she plunged into a nearby river on Wednesday in an apparent suicide attempt, police said, reports TV Asahi (June 11).
At just past 5:30 a.m., a man sought help after seeing the woman, aged in her 30s, plunge about 3 meters from a bridge and into the water.
Wrestlers from the Sakaigawa-beya stable were among the roughly 20 persons who arrived at the scene and pulled the woman from the water.
The woman was transported to a hospital where her condition is not considered life-threatening, the Takenotsuka Police Station said.
The station is planning to give a letter of commendation to the wrestlers and the other persons who assisted the woman.
東京・足立区で橋から川に飛び降りた30代の女性を近くの相撲部屋の力士たち約20人が救助していたことが分かりました。  警視庁などによりますと、10日午前5時半すぎ、足立区内の橋から30代の女性が3メートル下の川に飛び込みました。自殺を図ったとみられます。通り掛かった男性が大声で助けを求め、それに気付いた現場近くの大相撲境川部屋の力士たち約20人が駆け付け、女性を川から引き上げたということです。女性は病院に運ばれ、命に別状はありません。警視庁竹の塚署は境川部屋や助けを求めた男性に対して感謝状を贈ることを検討しています。
Jul 13
The new coronavirus infection count has been rising across the nation with more than 200 cases reported in Tokyo on Sunday.
(NHK)
Jul 13
More heavy rain is expected in eastern and western Japan through Tuesday. Meteorological Agency officials say people should remain on alert for landslides and flooding.
(NHK)
Jul 13
A national facility devoted to the indigenous Ainu people and their culture opens on Sunday in their ancestral region of Hokkaido in northern Japan.
(NHK)
Jul 12
Two U.S. Marine bases in Okinawa have been put on lockdown by the military with 61 coronavirus cases confirmed this week, the prefectural government said Saturday.
(Kyodo)
Jul 12
Scientists have been studying the coronavirus around the clock since it first emerged, but much about the virus still remains a mystery. Recently, reports have emerged of former patients suffering symptoms such as fever and shortness of breath long after testing negative. Doctors and researchers are now studying these lingering effects.
(NHK)
Jul 12
With the midsummer heat still not quite here, Tokyo Disneyland and Disney Sea call off Christmas and all other seasonal celebrations.
(soranews24.com)
Jul 12
NHK has learned that the Japanese government plans to allow foreign nationals with certain residency statuses, including students and technical trainees, to re-enter the country despite a ban imposed due to the coronavirus pandemic.
(NHK)
Jul 11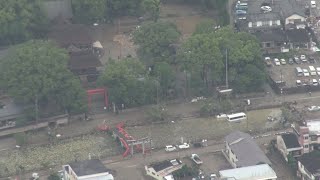 People in many parts of Japan are preparing for a wet and possibly dangerous weekend as weather officials warn of more heavy rain. The extreme weather has left more than 60 people dead and over a dozen missing over the past week.
(NHK)
Jul 11
Officials in Tokyo are dealing with a jump in coronavirus infections. The number of new cases has now topped 200 for two days in a row. It's the first time that's happened since the start of the pandemic.
(NHK)
Jul 11
Japan will begin a subsidy campaign on July 22 to boost domestic tourism hit by the coronavirus, the tourism minister said, although concerns remain over a resurgence of infections.
(Japan Today)
---