Microsoft has helped the Japanese government create a contact-tracing app that officials hope will prevent a second wave of coronavirus infections, following more than monthlong delay in Tokyo's decision-making on the policy.
The plan is to have the software available for download as soon as this week, once Apple and Google sign off, Nikkei has learned.
The app was originally supposed to debut in early May, but the government's selection process dragged on longer than expected, even as people in urban areas began congregating again after a state of emergency was lifted.
"We wanted to introduce the app when the sense of urgency was high among the public, but we did not make it in time," a government source involved in the discussions said.
The app will use Bluetooth wireless communication to collect contact data when users come within 1 meter of each other for at least 15 minutes. If a person tests positive for the novel coronavirus, the app searches through two weeks' worth of data and informs the people who were in contact with the patient.
The Japanese government in May decided to hire a team of developers from Microsoft to create the app based on core technology developed by Apple and Google. The government had originally planned to commission Code for Japan, a Tokyo-based organization, to lead the development project. But shortly thereafter, Apple and Google imposed a host of conditions on using their software.
One stipulation limited the software only to public health agencies. These conditions dealt a setback to the government's plans, which which were led by Cabinet Secretariat.
Oversight of the app was then transferred to the Ministry of Health, Labor and Welfare. From there, the consensus began to favor a major tech company as a more reliable development partner. Code for Japan was taken off the project, putting roughly a month's worth of work to waste.
During the time taken to select an alternate developer, more than 40 countries rolled out their own contact-tracing apps.
Although Japan's app will be available soon, persuading enough people to use it presents another challenge. Such tools need to reach 60% penetration to be effective, according to a University of Oxford estimate.
That would mean the app would need to achieve as many downloads as the popular chat app Line. Even in Singapore and Iceland -- two early adopters of contact-tracing apps -- usage stands at 40% or less.
Jul 13
The new coronavirus infection count has been rising across the nation with more than 200 cases reported in Tokyo on Sunday.
(NHK)
Jul 13
More heavy rain is expected in eastern and western Japan through Tuesday. Meteorological Agency officials say people should remain on alert for landslides and flooding.
(NHK)
Jul 13
A national facility devoted to the indigenous Ainu people and their culture opens on Sunday in their ancestral region of Hokkaido in northern Japan.
(NHK)
Jul 12
Two U.S. Marine bases in Okinawa have been put on lockdown by the military with 61 coronavirus cases confirmed this week, the prefectural government said Saturday.
(Kyodo)
Jul 12
Scientists have been studying the coronavirus around the clock since it first emerged, but much about the virus still remains a mystery. Recently, reports have emerged of former patients suffering symptoms such as fever and shortness of breath long after testing negative. Doctors and researchers are now studying these lingering effects.
(NHK)
Jul 12
With the midsummer heat still not quite here, Tokyo Disneyland and Disney Sea call off Christmas and all other seasonal celebrations.
(soranews24.com)
Jul 12
NHK has learned that the Japanese government plans to allow foreign nationals with certain residency statuses, including students and technical trainees, to re-enter the country despite a ban imposed due to the coronavirus pandemic.
(NHK)
Jul 11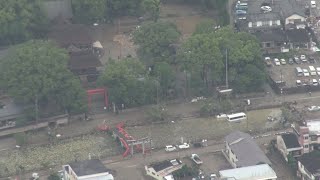 People in many parts of Japan are preparing for a wet and possibly dangerous weekend as weather officials warn of more heavy rain. The extreme weather has left more than 60 people dead and over a dozen missing over the past week.
(NHK)
Jul 11
Officials in Tokyo are dealing with a jump in coronavirus infections. The number of new cases has now topped 200 for two days in a row. It's the first time that's happened since the start of the pandemic.
(NHK)
Jul 11
Japan will begin a subsidy campaign on July 22 to boost domestic tourism hit by the coronavirus, the tourism minister said, although concerns remain over a resurgence of infections.
(Japan Today)
---