Testing by Japan's health ministry suggests that 0.1 percent of people in Tokyo have developed coronavirus antibodies.
The ministry tested 7,950 people aged 20 or older from June 1 to 7 and analyzed their blood samples for the presence of certain proteins that indicate a past infection.
The people were chosen randomly in Tokyo, Osaka and Miyagi prefectures.
The ministry announced on Tuesday that antibodies were indicated in 0.1 percent of people tested in Tokyo, 0.17 percent in Osaka, and 0.03 percent in Miyagi.
As of the end of May, the percentage of people who tested positive with coronavirus was 0.038 in Tokyo, 0.02 in Osaka and 0.004 in Miyagi.
The percentage of people who had antibodies was higher than these figures. But ministry officials say the data shows that most of the population in Japan does not have coronavirus antibodies.
The officials say they do not know how long the antibodies remain in the human body and whether they can prevent a second infection.
16日に東京都が新たに確認した新型コロナウイルスの感染者は27人で、『東京アラート』が解除された11日から6日連続で20人以上の日が続いています。このうち接待を伴う飲食店の従業員や客は10人で、全体の4割近くにあたります。 こうしたなか、国が、感染歴があるかを調べる抗体検査の結果が判明しました。今月初めに東京都、大阪府、宮城県で約8000人を対象に行われ、感染歴があり抗体を持っている人の割合は、東京では0.1%、大阪では0.17%、宮城では0.03%でした。これに、それぞれ人口をかけると、単純計算で、東京は約1万4000人、大阪は約1万5000人、宮城では700人ほどが感染した可能性があるということになります。5月末の時点で確認された累積感染者数は、東京で約5200人、大坂では約1800人、宮城では90人ほどで、抗体検査の結果から推計される数とは大きな開きがあり、感染している人が大勢いることが考えられます。
Jul 13
The new coronavirus infection count has been rising across the nation with more than 200 cases reported in Tokyo on Sunday.
(NHK)
Jul 13
More heavy rain is expected in eastern and western Japan through Tuesday. Meteorological Agency officials say people should remain on alert for landslides and flooding.
(NHK)
Jul 13
A national facility devoted to the indigenous Ainu people and their culture opens on Sunday in their ancestral region of Hokkaido in northern Japan.
(NHK)
Jul 12
Two U.S. Marine bases in Okinawa have been put on lockdown by the military with 61 coronavirus cases confirmed this week, the prefectural government said Saturday.
(Kyodo)
Jul 12
Scientists have been studying the coronavirus around the clock since it first emerged, but much about the virus still remains a mystery. Recently, reports have emerged of former patients suffering symptoms such as fever and shortness of breath long after testing negative. Doctors and researchers are now studying these lingering effects.
(NHK)
Jul 12
With the midsummer heat still not quite here, Tokyo Disneyland and Disney Sea call off Christmas and all other seasonal celebrations.
(soranews24.com)
Jul 12
NHK has learned that the Japanese government plans to allow foreign nationals with certain residency statuses, including students and technical trainees, to re-enter the country despite a ban imposed due to the coronavirus pandemic.
(NHK)
Jul 11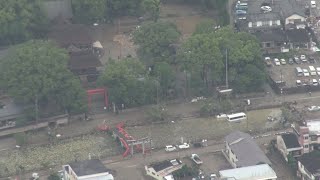 People in many parts of Japan are preparing for a wet and possibly dangerous weekend as weather officials warn of more heavy rain. The extreme weather has left more than 60 people dead and over a dozen missing over the past week.
(NHK)
Jul 11
Officials in Tokyo are dealing with a jump in coronavirus infections. The number of new cases has now topped 200 for two days in a row. It's the first time that's happened since the start of the pandemic.
(NHK)
Jul 11
Japan will begin a subsidy campaign on July 22 to boost domestic tourism hit by the coronavirus, the tourism minister said, although concerns remain over a resurgence of infections.
(Japan Today)
---