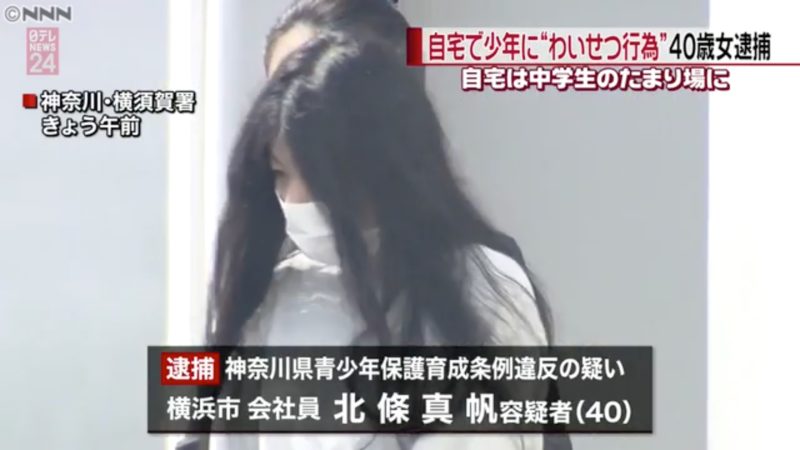 A married woman living in Yokohama City has acknowledged engaging in sex with a middle school boy at her residence, police said last week, reports Nippon News Network (June 17).
"We had sex at my house," Maho Hojo, a company employee, told police upon her arrest on suspicion of violating a prefectural ordinance regarding the healthy upbringing of youths on June 16.
According to police, Hojo engaged in acts deemed obscene with the boy, 14, at her residence in Yokohama City's Minami Ward at around 7:30 a.m. on June 14.
However, police added that Hojo's relationship with the boy dates back to last year. "There were no romantic feelings," Hojo also told police.
Hojo is married with three children. The matter emerged after the boy's mother realized that he was in contact with Hojo via the smartphone app Line. The boy told police that he regularly visited Hojo "to play."
According to police, Hojo's residence was a regular hangout for multiple boys. After a neighbor alerted police, she was issued a warning. The investigation is ongoing, police said.
男子中学生を自宅に招き入れ、みだらな行為をしたとして40歳の女が逮捕されました。女の自宅は、以前から近所の少年たちのたまり場になっていたということです。  逮捕されたのは、横浜市の会社員・北條真帆容疑者(40)で、14日朝、自宅で、中学3年の男子生徒にみだらな行為をした疑いが持たれています。  警察によりますと、北條容疑者の自宅は数人の少年が出入りするたまり場となっていて、近所の人から相談を受けた警察が、以前、北條容疑者を注意していました。  男子生徒は警察に対し、「いつも遊びに行っている」と話しているということですが、北條容疑者は容疑を認めた上で、「男子生徒のことをかわいいと思った。顔も性格も好きでお気に入りでした」「恋愛感情はありません」などと供述しているということです。
Jul 13
A national facility devoted to the indigenous Ainu people and their culture opens on Sunday in their ancestral region of Hokkaido in northern Japan.
(NHK)
Jul 13
Heavy rain has toppled an ancient cedar tree at a shrine in Gifu Prefecture, central Japan.
(NHK)
Jul 13
Tokyo Metropolitan Police have arrested the manager and an employee of a massage parlor operating illegally in the red-light district of Kabukicho, reports TV Asahi (July 4).
(tokyoreporter.com)
Jul 12
With the midsummer heat still not quite here, Tokyo Disneyland and Disney Sea call off Christmas and all other seasonal celebrations.
(soranews24.com)
Jul 11
Japan will begin a subsidy campaign on July 22 to boost domestic tourism hit by the coronavirus, the tourism minister said, although concerns remain over a resurgence of infections.
(Japan Today)
Jul 11
Japan's science ministry and the US space agency NASA have agreed to discuss cooperation plans that could lead to Japanese astronauts visiting the moon.
(NHK)
Jul 11
An Osprey transport aircraft has arrived at Camp Kisarazu in Chiba Prefecture, near Tokyo, for temporary deployment by the Ground Self-Defense Force, or GSDF.
(NHK)
Jul 10
A 24-year-old woman in custody after she caused the death of her 3-year-old daughter by leaving her alone at their residence for more than one week barricaded her inside with furniture, police have revealed, reports Fuji News Network (July 9).
(tokyoreporter.com)
Jul 10
Japan will tighten its criteria for supporting exports of coal-fired power plants amid criticism that the practice goes against global efforts to curb global warming.
(Japan Times)
Jul 09
Tokyo Metropolitan Police have arrested a 24-year-old woman for allegedly leaving her 3-year-old daughter alone at their residence for more than one week, resulting in her death, reports NHK (July 8).
(tokyoreporter.com)
---