Japan's health ministry is trying to repair a glitch in the nation's coronavirus contact-tracing app, which was rolled out just days ago.
The smartphone app is designed to notify users who are thought to have been in close contact with someone infected with the virus.
The free software became available last Friday and had been downloaded around 3.7 million times as of Tuesday morning.
Users of the app who contract the virus are supposed to upload a personal number assigned by public health centers, to register their infection.
But health ministry officials say they have found that a glitch in the software allows erroneous numbers to be accepted and registered.
To prevent confusion, officials have halted the issuance of personal numbers. This means the app's contact-notification function will remain out of service. Officials say they plan to fix the flaw as soon as possible.
新型コロナウイルスの感染者と接触した可能性を知らせるアプリに複数の不具合が出ていることが分かりました。国は多くの利用を呼び掛けていますが、大丈夫なのでしょうか。  すでに自分のスマートフォンにインストール済みの人もいました。過去14日間、自分が陽性者と接触したかどうかを知ることができるアプリです。一定時間、自分のスマートフォンの近くに存在したスマートフォンの情報が記録され、仮に誰かが陽性と判明した場合、陽性者本人が処理番号をアプリに打ち込むことで近距離にいた相手に通知されるという仕組みです。ところが、この処理番号を間違って入力しても完了したことになる不具合が見つかったといいます。  さらに・・・。リリース当日の19日にダウンロードしたという男性。ところが、アプリを開くと・・・。22日から使用中と表記されています。すでにアプリを開いた日が使用開始日になってしまう不具合も見つかりました。陽性者との接触は毎回、「確認できませんでした」となるそうです。  使用開始日が常に更新されてしまえば、正確な情報が確認できなくなる恐れがあります。開発に関わった専門家は・・・。  世界経済フォーラムプロジェクト長・藤田卓仙さん:「万が一、そういった間違った形で携帯側に入れていることでうまく機能しないことがあるなら、早急に修正が必要になるかとは思います」  そもそも、この手のアプリにつきまとう懸念。陽性になった人の自主性に支えられたシステムです。23日朝の段階でダウンロード数は370万件余り。今回のつまずきは普及への障害にならないでしょうか。  世界経済フォーラムプロジェクト長・藤田卓仙さん:「普及が非常に進めば進むほど、より正確に誰かと接触した記録が残っていき、なるべく早く知ることができて適切な医療が必要であれば医療を受けることができるなど、基本的に設計上、個人のプライバシーに関わるような情報は扱わないものになっているのでご安心下さいと」  厚生労働省は不具合の修正を急いでいます。
Jul 13
The new coronavirus infection count has been rising across the nation with more than 200 cases reported in Tokyo on Sunday.
(NHK)
Jul 13
More heavy rain is expected in eastern and western Japan through Tuesday. Meteorological Agency officials say people should remain on alert for landslides and flooding.
(NHK)
Jul 13
A national facility devoted to the indigenous Ainu people and their culture opens on Sunday in their ancestral region of Hokkaido in northern Japan.
(NHK)
Jul 12
Two U.S. Marine bases in Okinawa have been put on lockdown by the military with 61 coronavirus cases confirmed this week, the prefectural government said Saturday.
(Kyodo)
Jul 12
Scientists have been studying the coronavirus around the clock since it first emerged, but much about the virus still remains a mystery. Recently, reports have emerged of former patients suffering symptoms such as fever and shortness of breath long after testing negative. Doctors and researchers are now studying these lingering effects.
(NHK)
Jul 12
With the midsummer heat still not quite here, Tokyo Disneyland and Disney Sea call off Christmas and all other seasonal celebrations.
(soranews24.com)
Jul 12
NHK has learned that the Japanese government plans to allow foreign nationals with certain residency statuses, including students and technical trainees, to re-enter the country despite a ban imposed due to the coronavirus pandemic.
(NHK)
Jul 11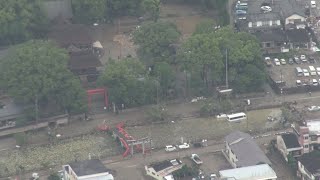 People in many parts of Japan are preparing for a wet and possibly dangerous weekend as weather officials warn of more heavy rain. The extreme weather has left more than 60 people dead and over a dozen missing over the past week.
(NHK)
Jul 11
Officials in Tokyo are dealing with a jump in coronavirus infections. The number of new cases has now topped 200 for two days in a row. It's the first time that's happened since the start of the pandemic.
(NHK)
Jul 11
Japan will begin a subsidy campaign on July 22 to boost domestic tourism hit by the coronavirus, the tourism minister said, although concerns remain over a resurgence of infections.
(Japan Today)
---