Japanese officials will explore the development of preemptive-strike capabilities against enemy rocket launchers as a less-costly alternative to the Aegis Ashore missile shield, Nikkei has learned.
The preemptive-strike option emerged as the National Security Council met Wednesday to reaffirm the suspension of the Aegis Ashore program. With Prime Minister Shinzo Abe in attendance, Defense Minister Taro Kono reported that the deployment of the missile shield to Akita and Yamaguchi prefectures has been shelved.
After putting the long-delayed and costly American-developed Aegis Ashore land-based missile defense system on hold permanently, the ruling Liberal Democratic Party is assembling a team to look at alternatives, including the preemptive strike option. The LDP will submit a recommendation next month to the central government.
Alternatives to Aegis Ashore include expanding the fleet of Aegis-equipped warships or building artificial megafloat structures to stage Aegis systems offshore. But both options involve massive spending.
Unlike the high cost and lack of reliability of shooting down rockets in flight, striking launch facilities beforehand would be cheaper and easier, say some in defense circles. The LDP floated similar proposals in 2013 and 2018 when discussing revisions to the national defense program.
Japan is considered the "shield" in its long military alliance with Washington, often called a "sword and shield" relationship. The U.S. is the "sword" that launches attacks while Tokyo focuses on defense. But that security concept has come into question as of late.
"This is not a security environment where we can simply attach the 'sword and shield' characterization," Japanese Foreign Minister Toshimitsu Motegi said Tuesday.
There is already a plan for acquiring hardware capable of preemptive strikes. The defense ministry decided to introduce long-range cruise missiles to the arsenal in 2017.
The missiles, which have a range of 900 km, would be fired from Japan Air Self-Defense Force fighter jets. The government, however, maintains the missiles are not for the purpose of attacking enemy bases. Some in the LDP have argued in favor of possessing land and sea-based cruise missiles.
Jul 13
The new coronavirus infection count has been rising across the nation with more than 200 cases reported in Tokyo on Sunday.
(NHK)
Jul 13
More heavy rain is expected in eastern and western Japan through Tuesday. Meteorological Agency officials say people should remain on alert for landslides and flooding.
(NHK)
Jul 13
A national facility devoted to the indigenous Ainu people and their culture opens on Sunday in their ancestral region of Hokkaido in northern Japan.
(NHK)
Jul 12
Two U.S. Marine bases in Okinawa have been put on lockdown by the military with 61 coronavirus cases confirmed this week, the prefectural government said Saturday.
(Kyodo)
Jul 12
Scientists have been studying the coronavirus around the clock since it first emerged, but much about the virus still remains a mystery. Recently, reports have emerged of former patients suffering symptoms such as fever and shortness of breath long after testing negative. Doctors and researchers are now studying these lingering effects.
(NHK)
Jul 12
With the midsummer heat still not quite here, Tokyo Disneyland and Disney Sea call off Christmas and all other seasonal celebrations.
(soranews24.com)
Jul 12
NHK has learned that the Japanese government plans to allow foreign nationals with certain residency statuses, including students and technical trainees, to re-enter the country despite a ban imposed due to the coronavirus pandemic.
(NHK)
Jul 11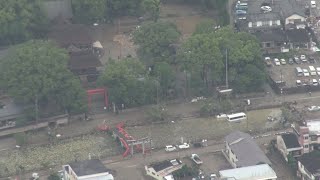 People in many parts of Japan are preparing for a wet and possibly dangerous weekend as weather officials warn of more heavy rain. The extreme weather has left more than 60 people dead and over a dozen missing over the past week.
(NHK)
Jul 11
Officials in Tokyo are dealing with a jump in coronavirus infections. The number of new cases has now topped 200 for two days in a row. It's the first time that's happened since the start of the pandemic.
(NHK)
Jul 11
Japan will begin a subsidy campaign on July 22 to boost domestic tourism hit by the coronavirus, the tourism minister said, although concerns remain over a resurgence of infections.
(Japan Today)
---