A crane overturned and its arm smashed into a nearby residential house on Friday in western Japan, triggering a fire and injuring a 1-year-old girl who was asleep at the time, police said.
After the crane arm hit the two-story house in Takatsuki, Osaka Prefecture, at around 5:05 p.m., the second floor of the building caught fire. The mother, who was on the first floor with the baby at the time of the accident, was unhurt.
The crane operator apparently lost control while he was extracting piling as part of demolition work at the construction site, the police said, adding that they are investigating with a possibility of charging him with professional negligence resulting in injuries.
Jul 13
Heavy rain has toppled an ancient cedar tree at a shrine in Gifu Prefecture, central Japan.
(NHK)
Jul 13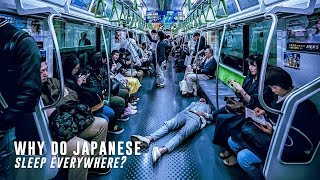 Japanese in their 20s and early 30s are going to bed earlier and sleeping about eight hours a day, 40 to 50 minutes longer than the same demographic did 10 years ago, according to a recent survey.
(Japan Times)
Jul 13
On July 4th, a rescue team carried out a helicopter operation to save a woman and a cat stranded in the floodwaters in Japan's Hitoyoshi.
(RT)
Jul 12
Residents are returning to their homes in Kuma village, in the Kumamoto prefecture of Japan, one of the regions worst hit by the recent torrential rain, to start the process of cleaning and searching for their belongings.
(RT)
Jul 11
Absolutely no tools, tape, or glue required for construction.
(soranews24.com)
Jul 10
A 24-year-old woman in custody after she caused the death of her 3-year-old daughter by leaving her alone at their residence for more than one week barricaded her inside with furniture, police have revealed, reports Fuji News Network (July 9).
(tokyoreporter.com)
Jul 09
Tokyo Metropolitan Police have arrested three persons, including a student at Joshibi College of Art and Design, over the alleged spraying of graffiti in Shibuya Ward, reports Fuji News Network (July 8).
(tokyoreporter.com)
Jul 09
A police officer fatally shot himself in Chiyoda Ward early Wednesday in an apparent suicide, police said, reports NHK (July 8).
(tokyoreporter.com)
Jul 09
Popular rapper Kan a.k.a. Gami, who is out on bail after being accused of possessing marijuana earlier this year, has been arrested again for the same crime, police said, reports Sports Nippon (July 7).
(tokyoreporter.com)
Jul 09
There is simply no denying that Japan has always been a technological leader.
(newsonjapan.com)
---