A man died after he leaped into the path of a train at a station in Shibuya Ward during rush hour on Monday morning, police said, reports TBS News (June 29).
At around 8:30 a.m., the man, believed to be in his 20s, jumped from a platform at JR Shibuya Station and in front of an oncoming Yamanote Line train.
Emergency personnel arriving at the scene confirmed the man dead, police said.
An examination of security camera footage showed that the man intentionally leaping from the platform. A photograph posted on Twitter revealed the impact shattered the front glass of the train.
According to East Japan Railway, the incident caused delays to the outer track of the loop line that extended for about one hour, inconveniencing around 17,000 commuters.
Jul 13
Heavy rain has toppled an ancient cedar tree at a shrine in Gifu Prefecture, central Japan.
(NHK)
Jul 13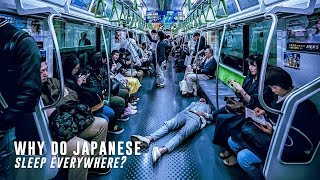 Japanese in their 20s and early 30s are going to bed earlier and sleeping about eight hours a day, 40 to 50 minutes longer than the same demographic did 10 years ago, according to a recent survey.
(Japan Times)
Jul 13
On July 4th, a rescue team carried out a helicopter operation to save a woman and a cat stranded in the floodwaters in Japan's Hitoyoshi.
(RT)
Jul 12
Residents are returning to their homes in Kuma village, in the Kumamoto prefecture of Japan, one of the regions worst hit by the recent torrential rain, to start the process of cleaning and searching for their belongings.
(RT)
Jul 11
Absolutely no tools, tape, or glue required for construction.
(soranews24.com)
Jul 10
A 24-year-old woman in custody after she caused the death of her 3-year-old daughter by leaving her alone at their residence for more than one week barricaded her inside with furniture, police have revealed, reports Fuji News Network (July 9).
(tokyoreporter.com)
Jul 09
Tokyo Metropolitan Police have arrested three persons, including a student at Joshibi College of Art and Design, over the alleged spraying of graffiti in Shibuya Ward, reports Fuji News Network (July 8).
(tokyoreporter.com)
Jul 09
A police officer fatally shot himself in Chiyoda Ward early Wednesday in an apparent suicide, police said, reports NHK (July 8).
(tokyoreporter.com)
Jul 09
Popular rapper Kan a.k.a. Gami, who is out on bail after being accused of possessing marijuana earlier this year, has been arrested again for the same crime, police said, reports Sports Nippon (July 7).
(tokyoreporter.com)
Jul 09
There is simply no denying that Japan has always been a technological leader.
(newsonjapan.com)
---