Many countries would welcome an unemployment rate of "only" 4 percent, with the luxury of having more jobs than jobseekers.
The United States' unemployment rate hit 13.3 percent in May, with more than 47 million people laid off since coronavirus lockdowns began.
So why has Japan's rate stayed so low? One major explanation lies in the country's dearth of workers owing to an aging population.
Japan has the world's only "superaged" society in which more than 28 percent of people are 65 and older.
This means firms are reluctant to lay people off even during a recession, as they fear they will have few options to recruit when the crisis passes.
Japanese law also makes it difficult for companies to hire and fire flexibly during a downturn, notes Munehisa Tamura from the Daiwa Institute of Research.
"Therefore, even if an economic shock happens, generally speaking, it does not directly lead to an immediate and sharp spike in unemployment," he said.
Even then, analysts point out the low rate does not account for millions — especially women — who gave up their job during the pandemic to care for family and are not counted as job-seekers.
And some critics say the apparently healthy unemployment data belies the daily reality for millions — especially the 40 percent of the workforce on temporary or part-time contracts.
Aug 10
Despite uncertainties from COVID-19, top Japanese corporations plan to invest 15.8% more in information technology in fiscal 2020 to keep up the wave of digitization across industries.
(Nikkei)
Aug 07
Official figures indicate that Japanese households may be recovering from the economic impact of COVID-19. Spending was down in June, but by a much smaller margin than the month before.
(NHK)
Aug 07
Japan's powerful business lobby, the Keidanren, is dominated by energy-intensive sectors that represent less than 10 percent of the economy, resulting in national policies that favour coal and hindering attempts to combat climate change, a new study said.
(aljazeera.com)
Aug 07
Toyota's profit plunged 74% in the last quarter as the coronavirus pandemic sank vehicle sales to about half of what the top Japanese automaker sold the previous year.
(krmg.com)
Aug 06
The average summer bonus at major Japanese companies this year dropped 2.17 percent from a year earlier to ¥901,147, a Japan Business Federation survey showed Wednesday.
(Japan Times)
Aug 06
Uber Technologies has begun to offer a food delivery subscription in Japan that replaces per-order fees, tapping into the growing demand from consumers holed up at home from the coronavirus.
(Nikkei)
Aug 05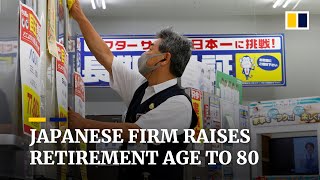 Japan's decision to offer an initial group of 87 companies subsidies totalling US$653 million to expand production at home and in Southeast Asia has sparked debate whether the world's third largest economy is trying to gradually decouple from China.
(scmp.com)
Aug 05
About 60 percent of people in the nation who developed cold-like symptoms during the first wave of the novel coronavirus pandemic, between February and May, went to work despite a request by the government for them not to do so, a recent survey has found.
(Japan Times)
Aug 05
McDonald's Holdings (Japan) has staged a dramatic comeback in the five years since a crisis triggered by food-safety scandals, breaking sales records and thriving on takeout demand in the middle of a pandemic.
(Nikkei)
Aug 04
Nippon Steel decided on Tuesday to immediately appeal a South Korean court ruling that took effect the same day that allows for the seizure of company assets as compensation for wartime labor during Japanese colonial rule.
(Nikkei)
---