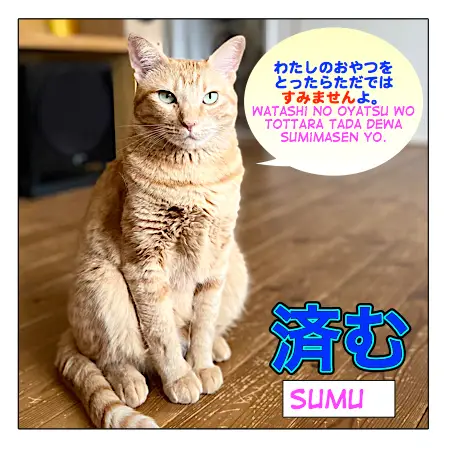 Kiki: 「わたしのおやつをとったらただではすみませんよ。」
= Watashi no oyatsu wo tottara tada de wa sumimasen yo.
= If you steal my snack, you are not going to get away with it.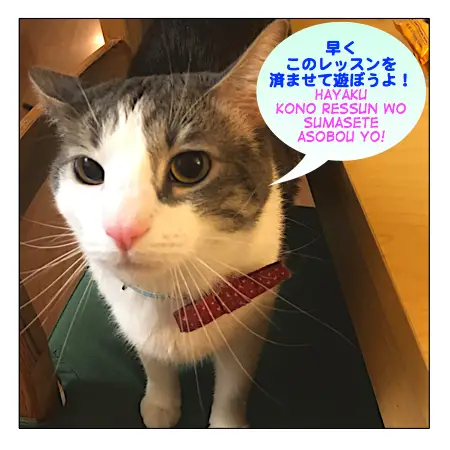 Jiro: 「早くこのレッスンを済ませて遊ぼうよ!」
= Hayaku kono ressun wo sumasete asobou yo!
= Let's finish up this lesson and play!
Hi everyone!
We are your guest teachers, Kiki and Jiro. We are going to help Maggie Sensei with her lesson today.
Today we are going to learn how to use the verb 済む = すむ ( = sumu)
* intransitive verb form:
済む = すむ = sumu
→something finishes
* transitive verb form:
済ませる = すませる = sumaseru = transitive verb
済ます = すます = sumasu= transitive verb
→to finish something
This verb has several usages.
Let's look at them one by one. Ready?
1) finishing
(1) something finishes, ends: ( = 終わる= owaru)
Basic pattern: with intransitive verb forms
something + が* ( = ga) + 済む ( = sumu)/(past tense) 済んだ (= sunda)
* Note: You also use the particles,
は ( = wa) in a question or to show the contrast.
Ex. 試験が済んだ。
= Shiken ga sunda.
= The exam is finished.
Ex.
A: 「旅行の準備は済みましたか?」
= Ryokou no junbi wa sumimashita ka?
= Did you finish packing (for your travel)?
B:「いえ、まだ済んでいません。」
= ie, mada sunde imasen.
= No, I haven't finished yet.
Ex. 仕事が済んだら飲みに行こうかな。

= Shigoto ga sundara nomini ni ikou kana.
= When I finish work, I'll go out for a drink.
Ex. 父の手術が無事に済みました。
= Chichi no shujutsu ga buji ni sumimashita.
= My father's surgery finished without any problems.
Ex. 済んだことは仕方がない。

= Sunda koto wa shikata ga nai.
= What's done is done. (What's done cannot be undone.)
Ex. 用が済んだら連絡するね。

= You ga sundara renraku surune.
= I will contact you when I'm done.
Ex. 会議は3時には済みそうだ。

= Kaigi wa sanji ni wa sumisou da.
= The meeting seems to be …continue reading