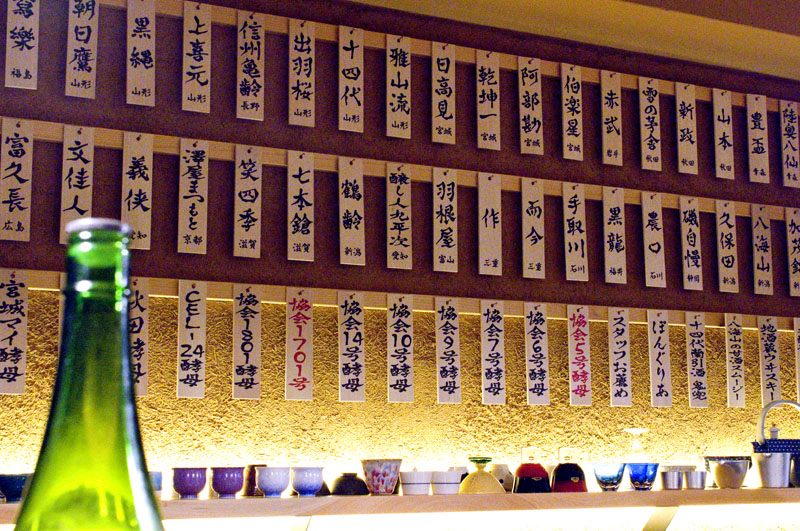 A sake-specialty izakaya, Ponshuya offers more than 200 kinds of sake along with well-constructed sake-friendly delicacies. You can choose from 30ml, 50ml and ichigo serving sizes, so it's easy to put together your own sake tasting flights, either after inspecting the refrigerators or in consultation with the staff. Prices start at a very reasonable Y250-Y450 for a small-size glass.
The food offerings are designed to enhance your sake-drinking experience, although they stand on their own merits as well. The starter platter with cheeses, smoked iburigakko pickles and smoked horsemeat is an inspired combination, well suited to just about any sake style. The smoked salmon plate is also a versatile sake companion, ample in size and livened up with a tasty balsamic dressing and Parmesan cheese.
One standout dish here is the menchi-katsu (minced-pork fritters), made with sake lees and served with home-made pickles. It's prepared with a crunchy shell and a meaty, succulent filling – definitely one of the best menchi-katsu we've had in Tokyo. Other highlights include sake-marinated tofu and avocado, satsuma-imo potato salad, crunchy iburigakko canapes, and a relatively mild lotus root stuffed with mustard.
With its wide variety of small dishes and tasting-size sake servings, this is a great place to explore a lot of different flavors and sake styles over the course of an evening. Budget around Y3500-5000 for dinner with drinks. …continue reading