Former Japanese prime minister Yasuhiro Nakasone has died. He was known for forging strong ties with the US and privatizing industries.
Nakasone was the last living prime minister who'd served in the Showa Era.
He was born in Gunma Prefecture in 1918. After graduating from university, he took a job at the then-Home Ministry, and served as a naval officer during World War Two.
In 1947, he ran for the Lower House of the Diet and kept his seat for 20 straight terms.
He held several cabinet and party executive posts before becoming Japan's 71st prime minister in 1982. He served for about five years.
During his tenure, he became the first postwar prime minister to officially visit Yasukuni Shrine, which honors Japan's war dead, including leaders convicted of war crimes after World War Two. But he refrained from further visits following strong criticism from China and other countries.
Current prime minister Shinzo Abe issued a statement praising Nakasone's accomplishments and expressing deep sorrow over the news.
In the 80s, Nakasone forged a strong friendship with then US president Ronald Reagan. They called each other "Ron" and "Yasu."
Nakasone was a strong proponent of amending Japan's postwar constitution -- a dream he was unable to fulfill.
Yasuhiro Nakasone was 101 years old.
Jan 23
A woman and three children were found stabbed to death in a car in a park in Iwaki, Fukushima Prefecture, on Wednesday morning.
(Japan Today)
Jan 23
The last train schedules in and around the Japanese capital will be extended by up to two hours during the Tokyo 2020 Olympic Games.
(NHK)
Jan 23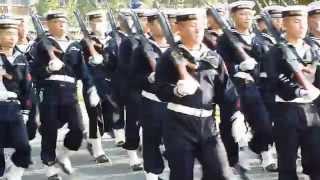 The first female student was admitted to Japan's national naval submarine academy Wednesday after the end of a ban on women on the country's submarines.
(Japan Times)
Jan 23
The smelt fishing season has begun at last on a frozen lake in Gunma Prefecture, central Japan. It started 10 days later than usual because of higher temperatures.
(NHK)
Jan 22
Dangerous stunt by Japanese civil servant gets slammed online.
(soranews24.com)
Jan 22
Japanese Environment Minister Shinjiro Koizumi has called into question Japan's financing of a coal-fired power plant in Vietnam.
(NHK)
Jan 21
Quarantine officials at a port near Tokyo have conducted a drill aimed at preventing the new coronavirus linked to a pneumonia outbreak in China from spreading in Japan.
(NHK)
Jan 21
Online streaming has been very good for the anime industry, opening flows of revenue both domestic and international by delivering the product to ravenous fans in the fastest manner possible. For a while, though, it looked like Studio Ghibli was going to stick to its "physical media-only" policy until the end of time.
(soranews24.com)
Jan 20
Japan will start issuing passports featuring art by ukiyoe master Katsushika Hokusai for people applying as early as February.
(NHK)
Jan 20
The agriculture ministry will propose a new law aimed at preventing the smuggling of genetic materials, such as fertilized eggs and semen, related to wagyu cattle to other countries.
(Japan Times)
---