The Niigata District Court on Wednesday sentenced a 25-year-old man to life in prison for the sexual assault and murder of a 7-year-old schoolgirl last year.
According to the ruling, Haruka Kobayashi intentionally hit the second-grader with his car while she was on her way home from school on May 7 last year in the city of Niigata, molested her in his car and then strangled her to death before abandoning her body on a railway track so it would appear that she had been hit and killed by a train.
The court noted the crime "indiscriminately targeted a vulnerable person" and described it as "vicious."
Presiding Judge Takeshi Yamazaki said Kobayashi did not intend to kill the girl initially, but he was "aware that (strangling her) carried a high risk of killing her."
Prosecutors had sought the death penalty, maintaining the accused had "made light of (the girl's) life."
去年5月、新潟市で小学2年生の女の子を殺害し、遺体を線路に遺棄した罪などに問われていた小林遼被告(25)の裁判で、新潟地裁は、無期懲役の判決を言い渡した。裁判での争点の一つは、被告に殺意があったかどうかだった。検察は、「被告は捜査段階で5分以上、首を絞めたことを認めている」として、死刑を求刑。一方、弁護側は、「首を絞めたのは気絶させるためだった」と反論し、殺人罪ではなく、傷害致死罪にあたるとして、重くても懲役10年が妥当と主張した。新潟地裁は4日、「気絶させる目的だったとしても、死亡する危険性が高い行為との認識は当然、あったものと言える」とし、被告に殺意があったと認めた。ただ、そのうえで、「同様の事件と比べて際立って残虐とは言えない」「弱者を狙った無差別的な事件だが、死刑の選択が、やむを得ないとは言えない」として、無期懲役を言い渡した。
Jan 23
A woman and three children were found stabbed to death in a car in a park in Iwaki, Fukushima Prefecture, on Wednesday morning.
(Japan Today)
Jan 23
The last train schedules in and around the Japanese capital will be extended by up to two hours during the Tokyo 2020 Olympic Games.
(NHK)
Jan 23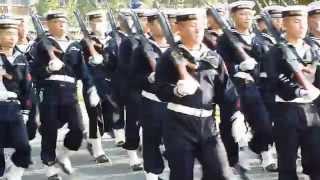 The first female student was admitted to Japan's national naval submarine academy Wednesday after the end of a ban on women on the country's submarines.
(Japan Times)
Jan 23
The smelt fishing season has begun at last on a frozen lake in Gunma Prefecture, central Japan. It started 10 days later than usual because of higher temperatures.
(NHK)
Jan 22
Dangerous stunt by Japanese civil servant gets slammed online.
(soranews24.com)
Jan 22
Japanese Environment Minister Shinjiro Koizumi has called into question Japan's financing of a coal-fired power plant in Vietnam.
(NHK)
Jan 21
Quarantine officials at a port near Tokyo have conducted a drill aimed at preventing the new coronavirus linked to a pneumonia outbreak in China from spreading in Japan.
(NHK)
Jan 21
Online streaming has been very good for the anime industry, opening flows of revenue both domestic and international by delivering the product to ravenous fans in the fastest manner possible. For a while, though, it looked like Studio Ghibli was going to stick to its "physical media-only" policy until the end of time.
(soranews24.com)
Jan 20
Japan will start issuing passports featuring art by ukiyoe master Katsushika Hokusai for people applying as early as February.
(NHK)
Jan 20
The agriculture ministry will propose a new law aimed at preventing the smuggling of genetic materials, such as fertilized eggs and semen, related to wagyu cattle to other countries.
(Japan Times)
---