A statue of a Japanese god of fortune has been recovered from the sea off the northeastern city of Kesennuma. It was swept away by the 2011 tsunami.
People in the coastal city in Miyagi Prefecture have been worshipping the statue of Ebisu since the original version was erected on a cape in 1932. The god represents prosperity and fortune. People pray to it to attract a good catch of fish.
Last November, construction workers found the statue by chance on the seabed about 25 meters from the shore.
On Tuesday, divers placed a net around it before a crane lifted it out of the water from a depth of five meters.
The copper figure stands about 1.5 meters high and has survived largely free of corrosion. A fishing rod on its right hand was broken.
The chief priest of Isuzu Shrine, which manages the statue, expressed his pleasure at the recovery and said he hopes that people will continue to worship it. The statue of Ebisu will be placed at the shrine to give visitors a chance to see it.
津波で流されて行方が分からなくなっていた恵比寿像が約9年ぶりに引き揚げられました。  引き揚げられたのは、宮城県気仙沼市魚町の岬の先端にあった五十鈴神社の恵比寿像です。高さ150センチほどの全国でも珍しい立ち恵比寿像で、大漁と航海の安全を願って漁師や地元の人々に「おえびすさん」と親しまれていました。2011年の東日本大震災で津波に流されましたが、去年11月、道路の復旧工事で海底を調査していたダイバーが偶然、見つけました。  五十鈴神社・神山正志宮司:「うれしい。それから見つけてくれた方にも感謝・・・。感謝です」  五十鈴神社では、この恵比寿像を境内に置いて参拝客に公開することにしています。
Apr 01
Tokyo Metropolitan Police have arrested a second man over the alleged rape of an intoxicated woman inside a vehicle in Shinjuku Ward two years ago, reports TV Asahi (Mar. 30).
(tokyoreporter.com)
Mar 31
Police in Soka, Saitama Prefecture, have arrested a 46-year-old woman on suspicion of arson and attempted murder after she set fire to her house in order to kill her 16-year-old son.
(Japan Today)
Mar 31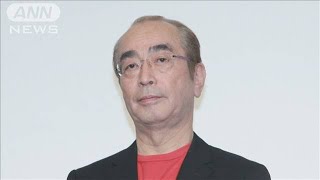 Veteran Japanese comedian Shimura Ken passed away on Sunday night at a hospital in Tokyo. The 70-year-old comedy icon was confirmed to have been infected with coronavirus.
(NHK)
Mar 30
The Tokyo Olympics and Paralympics organizing committee will likely support the idea of delaying the Games to July of next year.
(NHK)
Mar 26
Tokyo governor is calling on residents in the city to stay home this coming weekend unless they absolutely need to go out.
(NHK)
Mar 24
Prime Minister Shinzo Abe and International Olympic Committee President Thomas Bach agreed Tuesday to postpone this summer's Tokyo Olympics for one year due to the coronavirus pandemic, the Japanese leader said.
(NHK)
Mar 23
Princess Aiko, the daughter of Japan's Emperor and Empress, has attended her graduation ceremony at Gakushuin Girls' Senior High School in Tokyo.
(NHK)
Mar 21
Hyogo Prefectural Police have disciplined a police sergeant in Amagasaki City for engaging in sex with a subordinate female officer while on duty, reports the Sankei Shimbun (Mar. 19).
(tokyoreporter.com)
Mar 21
The quarantine station at Narita airport has been temporarily closed, as one of the airport workers accidentally dropped a glass tube containing a coronavirus reagent. Reports say that the worker dropped the tube earlier this month, contaminating the whole room.
(soranews24.com)
Mar 20
A man at the center of a high-profile child abuse case was sentenced to 16 years in prison Thursday for causing the death of his 10-year-old daughter.
(Japan Times)
---