Microsoft Corp. stops providing free support for the Windows 7 operating system Tuesday, and warned that an estimated 13.9 million computers in Japan still using the system could become more vulnerable to viruses and hacking.
According to Microsoft's Japan unit, an estimated 7.53 million computers in Japanese offices and local government facilities and 6.38 million in households are still using Windows 7, comprising around 20 percent of all active Windows computers in the country.
With the end of support, users need to upgrade to Windows 10 or other operating systems. They should also consider buying new computers as older machines may not be compatible with the newer software, the company said.
Microsoft has provided free updates for Windows 7 users to fix security bugs regularly, around once a month, but these services will end by 11:59 p.m. Tuesday.
It said more than 9 million computers are expected to still be running Windows 7 as of July when the Tokyo Olympics get underway.
"The Tokyo Olympics will increase global attention and make (Japan) susceptible to cyberattacks," a company official warned.
Ritsumeikan University professor Tetsutaro Uehara, an expert on cybersecurity, noted that computers infected with a virus are vulnerable to being "hacked and misused for cyberattacks."
Some information security firms such as Trend Micro Inc. will for the time being continue to offer services to protect Windows 7 users who need time to upgrade to a new operating system but said they may not be able to fully prevent a computer virus infection.
Jan 23
A woman and three children were found stabbed to death in a car in a park in Iwaki, Fukushima Prefecture, on Wednesday morning.
(Japan Today)
Jan 23
The last train schedules in and around the Japanese capital will be extended by up to two hours during the Tokyo 2020 Olympic Games.
(NHK)
Jan 23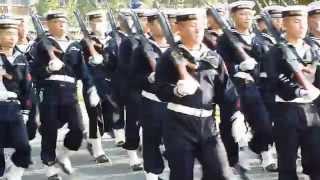 The first female student was admitted to Japan's national naval submarine academy Wednesday after the end of a ban on women on the country's submarines.
(Japan Times)
Jan 23
The smelt fishing season has begun at last on a frozen lake in Gunma Prefecture, central Japan. It started 10 days later than usual because of higher temperatures.
(NHK)
Jan 22
Dangerous stunt by Japanese civil servant gets slammed online.
(soranews24.com)
Jan 22
Japanese Environment Minister Shinjiro Koizumi has called into question Japan's financing of a coal-fired power plant in Vietnam.
(NHK)
Jan 21
Quarantine officials at a port near Tokyo have conducted a drill aimed at preventing the new coronavirus linked to a pneumonia outbreak in China from spreading in Japan.
(NHK)
Jan 21
Online streaming has been very good for the anime industry, opening flows of revenue both domestic and international by delivering the product to ravenous fans in the fastest manner possible. For a while, though, it looked like Studio Ghibli was going to stick to its "physical media-only" policy until the end of time.
(soranews24.com)
Jan 20
Japan will start issuing passports featuring art by ukiyoe master Katsushika Hokusai for people applying as early as February.
(NHK)
Jan 20
The agriculture ministry will propose a new law aimed at preventing the smuggling of genetic materials, such as fertilized eggs and semen, related to wagyu cattle to other countries.
(Japan Times)
---