A new Shinkansen bullet train model, the N700S series, has come into service, with many fans celebrating its rollout.
Rail enthusiasts rushed to the platform at Tokyo Station as soon as the station's ticket gates opened at 5:30 a.m. on Wednesday. They took photos of the brand-new N700S, the first fully upgraded model in 13 years and the sixth generation to be used on the Tokaido Shinkansen Line.
Central Japan Railway President Kaneko Shin gave a ceremonial speech before the train's departure at 6:00 a.m. for Fukuoka.
He said the N700S has the highest capabilities in every aspect, and expressed hope that passengers will enjoy very comfortable ride.
The N700S has a top operating speed of 285 kilometers per hour, the same as the earlier model of the series. But noise, vibration and air resistance have been reduced.
The company plans to start with four trains of the model, and increase the number to 40 over the next three years.
東海道新幹線で13年ぶりにフルモデルチェンジした新型車両「N700S」が1日にデビューしました。  新型車両、N700Sは停電でも長時間止まらないようバッテリーによる自力走行ができ、緊急ブレーキを掛けた際にこれまでより短い距離で停止できるなど安全性が向上しました。また、これまで窓側だけだったコンセントがすべての席に付くなど、より便利になりました。  乗客:「今までのN700とそんなに変わらないと思っていたが、実物を見てみると細かい所が全然違う。(座席の)硬かった部分がフワッとした。座り心地で全然違う」  N700Sは1日に4編成がデビューし、今後3年間で全体の約3分の1にあたる40編成が導入される予定です。
Jul 13
The new coronavirus infection count has been rising across the nation with more than 200 cases reported in Tokyo on Sunday.
(NHK)
Jul 13
More heavy rain is expected in eastern and western Japan through Tuesday. Meteorological Agency officials say people should remain on alert for landslides and flooding.
(NHK)
Jul 13
A national facility devoted to the indigenous Ainu people and their culture opens on Sunday in their ancestral region of Hokkaido in northern Japan.
(NHK)
Jul 12
Two U.S. Marine bases in Okinawa have been put on lockdown by the military with 61 coronavirus cases confirmed this week, the prefectural government said Saturday.
(Kyodo)
Jul 12
Scientists have been studying the coronavirus around the clock since it first emerged, but much about the virus still remains a mystery. Recently, reports have emerged of former patients suffering symptoms such as fever and shortness of breath long after testing negative. Doctors and researchers are now studying these lingering effects.
(NHK)
Jul 12
With the midsummer heat still not quite here, Tokyo Disneyland and Disney Sea call off Christmas and all other seasonal celebrations.
(soranews24.com)
Jul 12
NHK has learned that the Japanese government plans to allow foreign nationals with certain residency statuses, including students and technical trainees, to re-enter the country despite a ban imposed due to the coronavirus pandemic.
(NHK)
Jul 11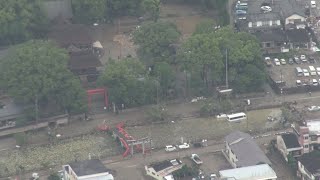 People in many parts of Japan are preparing for a wet and possibly dangerous weekend as weather officials warn of more heavy rain. The extreme weather has left more than 60 people dead and over a dozen missing over the past week.
(NHK)
Jul 11
Officials in Tokyo are dealing with a jump in coronavirus infections. The number of new cases has now topped 200 for two days in a row. It's the first time that's happened since the start of the pandemic.
(NHK)
Jul 11
Japan will begin a subsidy campaign on July 22 to boost domestic tourism hit by the coronavirus, the tourism minister said, although concerns remain over a resurgence of infections.
(Japan Today)
---