Tokyo on Tuesday said it will move away from numerical targets to contain COVID-19 and rely more on the advice of a committee of experts, to try to control the novel coronavirus and avoid another economic slowdown.
The metropolis, with a population of 14 million, has sought to keep new cases below 20 a day since Japan lifted a state of emergency on May 25, but has had five straight days of more than 50 new cases as of Tuesday, when 54 infections were reported.
Tokyo is two weeks into a final phase of loosening coronavirus restrictions and officials have repeatedly said they see no need to declare a new state of emergency.
They also say the medical system can handle current cases and that increased testing partly explains the rising infections.
"It's an extremely different situation from what it was at the end of March when patients were increasing rapidly, but we still must be watchful," Governor Yuriko Koike told a news conference, where she announced the new measures would start on Wednesday.
Under the new guidelines, Tokyo will move away from strict numerical targets to determine if new restrictions are needed. Instead, a group of experts will evaluate the situation on a weekly basis.
Jul 13
The new coronavirus infection count has been rising across the nation with more than 200 cases reported in Tokyo on Sunday.
(NHK)
Jul 13
More heavy rain is expected in eastern and western Japan through Tuesday. Meteorological Agency officials say people should remain on alert for landslides and flooding.
(NHK)
Jul 13
A national facility devoted to the indigenous Ainu people and their culture opens on Sunday in their ancestral region of Hokkaido in northern Japan.
(NHK)
Jul 12
Two U.S. Marine bases in Okinawa have been put on lockdown by the military with 61 coronavirus cases confirmed this week, the prefectural government said Saturday.
(Kyodo)
Jul 12
Scientists have been studying the coronavirus around the clock since it first emerged, but much about the virus still remains a mystery. Recently, reports have emerged of former patients suffering symptoms such as fever and shortness of breath long after testing negative. Doctors and researchers are now studying these lingering effects.
(NHK)
Jul 12
With the midsummer heat still not quite here, Tokyo Disneyland and Disney Sea call off Christmas and all other seasonal celebrations.
(soranews24.com)
Jul 12
NHK has learned that the Japanese government plans to allow foreign nationals with certain residency statuses, including students and technical trainees, to re-enter the country despite a ban imposed due to the coronavirus pandemic.
(NHK)
Jul 11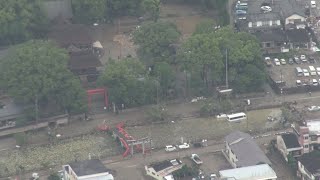 People in many parts of Japan are preparing for a wet and possibly dangerous weekend as weather officials warn of more heavy rain. The extreme weather has left more than 60 people dead and over a dozen missing over the past week.
(NHK)
Jul 11
Officials in Tokyo are dealing with a jump in coronavirus infections. The number of new cases has now topped 200 for two days in a row. It's the first time that's happened since the start of the pandemic.
(NHK)
Jul 11
Japan will begin a subsidy campaign on July 22 to boost domestic tourism hit by the coronavirus, the tourism minister said, although concerns remain over a resurgence of infections.
(Japan Today)
---