Okinawa marks 50th anniversary of its return to Japan
沖縄 きょう日本復帰から50年 午後には2会場で記念式典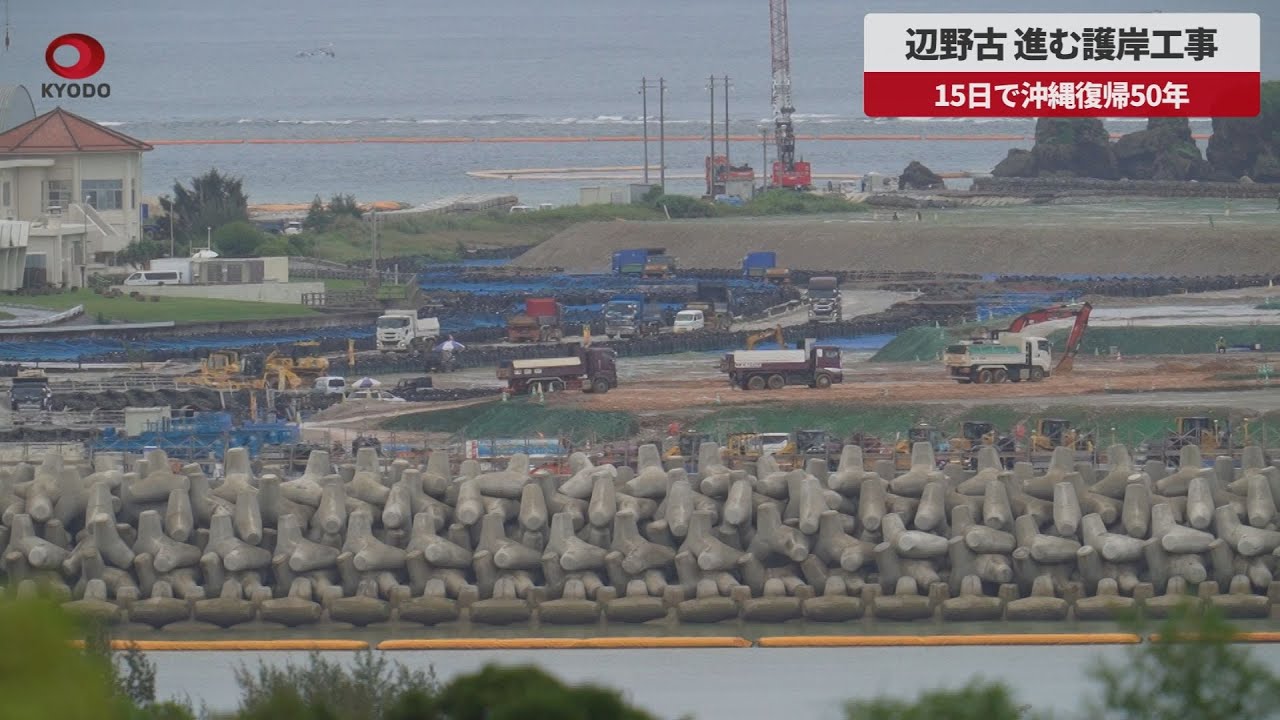 Okinawa marks the 50th anniversary of its return to Japan from US rule on Sunday.
Commemorative ceremonies are scheduled to be held in the afternoon simultaneously by the prefecture and the central government at two venues in Okinawa and Tokyo, respectively.
The southern prefecture still faces many challenges after reversion, ranging from military base issues to economic disparities.
The Battle of Okinawa was one of the fiercest ground battles during the final stages of World War Two in 1945. The islands of Okinawa were under US control for 27 years after the war.
Most of the US military facilities in Japan are concentrated in Okinawa. The area occupied by those facilities has dropped to two-thirds of what it was at reversion, but Okinawa still hosts about 70 percent of all such installations. The prefecture accounts for only about 0.6 percent of the country's total land area.
The prefecture suffers from a number of incidents, accidents, and noise arising from the bases.
The central and prefectural governments remain at odds over the planned relocation, within Okinawa, of the US Futenma air station from Ginowan City to the less populated Henoko district of Nago City.
On the economic front, Okinawa's tourism revenue nearly doubled over the 10 years through 2019 due to rapid growth of its tourism industry.
The prefecture's unemployment rate has improved dramatically. It used to be about twice the national average. The rate has now fallen to 2.7 percent, narrowing the gap with the nation's average of 2.4 percent.
But income disparity remains high in Okinawa. The prefecture's average income per capita stood at about 2.4 million yen, or roughly 18,500 dollars, as of fiscal 2018. That represents only about 75 percent of the national average.
May 15 (TBS NEWS) - 沖縄は15日、日本に復帰して50年の節目を迎えました。午後には沖縄と東京の2会場で、岸田総理らが出席する記念式典が開かれます。
...continue reading
---
Japan power plant shutdown raises fear of shortage in sweltering heat
Sun Daily - Jun 30
Japan's electricity grid creaked on Thursday under the strain of Tokyo's hottest June since records began, with the unexpected shutdown of a power plant raising fears that tens of millions of people could be deprived of power on another scorching day.
---
Japan, NATO to produce cooperation document
NHK - Jun 30
Japan's Prime Minister Kishida Fumio says his government and the North Atlantic Treaty Organization will work out a new document on their cooperation.
---
Japan's Kishida, South Korea's Yoon meet for first time in Spain
inquirer.net - Jun 29
Japanese Prime Minister Fumio Kishida met South Korean President Yoon Suk-yeol for the first time in Madrid on Tuesday evening at a gala dinner hosted by Spain's King Felipe VI.
---
Britain to lift import restriction on food products from Fukushima
Kyodo - Jun 28
Britain on Wednesday will lift import restrictions on some Japanese food products imposed in the wake of the 2011 Fukushima nuclear disaster, Prime Minister Boris Johnson said Tuesday during his meeting with Japanese Prime Minister Fumio Kishida.
---
Kishida calls for G7 unity to tackle soaring prices
NHK - Jun 27
Japanese Prime Minister Kishida Fumio has said the Group of Seven nations should further strengthen their unity to protect the lives of people affected by soaring prices amid Russia's invasion of Ukraine.
---
Kishida announces additional sanctions on Russia
NHK - Jun 27
Japanese Prime Minister Kishida Fumio has announced additional sanctions against Russia, including a ban on imports of Russian gold.
---
Japan PM Kishida hopes to show G-7 unity amid Ukraine war, inflation
Kyodo - Jun 26
Japanese Prime Minister Fumio Kishida said Saturday he will seek to confirm unity with his fellow Group of Seven leaders in responding to Russia's war against Ukraine, inflation and other global challenges.
---
City in western Japan loses memory stick with data on 460,000 residents
NHK - Jun 23
The city of Amagasaki in Hyogo Prefecture, western Japan, has lost a USB device containing the personal information of more than 460,000 residents.
---
Woman in Belgium becomes mayor in Japan
UNI - Jun 22
A Japanese woman living in Belgium has become the mayor of Suginami, a district in Tokyo after she gained prominence through her online campaigning during the pandemic.
---
Kishida critics seize on weak yen in Japan upper house election
Al Jazeera - Jun 22
Campaigning for Japan's upper house election kicked off with Prime Minister Fumio Kishida fighting off criticism of the ultra-loose monetary policy he continues to support despite worries that it's accelerating price increases.
---
Kishida discloses ambitious inflation-fighting package
NHK - Jun 21
Japan's Prime Minister Kishida Fumio has said he is planning to roll out a package of measures to fight inflation.
---
Japan govt. says economy recovering, warns of rising costs
NHK - Jun 20
The Japanese government has kept its overall assessment of the economy unchanged for the third straight month. Officials say there are signs of an upturn, but called for caution against rising raw material prices amid the prolonged conflict in Ukraine.
---
Politics Page:
1
|
2
|
3
|
4
|
5
|
6
|
7