Japan wholesale prices hit record 10% as energy costs soar
企業物価指数 1960年以降"最高"前年比10%上昇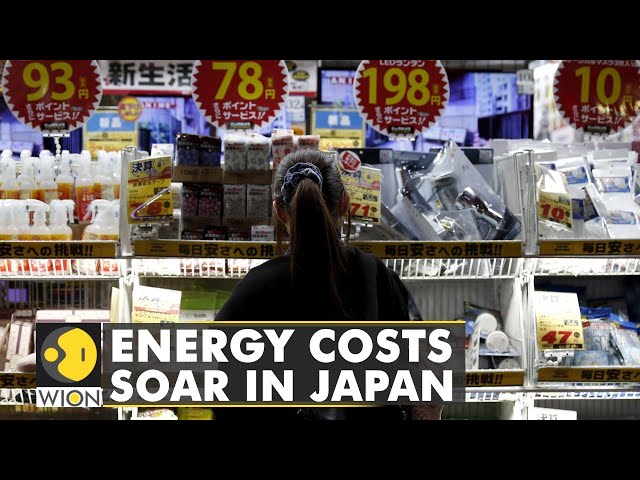 Japan's wholesale prices in April jumped 10 per cent from the same month a year earlier, data showed on Monday (May 16), rising at a record rate as the Ukraine crisis and a weak yen pushed up the cost of energy and raw materials.
The surge in the corporate goods price index (CGPI), which measures the price companies charge each other for their goods and services, marked the fastest year-on-year rise in a single month since comparable data became available in 1981.
The gain followed a revised 9.7 per cent increase in March, and was higher than a median market forecast for a 9.4 per cent increase.
Unlike other central banks worried about surging inflation, the Bank of Japan (BOJ) has kept its ultra-easy monetary policy in place on the view that the cost-push rise in inflation is not bringing long-term price expectations to its 2 per cent target.
Japanese firms have been slow in passing on rising cost to households as soft wage growth does little to help consumer sentiment and makes them cautious about scaring off consumers with price hikes.
The yen-based import price index jumped 44.6 per cent in April from a year earlier, Monday's data showed, a sign the yen's recent declines are inflating the cost of imports for Japanese firms.
The BOJ last month projected core consumer inflation to hit 1.9 per cent in the current fiscal year that started last month before moderating to 1.1 per cent in fiscal 2023 and 2024 - a sign it sees current cost-push price rises as transitory.
But analysts expect consumer inflation to hover around 2 per cent in the coming months as the high raw material costs force more firms to hike prices, posing a risk to Japan's fragile economic recovery.
May 16 (ANNnewsCH) - 日銀が発表した先月の企業物価指数は前の年より10%上昇し113.5でした。41年ぶりの高い上昇率で指数は1960年以降で最も高くなりました。  企業の間で取引されるモノの価格を表す先月の企業物価指数は前の年より10%上昇し2015年を100とした指数では113.5でした。
...continue reading
---
Japan's growth prospects remain positive, at least in the short term
think.ing - Jul 01
Today's numerous data releases, from inflation to labour to business surveys, suggest a positive outlook for Japan in the near term. The overall picture is still mixed and the figures aren't good enough to change the central bank's current stance
---
Japan's land price up 0.5% in rebound from pandemic hit
Kyodo - Jul 01
The average land price in Japan as of Jan. 1 was up 0.5 percent from a year earlier, the National Tax Agency said Friday, rebounding from a fall in 2021 as the country recovers from the coronavirus pandemic.
---
Tepco shares surge as Japan's heat wave stretches power grid
marketwatch.com - Jun 30
Shares of Tokyo Electric Power Co. Holdings Inc. surged Wednesday as a heat wave in Japan boosted power demand in the capital.
---
Newly listed company plugs gap
Mulboyne - Jun 29
Until today, companies listed on Japan's stock exchange had names beginning with every possible gojūon kana except ぬ. Nulab (ヌーラボ) has ended the drought.
---
BOJ bond holdings plunged into the red as yields rose: estimates
Nikkei - Jun 28
The Bank of Japan may have been saddled with as much as 600 billion yen ($4.4 billion) in unrealized losses on its Japanese government bond holdings earlier this month, as a widening gap between domestic and overseas monetary policy pushed yields higher and prices lower.
---
Japan's shochu capital becomes new hot spot for whisky
Nikkei - Jun 26
Traditionally known for its shochu, a clear liquor made from grains, potatoes, sugar cane and more, Japan's southwestern region of Kyushu has become home to a budding whisky industry as craft distillers chase a larger, more global audience.
---
Japan IPOs plunge 30% in biggest drop since 2009
Nikkei - Jun 26
New stock market listings in Japan are on track to fall 30% from a year earlier in the first half of 2022 as a confluence of global factors makes international investment scarce.
---
Sapporo to buy U.S. craft beer maker Stone Brewing for $168m
Nikkein - Jun 24
Japan's Sapporo Holdings on Friday announced that it will acquire U.S. craft beer maker Stone Brewing for $168 million, in a foray into the country's growing microbrew market.
---
Japan's top court orders Twitter to delete posts on man's past arrest
Kyodo - Jun 24
Japan's top court on Friday overturned a lower court ruling that dismissed a man's demand that Twitter Inc. delete posts showing his arrest history, ordering the U.S. social networking service to remove 14 tweets.
---
Japan consumer inflation at 2.1% as energy costs soar
NHK - Jun 24
Consumer prices in Japan rose by more than 2 percent in May from a year earlier. Higher energy costs were a big factor behind the increase.
---
Toyota recalls electric cars over concerns about loose wheels
BBC - Jun 24
Motor industry giant Toyota is recalling 2,700 of its first mass-produced all-electric vehicles over concerns their wheels may fall off.
---
Japan's famed 100-yen shops fall victim to cost-of-living squeeze
theguardian.com - Jun 24
There can't be a household in Japan that doesn't own a few items from a 100-yen shop – anything from chopsticks and teacups to air freshener and bin bags.
---
Business Page:
1
|
2
|
3
|
4
|
5
|
6
|
7