Aggressive dolphins bite more people off Japanese beach, some taken to hospital
People frequenting a Japanese beach are on heightened alert after usually docile wild dolphins have been biting more and more people in the waters off a beach near the south of the country.
On Thursday, the Japanese outlet Fukui Shimbun reported that two more people were bitten by aggressive dolphins at Koshino Beach in Fukui Prefecture, which is located on the coast touching the Sea of Japan. Two people were swimming in the ocean when dolphins bit them on their arms.
Emergency services came to the scene at around 9 a.m. local time on Thursday after an emergency call was placed, and they were rushed to the hospital to treat their injuries. Police released a warning to beachgoers instructing them not to go into the water if dolphins were spotted.
Authorities said one of the victims, a man in his 40s, was bitten on both arms at around 9 a.m. Police said another man, also in his 40s, was bitten on the fingers of his left hand later that day at around 3:30 p.m. local time. Dolphin attacks are said to be rare, but there have been instances where dolphins were observed showing aggression towards other sea life. ...continue reading
---
Budget sushi mogul arrested for allegedly stealing trade secrets
NHK - Oct 01
Tokyo police have arrested the president of the operator of one of Japan's largest sushi chains on suspicion of fraudulently obtaining confidential information on a rival company.
---
Japan plans more stimulus to tackle inflation, low yen
RFI - Sep 30
Japan is preparing another round of economic stimulus measures, the government said Friday, as rising prices and the plummeting yen squeeze the world's third-largest economy.
---
Japan court rejects long-stay visa for gay U.S. man married to Japanese
Kyodo - Sep 30
A Japanese court on Friday upheld the denial of a long-term residence visa to an American man who married his same-sex Japanese partner in the United States.
---
Japan: North Korea launched two ballistic missiles
NHK - Sep 30
Japan's Defense Minister Hamada Yasukazu says North Korea has launched two ballistic missiles. Officials say this is the first time it's launched ballistic missiles two days in a row.
---
Japan health panel recommends allowing import, use of medical marijuana products
Reuters - Sep 30
A Japanese health ministry panel on Thursday recommended revising the nation's drug laws to allow for the importation and use of medicinal marijuana products.
---
Arrested group had 20,000 orders for forged residence cards
NHK - Sep 30
Japanese police have arrested five Chinese and one Japanese on suspicion of forging hundreds of residence cards to be issued to foreign residents in Japan.
---
Why Living in Japan Will Make You SKINNY
Mrs Eats - Sep 30
Japanese people are really thin! It's probably one of the first things you'll notice when you come here! But the question is, why?
---
Humanoid robot laughs along with human conversation
NHK - Sep 30
A research group at Kyoto University has developed a robot that's a lot more sociable than the average android. It appears to understand humor and can laugh along with its human companions.
---
Daria Saville Vlogs From Tokyo, Japan
Tennis Channel - Sep 30
Australian tennis player Daria Saville vlogs her trip to Tokyo for the Japan Open. She tries new snacks, avoids a typhoon, and discusses her injury suffered in the first round of the tournament.
---
Alleged administrator of sites linking to pirated anime arrested in Japan
animenewsnetwork.com - Sep 30
The Content Overseas Distribution Agency (CODA) announced that the Hokkaido Police Headquarters and the Sapporo District West Police Station have accused and arrested a man who operated multiple websites that linked to pirated anime on Thursday.
---
GIC seeks Japan property deals as yen falls and tourists return
Business Times - Sep 30
Singaporean sovereign wealth fund GIC is on the hunt for property deals and corporate partners across Japan as the falling yen and border reopening trigger a rush of tourists and deals.
---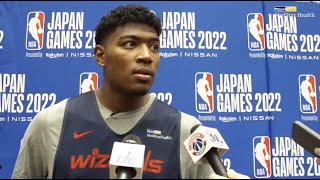 Warriors-Wizards games in Japan to woo fans, sponsors
AP - Sep 30
Japanese basketball fans will get to see NBA stars up close when the reigning league-champion Golden State Warriors take on the Washington Wizards in two preseason games.
---
Sci-Tech Page:
1
|
2
|
3
|
4
|
5
|
6
|
7