The coronavirus has forced Japan's notoriously fussy food shoppers to abandon doubts about online grocery stores, sending retailers such as Aeon Co scrambling to meet a surge in delivery demand.
Although Japanese shoppers aren't alone in going online during the outbreak, the shift is remarkable for a country that had been expected to take years to embrace online food shopping because of a zeal for fresh and perfectly presented produce.
"I think that this pandemic has triggered an inflection point in the adoption of grocery e-commerce," said Luke Jensen, executive director of Ocado Group, hired to build a grocery e-commerce business for Japanese retail giant Aeon.
Most companies won't disclose numbers, but retail executives and analysts estimate internet sales now account for about 5% or more of Japan's total grocery sales, compared with 2.5% before the pandemic.
Although that is still lower than some pre-crisis estimates of 15% in China and even 7% in broadband laggard Britain, it challenges a long-held belief that Japanese shoppers will always on shopping daily and in person, checking the goods first-hand.
Yuri Ohtaka, a graphic designer living in Tokyo's western suburbs, began ordering from multiple online supermarkets in March after seeing shoppers emptying shelves at a nearby store.
Although fears of shortages have subsided, online deliveries have made it easier as she works from home, making three meals a day for her family, including her 3-year-old son. She's also happy to avoid stores amid fears of infections.
"There's no need for face-to-face, dealing with registers, or standing in line," she said, adding that she's also persuaded her parents to go online. "They were shopping every day in the supermarket, and I really didn't want them to."
As more households have two people working, analysts say, people want to spend less time shopping. But they still have exacting standards for service and produce quality, which have perplexed previous foreign entrants such as Carrefour and Tesco.
Such changes are closely watched as Japan is one of the world's most valuable grocery markets, worth over 50 trillion yen ($466.42 billion) a year. Per capita, only countries such as Switzerland, Norway and Israel spend more on food.
Jul 13
Heavy rain has toppled an ancient cedar tree at a shrine in Gifu Prefecture, central Japan.
(NHK)
Jul 13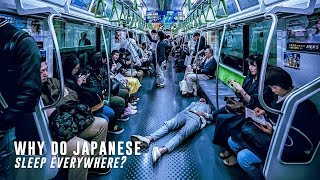 Japanese in their 20s and early 30s are going to bed earlier and sleeping about eight hours a day, 40 to 50 minutes longer than the same demographic did 10 years ago, according to a recent survey.
(Japan Times)
Jul 13
On July 4th, a rescue team carried out a helicopter operation to save a woman and a cat stranded in the floodwaters in Japan's Hitoyoshi.
(RT)
Jul 12
Residents are returning to their homes in Kuma village, in the Kumamoto prefecture of Japan, one of the regions worst hit by the recent torrential rain, to start the process of cleaning and searching for their belongings.
(RT)
Jul 11
Absolutely no tools, tape, or glue required for construction.
(soranews24.com)
Jul 10
A 24-year-old woman in custody after she caused the death of her 3-year-old daughter by leaving her alone at their residence for more than one week barricaded her inside with furniture, police have revealed, reports Fuji News Network (July 9).
(tokyoreporter.com)
Jul 09
Tokyo Metropolitan Police have arrested three persons, including a student at Joshibi College of Art and Design, over the alleged spraying of graffiti in Shibuya Ward, reports Fuji News Network (July 8).
(tokyoreporter.com)
Jul 09
A police officer fatally shot himself in Chiyoda Ward early Wednesday in an apparent suicide, police said, reports NHK (July 8).
(tokyoreporter.com)
Jul 09
Popular rapper Kan a.k.a. Gami, who is out on bail after being accused of possessing marijuana earlier this year, has been arrested again for the same crime, police said, reports Sports Nippon (July 7).
(tokyoreporter.com)
Jul 09
There is simply no denying that Japan has always been a technological leader.
(newsonjapan.com)
---