Japan power plant shutdown raises fear of shortage in sweltering heat
東京電力管内の「電力需給ひっ迫注意報」午後6時に解除 経産省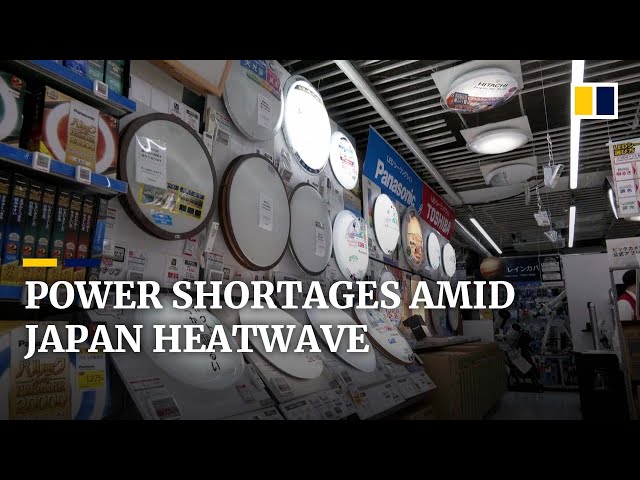 Japan's electricity grid creaked on Thursday under the strain of Tokyo's hottest June since records began, with the unexpected shutdown of a power plant raising fears that tens of millions of people could be deprived of power on another scorching day.
Temperatures of around 40 Celsius (104 Fahrenheit) were expected in some parts of greater Tokyo, home to 37 million people, on the sixth day of a heatwave that began after the earliest end to the capital's rainy season in decades.
With power producers scrambling to bring nearly 50-year-old turbines out of mothballs, the closure of a 600-megawatt (MW) plant in northern Japan that sends supplies to Tokyo came with reserve power capacity hovering around 3% - the level below which blackouts can occur.
Operator Joban Kyodo Thermal Power Company cited unexplained technical issues for the closure but said that parts of the plant had been restarted as of 1 p.m., media reports said. ...continue reading
Jun 30 (ANNnewsCH) - 政府は今月27日から東京電力管内に出していた「電力需給ひっ迫注意報」を午後6時に解除すると発表しました。 ...
continue reading
---
Support for Japan PM's cabinet lowest since it was formed: NHK reports
brecorder.com - Aug 09
Public support for Japanese Prime Minister Fumio Kishida slid to the lowest level since he took office last October, with voters questioning his decision to hold a state funeral for former premier Shinzo Abe, public broadcaster NHK said on Monday.
---
On Japan's Yonaguni island, fears of being on the front line of a Taiwan conflict
NPR - Aug 06
YONAGUNI ISLAND, Japan — For years it was known as the "Two Gun" island – one gun for each of the two policemen stationed here.
---
Minister denies politics played role in ex-Unification Church's name change
NHK - Aug 06
A Japanese Cabinet minister has denied that politics played any role in a decision by the government to certify the then-Unification Church's name change in 2015.
---
Japan to roll out Omicron-targeted COVID vaccine as early as Oct.
Kyodo - Aug 06
The Japanese government plans to roll out a new type of COVID-19 vaccine considered effective for the Omicron variant as early as October, sources familiar with the matter said Friday.
---
Japan's prime minister calls for 'immediate cancellation' of Chinese military drills
FRANCE 24 English - Aug 06
Japan's prime minister on Friday condemned China's firing of ballistic missiles during military drills around Taiwan, calling them a "serious problem that impacts our national security and the safety of our citizens."
---
Japan's population crisis fuelled by 'indifference and ignorance' of male lawmakers
South China Morning Post - Aug 05
Japan's minister for gender equality and children's issues, Seiko Noda, said that the country's male-dominated parliament has treated its dramatic population decline with ​​"indifference and ignorance".
---
Japan: 5 Chinese ballistic missiles landed within Japan's EEZ
NHK - Aug 04
Tokyo has lodged a protest with Beijing, after multiple Chinese ballistic missiles landed within Japan's Exclusive Economic Zone, amid large-scale military drills.
---
Myanmar charges Japanese journalist with encouraging dissent
indiatimes.com - Aug 04
A Japanese journalist detained in Myanmar has been charged with breaching immigration law and encouraging dissent against the military, the junta said Thursday.
---
Japan's Diet bans new member from staying overseas during session
NHK - Aug 03
Japan's Upper House has dismissed a plan by a newly-elected opposition lawmaker to stay overseas during the extraordinary session that will open on Wednesday.
---
Tokyo presses Myanmar to release Japanese man detained after filming protest in Yangon
ABC News (Australia) - Aug 03
Japan has called on Myanmar's junta to release one of its citizens who was detained in Yangon after filming a demonstration. Meanwhile the country's military rulers are extending the state of emergency by another six months.
---
Japan's planned record minimum wage hike opens path to sustained GDP growth
taiwannews.com.tw - Aug 02
Japan's average minimum wage is set to rise at a record pace this year, the government said on Tuesday, a positive development for Prime Minister Fumio Kishida's efforts to cushion households from global commodity inflation.
---
Experts urge changes to Japan's COVID policy
NHK - Aug 02
A rapid surge in new cases of coronavirus infections is piling pressure on medical facilities and workers. Experts are calling for policy changes to help reduce this burden.
---
Politics Page:
1
|
2
|
3
|
4
|
5
|
6
|
7