Japan hit by scorching heat as rainy season appears over
都心で3日連続「猛暑日」 "節電モード"に各地で困惑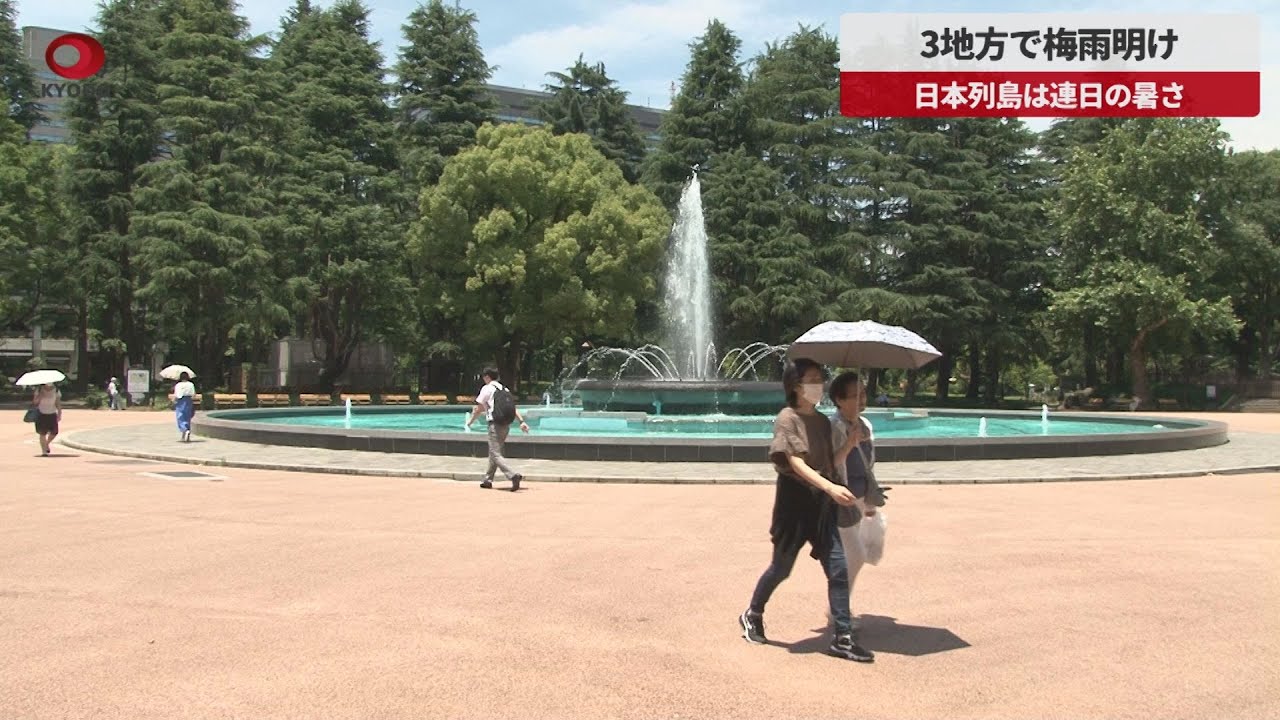 Japan is experiencing scorching heat as the rainy season appears to have ended in much of the country.
Meteorological Agency officials announced on Tuesday that the rainy season seems to be over in the northern Kyushu, Shikoku and Hokuriku regions, as well as the western part of the main island of Honshu.
If finalized, the end of the rainy season in the areas will be the earliest since record-keeping began in 1951.
On Monday, the officials announced the end of the rainy season in the regions of southern Kyushu, Tokai and Kanto-Koshin, which includes Tokyo.
Only the northeastern region of Tohoku remains prone to rainy weather. Hokkaido has no rainy season.
Temperatures soared in many locations, especially in central Japan. Koshu City in Yamanashi Prefecture recorded a daytime high of 38.7 degrees Celsius, and Tajimi City in Gifu Prefecture 37.9 degrees.
Central Tokyo topped 35 degrees for the fourth straight day, for the first time ever in June.
Temperatures of over 35 degrees were observed at 100 locations across Japan, the most this season.
People are advised to stay hydrated and use air conditioners appropriately to avoid heatstroke. They are also encouraged to remove their face masks when they're outdoors and there's little conversation.
Jun 28 (ANNnewsCH) - 27日も東京都心は35度を記録し、6月として初めて3日連続の猛暑日となりました。記録的な暑さのなかで始まった節電の呼び掛けに早くも暮らしに影響が出ています。 ...
continue reading
---
Aggressive dolphins bite more people off Japanese beach, some taken to hospital
ksby.com - Aug 12
People frequenting a Japanese beach are on heightened alert after usually docile wild dolphins have been biting more and more people in the waters off a beach near the south of the country.
---
To understand birthrate crisis, Japan's new male minister tries out 'pregnancy belly'
indianexpress.com - Aug 12
Japanese Prime Minister Fumio Kishida replaced the female minister in charge of tackling the country's falling birthrate and installed a man who sought to deepen his understanding of the issue by trying out a "pregnancy belly."
---
Prices set to rise in Japan for over 10,000 food items on weak yen
Kyodo - Aug 12
Food prices will continue to surge in Japan for the latter half of 2022, with more than 10,000 items set to rise in price from August onward as import costs of materials become more expensive due to a weaker yen, according to a survey by a credit research company.
---
Japan's film industry under pressure over abuse
DW News - Aug 12
The Japanese film industry is following in the footsteps of the #MeToo campaign in other parts of the world, although some fear it will be impossible to entirely stamp out abuse that has become commonplace.
---
Japan has world's highest number of new COVID cases for 3rd straight week
NHK - Aug 12
The World Health Organization says Japan reported the highest number of new COVID-19 cases of any country in the world during the week through Sunday. Japan had the highest number of new cases in the world for the third week in a row.
---
Fuji Rock 2022 Wrap Up
metropolisjapan.com - Aug 12
Fuji Rock 2022, the 25th edition of the festival, saw a return to almost full-scale festivities with nine stages of music and over 150 performances taking place over the three-day event.
---
Man questioned for possessing 'gunpowder' near U.S. Embassy in Tokyo
Japan Today - Aug 11
A man has been questioned by police for possessing a vessel containing what appeared to be homemade gunpowder near the U.S. Embassy in Tokyo earlier this week, investigative sources said Wednesday.
---
Unification Church says Japan members received death threats
Japan Today - Aug 11
Unification Church followers in Japan and their families have faced harassment and death threats since the assassination of former Prime Minister Shinzo Abe, the organization's Japanese branch said Wednesday.
---
Kishida enlists seasoned hands to tackle energy, defense
Nikkei - Aug 11
As Japan faces a myriad of challenges from the coronavirus to an increasingly complex security landscape, Prime Minister Fumio Kishida has packed his cabinet with seasoned lawmakers who he hopes can tackle them head-on.
---
Japan's national debt tops 10m yen per capita for first time
Nikkei - Aug 11
Japan's government debt per capita surpassed 10 million yen, or roughly $75,000, for the first time at the end of June, data released Wednesday shows, as Tokyo poured money into tackling both the coronavirus pandemic and inflation.
---
How centuries of self-isolation turned Japan into one of the most sustainable societies on Earth
econotimes.com - Aug 11
At the start of the 1600s, Japan's rulers feared that Christianity – which had recently been introduced to the southern parts of the country by European missionaries – would spread.
---
Gucci handed a loss in bid to block registration of Japanese trademark
thefashionlaw.com - Aug 11
Gucci has been handed a loss in a trademark fight in Japan, with the national trademark office refusing to block the registration of a mark that counsel for Gucci alleges will cause confusion among consumers.
---
Travel Page:
1
|
2
|
3
|
4
|
5
|
6
|
7