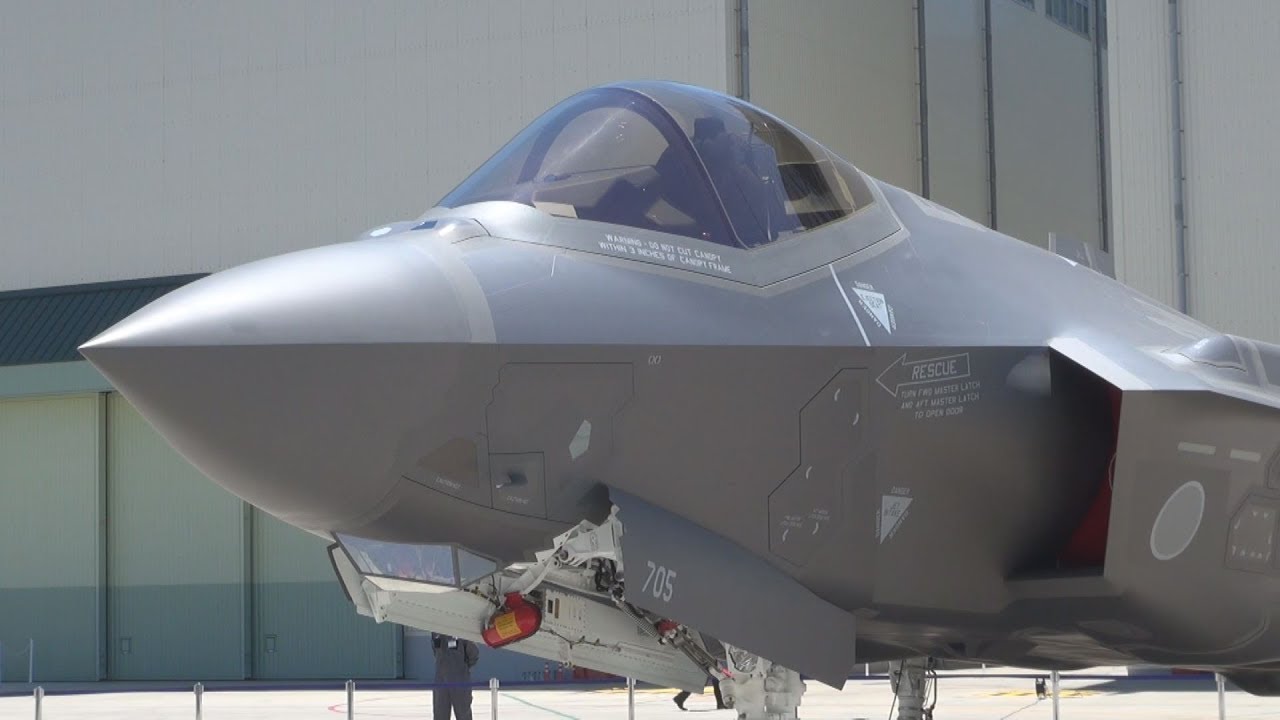 Japan's next-generation mainstay fighter aircraft, the F35 stealth jet, has been shown to the public.
The first domestically assembled F35 was unveiled at a Mitsubishi Heavy Industries plant in Aichi Prefecture, central Japan, on Monday.
In a ceremony, State Minister of Defense Kenji Wakamiya said the F35, the world's most advanced type of fighter, will be important for Japan's national defense. He added that he is sure it will help further strengthen Japan-US ties.
The F35 boasts strong stealth capabilities that prevent its detection by radar. The plane was developed by the United States and 8 other countries.
Japan was not part of the development team, but is responsible for assembling the plane's fuselage and the manufacture of its radar systems and other parts.
Japan's Air Self-Defense Force plans to introduce 42 F35s as its next-generation mainstay fighter. The first one will be deployed at its Misawa base in the northern Japanese prefecture of Aomori by March of next year.
航空自衛隊が導入する最新鋭の国産戦闘機が披露されました。 「F35A」は、レーダーに探知されにくい「ステルス性」を持ち、他の航空機や艦船との情報共有能力に優れた最新鋭の戦闘機で、42機が航空自衛隊に導入される予定です。
Feb 18
Tokyo Metropolitan Police have arrested a 26-year-old man for allegedly molesting a teenage girl on a street in Chuo Ward last year, reports Nikkan Sports
(tokyoreporter.com)
Feb 16
Tokyo Metropolitan Police have arrested four persons, including an organized crime member, over the alleged smuggling of more than 100 kilograms of marijuana inside wooden doors, reports NHK.
(tokyoreporter.com)
Feb 15
The education ministry released a draft Wednesday of revised curriculum guidelines for high schools, including the introduction of comprehensive history and public affairs as new compulsory subjects.
(Japan Times)
Feb 15
Officials with East Japan Railway Company say a metal part that went missing from a Shinkansen bullet train has been found. They say the problem did not disrupt services or cause any injuries.
(NHK)
Feb 14
Two Japanese professional players of the traditional board games shogi and go have received the country's People's Honor Award.
(NHK)
Feb 13
A group of citizens in Tokyo's Hachioji held a fresh Coming-of-Age ceremony on Monday for victims of the sudden shutdown about a month ago of kimono seller and rental firm Harenohi that attracted wide public attention and media coverage.
(Jiji)
Feb 12
Tokyo Metropolitan Police have arrested a 63-year-old woman for allegedly strangling her daughter to death at their residence in Akishima City on Saturday, reports TBS News
(tokyoreporter.com)
Feb 10
Teachers at a public high school in Toyama Prefecture have cut the hair of 44 students since April last year to make it short enough to meet school rules, the school and local education board said Friday.
(Japan Today)
Feb 10
A green turtle died as oil reached the southern Amami-Oshima Island coast, the local government said Thursday, but it was not clear whether the oil came from an Iranian tanker that sank in nearby waters last month.
(Japan Times)
Feb 10
The expansion of Amazon.com into physical stores is driving partnerships between Japanese retailers and information technology companies looking to withstand the American e-commerce company's growing might in both online and bricks-and-mortar realms.
(Nikkei)
---