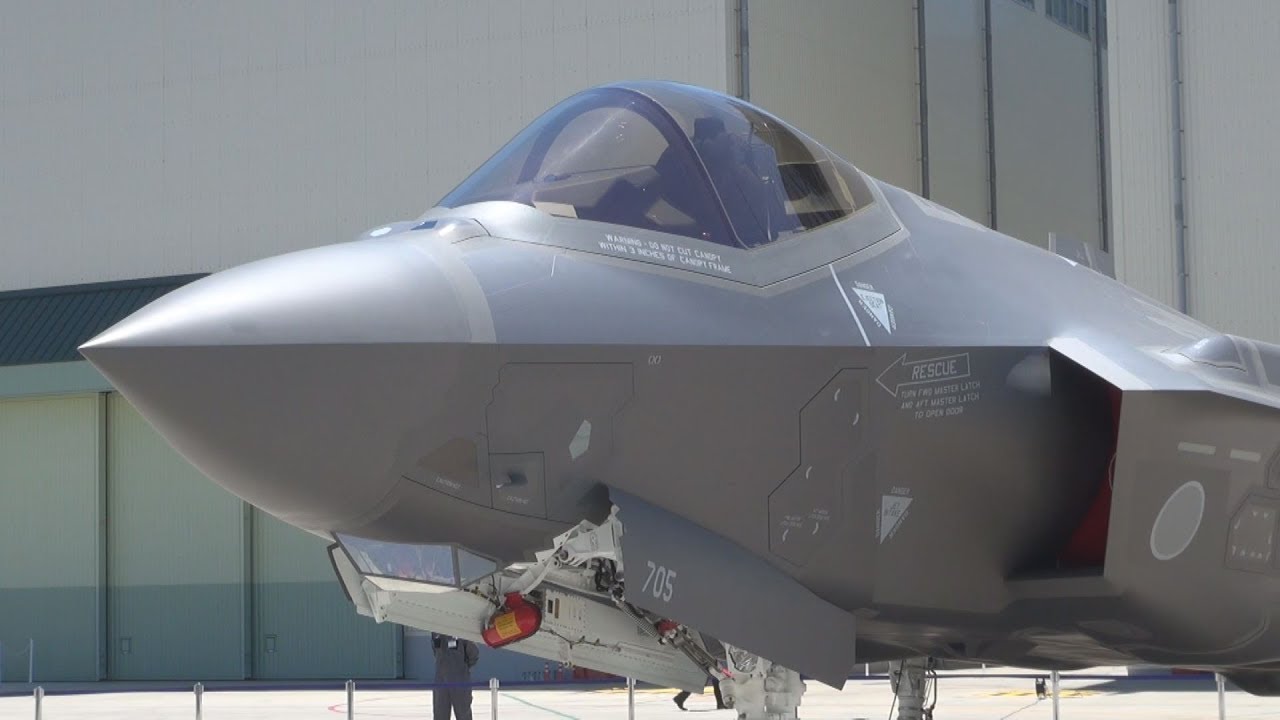 Japan's next-generation mainstay fighter aircraft, the F35 stealth jet, has been shown to the public.
The first domestically assembled F35 was unveiled at a Mitsubishi Heavy Industries plant in Aichi Prefecture, central Japan, on Monday.
In a ceremony, State Minister of Defense Kenji Wakamiya said the F35, the world's most advanced type of fighter, will be important for Japan's national defense. He added that he is sure it will help further strengthen Japan-US ties.
The F35 boasts strong stealth capabilities that prevent its detection by radar. The plane was developed by the United States and 8 other countries.
Japan was not part of the development team, but is responsible for assembling the plane's fuselage and the manufacture of its radar systems and other parts.
Japan's Air Self-Defense Force plans to introduce 42 F35s as its next-generation mainstay fighter. The first one will be deployed at its Misawa base in the northern Japanese prefecture of Aomori by March of next year.
航空自衛隊が導入する最新鋭の国産戦闘機が披露されました。 「F35A」は、レーダーに探知されにくい「ステルス性」を持ち、他の航空機や艦船との情報共有能力に優れた最新鋭の戦闘機で、42機が航空自衛隊に導入される予定です。
Dec 13
A window from a US military helicopter has fallen onto the grounds of an elementary school in Okinawa, Japan's southern prefecture.
(NHK)
Dec 12
About 100 police and firefighters resumed their search Monday morning for a three-year-old boy who has been missing in Echizen, Fukui Prefecture, since Saturday.
(Japan Today)
Dec 11
Prosecutors investigating Obayashi Corp. suspect the major construction firm rigged a bid for the building of a maglev train station emergency exit, with one of the company's vice presidents brought in voluntarily for questioning about the matter, sources close to the case said Sunday.
(Japan Times)
Dec 10
Tokyo Metropolitan Police have arrested a 33-year-old man suspected in 100 purse-snatching incidents over the past few moths in the northern part of the capital, reports the Sankei Shimbun
(tokyoreporter.com)
Dec 10
Tokyo Metropolitan Police on Friday raided an office of extremist group Chukaku-ha in Edogawa Ward over harboring a wanted activist, reports TV Asahi
(tokyoreporter.com)
Dec 10
Police in Hokkaido said Saturday they had arrested three of the crew members of a North Korean fishing boat on suspicion of plundering a remote fishing hut.
(Japan Today)
Dec 09
The chief priest at a Shinto shrine in Tokyo was killed on Thursday, after she and her brother apparently fought over the post she held.
(NHK)
Dec 09
Japanese Crown Princess Masako said she feels humbled thinking about her future, after Emperor Akihito's abdication was formally set for April 30, 2019.
(Jiji)
Dec 08
Two women were killed and another person was injured Thursday night in a stabbing incident at a Shinto shrine in Tokyo, with the male suspect appearing to have committed suicide, police said.
(Japan Today)
Dec 07
Police in Tottori Prefecture will file papers with prosecutors next week on the alleged assault by former sumo grand champion Harumafuji.
(NHK)
---