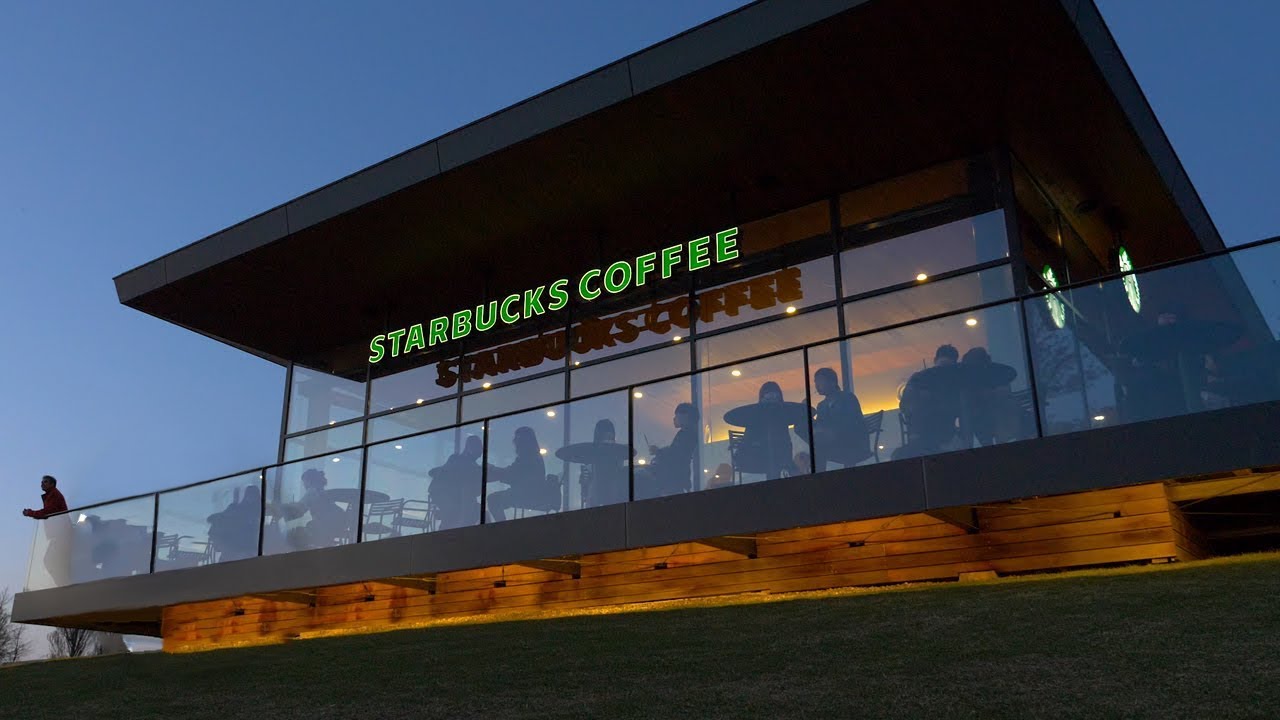 Where is the world's most beautiful Starbucks? Japan, of course.
In Toyama city's Kansui Park is a shop that has won awards for it's design, but it's also the location that makes it beautiful. Those big windows overlook a lake in a park, the building resting upon grass, surrounded by sakura trees. The fresh air off the sea of Japan and the beautiful sunsets over the nearby Japanese Alps can't be forgotten. I could sip a hot cappuccino all day here.
But wait! Starbucks newest shop in Kyoto (Ninenzaka) is a traditional tea house that looks centuries old! It's hard to tell it's a Starbucks until you see the sign. Inside, it's like going back in time. You definitely feel Kyoto's historical vibe sitting on tatami sipping macha tea ... lattes. This may also be the world's most beautiful shop.
Hakodate in Hokkaido is home to what many consider to be the "coziest Starbucks in the world". It's got a fireplace, wide open rooms and stairs, natural hard wood floors and a beautiful deck that overlooks Hakodate Bay. It's super cozy!
Yeah, visiting Starbucks is certainly one attraction for many visitors because it seems more than just a chain coffee shop. To me, it a reflection of the world around us -- and a really good cup of coffee.
Oct 19
Tokyo's Shibuya Ward is asking people not to disturb others when celebrating Halloween.
(NHK)
Oct 19
Thursday marks a week since Tokyo's new wholesale food market opened at Toyosu. The new market was initially beset by traffic jams, but wholesalers and buyers are gradually learning how to get around.
(NHK)
Oct 19
Japan is known for its ever-growing list of unique KitKat flavors, but now Nestle Japan Ltd. is taking its premium version of the chocolate bar to the next level -- a new specialty shop in downtown Osaka offering customers made-to-order creations that are chilled at the spot by liquid nitrogen.
(Kyodo)
Oct 19
A ski resort at Mount Rokko in western Japan has begun work to make artificial snow for a ski slope, one month before its opening for the season.
(NHK)
Oct 17
The number of foreign visitors to Japan has dropped for the first time in more than 5 years as natural disasters prompted many tourists to cancel trips in September.
(NHK)
Oct 15
The government will introduce an electronic system for tourist visa applications in April 2020 in an effort to help achieve its goal of 60 million foreign visitors a year by 2030, government sources said Sunday.
(Japan Times)
Oct 15
The fine balance between lush greenery and vibrant city makes Kushiro a nature lover's paradise.
(soranews24.com)
Oct 11
Japan now has the most powerful passport on the planet, a key to visa-free travel to more destinations than Singapore and Germany, according to the 2018 Henley Passport Index.
(usatoday.com)
Oct 08
More tourists in Kyoto and Tokyo are sightseeing early in the morning, although many venues are not yet ready to handle the new trend.
(Japan Times)
Oct 07
Typhoon Kong-rey has been downgraded to a low pressure system. But weather officials are still urging people in northern Japan to watch out for strong winds, high waves, mudslides, and floods.
(NHK)
---