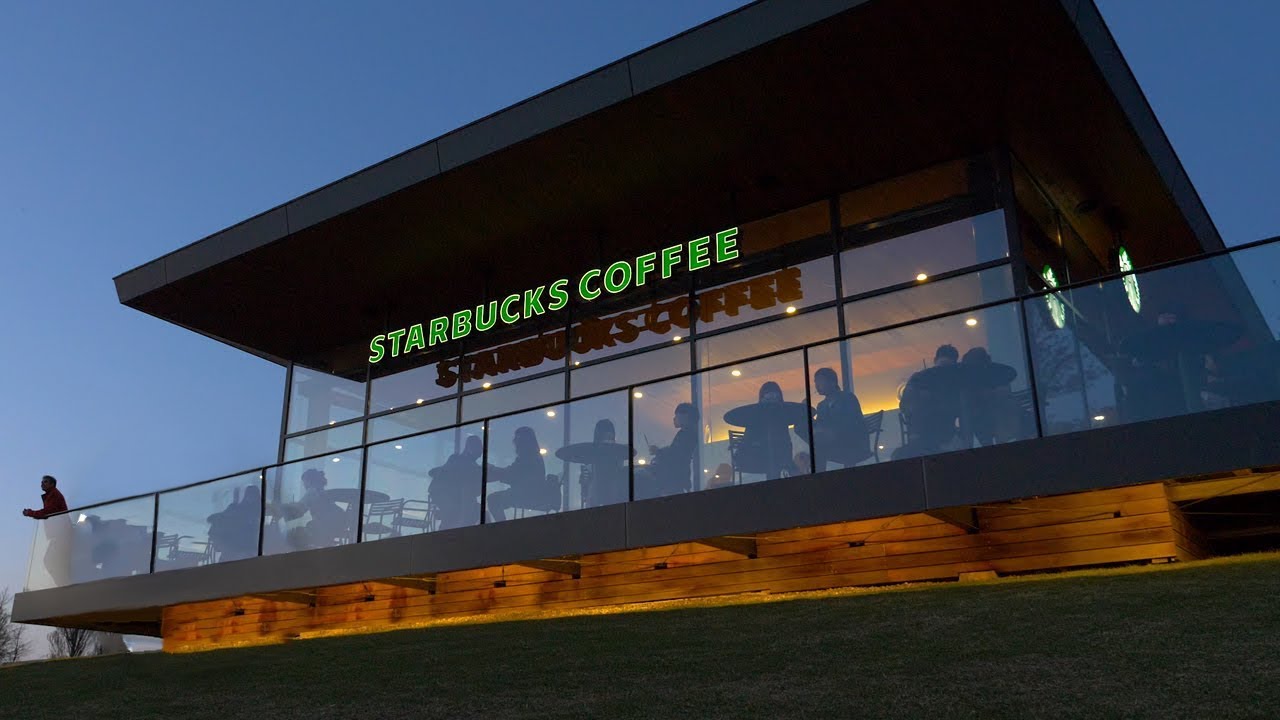 Where is the world's most beautiful Starbucks? Japan, of course.
In Toyama city's Kansui Park is a shop that has won awards for it's design, but it's also the location that makes it beautiful. Those big windows overlook a lake in a park, the building resting upon grass, surrounded by sakura trees. The fresh air off the sea of Japan and the beautiful sunsets over the nearby Japanese Alps can't be forgotten. I could sip a hot cappuccino all day here.
But wait! Starbucks newest shop in Kyoto (Ninenzaka) is a traditional tea house that looks centuries old! It's hard to tell it's a Starbucks until you see the sign. Inside, it's like going back in time. You definitely feel Kyoto's historical vibe sitting on tatami sipping macha tea ... lattes. This may also be the world's most beautiful shop.
Hakodate in Hokkaido is home to what many consider to be the "coziest Starbucks in the world". It's got a fireplace, wide open rooms and stairs, natural hard wood floors and a beautiful deck that overlooks Hakodate Bay. It's super cozy!
Yeah, visiting Starbucks is certainly one attraction for many visitors because it seems more than just a chain coffee shop. To me, it a reflection of the world around us -- and a really good cup of coffee.
Mar 22
After months of cold weather, which brought the heaviest snowfall in four years to Tokyo back in January, the days finally began warming up in the capital last week, with sunny skies and temperatures reaching highs of 22 degrees Celsius (71.6 degrees Fahrenheit).
(soranews24.com)
Mar 22
Many foreign tourists to Japan often wonder why public transportation, especially in areas of Tokyo renowned for their nightlife, is so limited after the last trains of the night.
(Kyodo)
Mar 21
Japan saw an estimated 2,509,300 visitors from overseas in February, up 23.3 pct from a year earlier, the Japan National Tourism Organization said Tuesday.
(Jiji)
Mar 20
A Somei-Yoshino cherry tree being monitored in Kochi reached full bloom on Monday, the Metrological Agency said.
(Japan Times)
Mar 20
The refurbished interior of the "Tower of the Sun" was opened to the public on Monday for the first time since the major artwork by the late Taro Okamoto became a symbol of the Expo '70 world's fair in Osaka.
(Japan Times)
Mar 18
Japan's Meteorological Agency announced on Saturday the official start of Tokyo's annual cherry blossom season.
(NHK)
Mar 18
Workers have replaced a lightning-damaged shachihoko roof ornament on a castle in Inuyama City, central Japan.
(NHK)
Mar 17
Japanese authorities have lowered volcanic alert levels for the 2 peaks of Mount Kusatsu-Shirane in Gunma Prefecture, more than 7 weeks after the volcano erupted.
(NHK)
Mar 17
American rocker and songwriter Bob Dylan will perform at the Fuji Rock Festival in July, his first appearance in Japan since receiving the 2016 Nobel Prize in Literature, the event's organizer said.
(Kyodo)
Mar 16
A survey of 36 major Kyoto city hotels showed that foreigners accounted for 40.5 percent of their total guests in 2017, the highest figure recorded since the survey began in 2014.
(Japan Times)
---