Chief negotiators from the 11 Trans-Pacific Partnership countries met Wednesday in the hot-spring resort town of Hakone, Kanagawa Prefecture, to discuss how to breathe fresh life into the massive free trade deal after the U.S. withdrew.
Kazuyoshi Umemoto, the chair of the meeting, said at the outset of the gathering that he is determined to discuss "possible options for the early entry into force of the TPP" before their leaders gather in November for an Asia-Pacific Economic Cooperation forum in Vietnam.
"Time is not so abundant, so we very much hope we can achieve as much as possible in this meeting," Umemoto said.
Currently, the TPP pact can come into force only after at least six countries that account for 85 percent or more of the original 12 signatories' combined gross domestic product complete domestic procedures.
Since the United States alone represented more than 60 percent of the initial members' GDP, doing so under the present terms is impossible.
Japan, the largest economy among the 11 members, hopes to reach an agreement to alter those requirements without looking again at the content of the pact after years of negotiations before it was finally inked in February 2016.
But some countries may call for fresh negotiations on the content, including on tariffs.
Vietnam and Malaysia, which agreed to ease domestic regulations and open their markets in return for access to the huge U.S. market, are believed to be reluctant to go ahead with the deal without the United States.
アメリカを除く11カ国でのTPP(環太平洋経済連携協定)発効に向け、事務方トップの首席交渉官会合が12日午後から箱根で始まります。 今回の会合では、すでに12カ国で合意した関税や貿易ルールなどの分野でどこまで修正するのかどうかが最大の焦点となります。
Feb 21
Seven South Korean women attempted to smuggle gold into Japan late last month by concealing it in their rectums, officials from Aichi Prefecture's Chubu Airport said Tuesday.
(Japan Times)
Feb 21
The Japanese government says Emperor Akihito's abdication ceremony will be held next year on April 30th, the day he steps down, as a state event.
(NHK)
Feb 21
In a ruling handed down Tuesday on a high-profile surrogacy case involving a 28-year-old Japanese man, a Thai juvenile and family court accepted his claim for custody of 13 children whom he had through surrogacy in the Southeast Asian country.
(Jiji)
Feb 21
The Japanese government has decided to hold next year's Group of 20 Summit meeting in the western prefecture of Osaka. It will be the first time Japan has hosted the summit.
(NHK)
Feb 21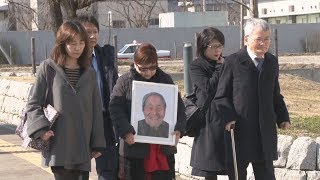 A Japanese court has ordered Tokyo Electric Power Company to pay about 142,000 dollars in damages to the family of an elderly man who killed himself amid an evacuation order during the 2011 Fukushima nuclear crisis.
(NHK)
Feb 21
Gangsters seeking to leave organized crime groups --- but who are in dire financial straits --- could soon get free accommodation and help with transportation costs in Fukuoka Prefecture under a unique program aimed at promoting integration back into society and in turn weakening the underworld syndicates.
(Japan Times)
Feb 21
A total of 213 firms and organizations in Japan were found to have mistreated technical trainees from abroad in 2017, down 10.9 percent from the previous year and falling for the second straight year, the Justice Ministry has said.
(Japan Times)
Feb 21
Tokyo Disney Resort operator Oriental Land will roll out a smartphone app in fiscal 2018 to relieve crowding issues that have frustrated guests at the popular theme park.
(Nikkei)
Feb 21
Japan's land ministry plans to remove utility poles and bury overhead cables along 1,400 kilometers of roads over the next 3 years.
(NHKん)
Feb 21
Tokyo Metropolitan Police have arrested employees at an antiquarian bookstore in Chiyoda Ward over the alleged possession child pornography, a case that is a nationwide first, reports TV Asahi
(tokyoreporter.com)
---