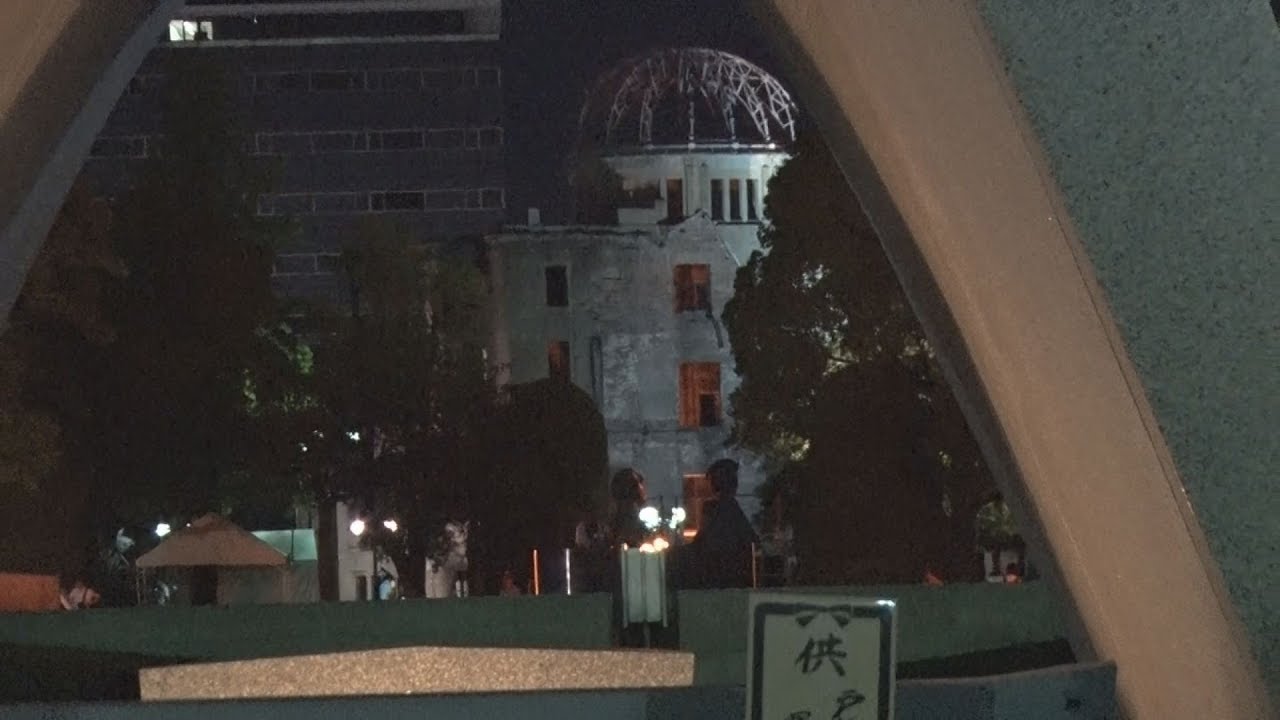 Tens of thousands of people gathered Sunday in Hiroshima to reflect on a tragedy that changed the course of history. They're marking the 72nd anniversary since the US detonated an atomic bomb over the city in 1945.
About 50,000 people gathered at the Peace Memorial Park to honor the victims. Survivors known as Hibakusha joined the crowd. Their average age is now 81. Representatives from 80 countries also attended.
People observed a moment of silence at 8:15 AM, the exact time the bomb hit the city.
Officials placed a list of 308,725 victims in a cenotaph. It includes the names of 5,530 people who died or were confirmed to have died in the past year. Hiroshima Mayor Kazumi Matsui delivered a declaration of peace. He quoted from survivors, who described the scenes of devastation and despair that followed the bombing and who spoke of their desire for peace.
The mayor said "This hell is not a thing of the past. As long as nuclear weapons exist and policymakers threaten their use, their horror could leap into our present at any moment. You could find yourself suffering their cruelty."
Matsui referred to a treaty to ban nuclear weapons that was adopted by 122 counties and territories at the UN.
Non-signatories are expected to include nuclear powers such as the US and Russia and countries that rely on the nuclear umbrella, including Japan.
Matsui urged the Japanese government to help bridge the divide over the treaty.
6日は72回目の広島の原爆の日です。広島市の松井一実市長は核兵器禁止条約締結に向け、日本政府にさらなる対応を求めました。 平和記念式典には、安倍総理大臣のほか80カ国やヨーロッパ連合の代表ら約5万人が参列しました。
Oct 17
Police in Hiroshima, western Japan, are investigating graffiti found at 3 places in the Peace Memorial Park. The park is home to the landmark Atomic Bomb Dome, which was damaged in the 1945 bombing.
(NHK)
Oct 17
The number of foreign visitors to Japan has dropped for the first time in more than 5 years as natural disasters prompted many tourists to cancel trips in September.
(NHK)
Oct 17
A Tokyo court has begun questioning 3 former executives of Tokyo Electric Power Company about their involvement in the 2011 nuclear accident at the Fukushima Daiichi plant.
(NHK)
Oct 17
Tokyo police arrested on Tuesday some members of a fraud group for allegedly attempting to register a land ownership change using fake documents, in a high-profile case that led Sekisui House Ltd. <1928> to lose billions of yen.
(Jiji)
Oct 17
Keisuke Fukuchi, the 2018 world champion of the Othello board game and the youngest ever at 11, was congratulated and surprised while on his return flight to Japan after the competition in Prague as the pilot revealed via intercom that he was the previous record holder.
(Kyodo)
Oct 17
Gunma Prefecture says its helicopter that crashed in August is suspected to have been flying in violation of civil aviation laws.
(NHK)
Oct 17
An unmanned store using artificial intelligence instead of cashiers is set to open on a trial basis at a station in Tokyo.
(NHK)
Oct 16
Showa University in Tokyo admitted Monday that its medical school has been rigging entrance examination results in favor of first- and second-time test takers, while putting former students' children high on waiting lists to fill vacancies.
(Jiji)
Oct 16
The Imperial Household Agency said Monday it will jointly excavate Japan's largest ancient mounded tomb with a local government for the first time.
(Japan Times)
Oct 16
Chief Cabinet Secretary Yoshihide Suga says Facebook has informed the government that its recent massive data leak could involve Japanese users.
(NHK)
---