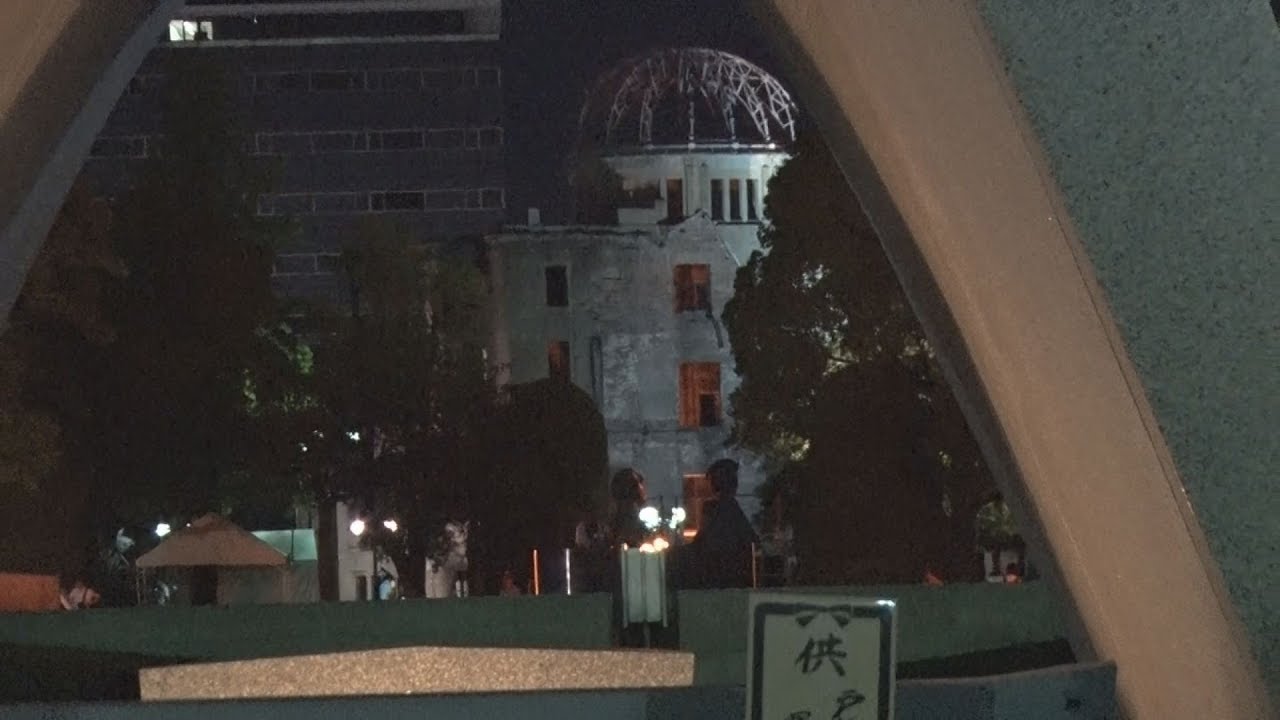 Tens of thousands of people gathered Sunday in Hiroshima to reflect on a tragedy that changed the course of history. They're marking the 72nd anniversary since the US detonated an atomic bomb over the city in 1945.
About 50,000 people gathered at the Peace Memorial Park to honor the victims. Survivors known as Hibakusha joined the crowd. Their average age is now 81. Representatives from 80 countries also attended.
People observed a moment of silence at 8:15 AM, the exact time the bomb hit the city.
Officials placed a list of 308,725 victims in a cenotaph. It includes the names of 5,530 people who died or were confirmed to have died in the past year. Hiroshima Mayor Kazumi Matsui delivered a declaration of peace. He quoted from survivors, who described the scenes of devastation and despair that followed the bombing and who spoke of their desire for peace.
The mayor said "This hell is not a thing of the past. As long as nuclear weapons exist and policymakers threaten their use, their horror could leap into our present at any moment. You could find yourself suffering their cruelty."
Matsui referred to a treaty to ban nuclear weapons that was adopted by 122 counties and territories at the UN.
Non-signatories are expected to include nuclear powers such as the US and Russia and countries that rely on the nuclear umbrella, including Japan.
Matsui urged the Japanese government to help bridge the divide over the treaty.
6日は72回目の広島の原爆の日です。広島市の松井一実市長は核兵器禁止条約締結に向け、日本政府にさらなる対応を求めました。 平和記念式典には、安倍総理大臣のほか80カ国やヨーロッパ連合の代表ら約5万人が参列しました。
Dec 15
Japanese authorities have found 4 bodies in 2 wooden boats that washed ashore on the Sea of Japan coast in Akita City, Akita Prefecture.
(NHK)
Dec 15
Emperor Akihito wishes to step down in an abdication ceremony that is "as simple as possible," without inviting foreign guests and holding a parade, the head of the Imperial Household Agency said Thursday.
(Japan Today)
Dec 15
Japan's space agency says its asteroid probe Hayabusa2 is on course to reach its target between Earth and Mars in about 6 months.
(NHK)
Dec 14
Officials from a Japanese train operator say a crack was found near the welded joint of one of the key parts and the undercarriage of a Shinkansen bullet train.
(NHK)
Dec 14
Osaka University said Wednesday that personal data of around 80,000 students, graduates, staff, former workers and others may have been stolen by hackers.
(Japan Times)
Dec 14
For the first time, a Japanese high court has ordered the operator of a nuclear plant not to restart a reactor.
(NHK)
Dec 14
The average life expectancy in 2015 for Japanese men was highest in Shiga Prefecture, western Japan, at 81.78 years, a health ministry survey showed Wednesday.
(Jiji)
Dec 14
Japan's Supreme Court has upheld a lower court ruling finding the mayor of Minokamo in Gifu Prefecture, central Japan, guilty of receiving bribes.
(Jiji)
Dec 14
Tokyo Metropolitan Police have arrested a 72-year-old man over the alleged molestation of a fourth-year middle school girl in a parking lot in Edogawa Ward earlier this year, reports the Sankei Shimbun
(tokyoreporter.com)
Dec 14
Japan's ruling Liberal Democratic Party and its coalition partner, Komeito, adopted on Tuesday an income tax reform plan that will bring about heavier burdens on salaried employees earning over 8.5 million yen a year.
(Jiji)
---