Japan Display is considering tough downsizing measures to help save its struggling business, including slashing more than 3,000 jobs.
The maker of liquid-crystal display panels has booked net losses for 3 straight years due to poor sales of LCDs for smartphones.
Sources say the company is planning to shut down an assembly line at a plant in Ishikawa Prefecture on the Sea of Japan coast.
It will also ask more than 200 employees in Japan to take early retirement.
The cuts would go considerably deeper overseas. The firm is expected to close or reduce production at plants in China and the Philippines, and lay off more than 3,000 workers.
Some of that production will then be outsourced.
経営再建中のジャパンディスプレイは液晶事業の低迷で財務基盤が悪化したため、数千人規模の人員削減や外部資本の受け入れを検討していることが分かりました。
Aug 17
Huge bonfires on mountains lit up Japan's old capital, Kyoto, on Wednesday night in an annual Buddhist ceremony.
(NHK)
Aug 17
Lack of sunshine caused by prolonged cloudy conditions and lingering rain in Pacific coastal areas of northeastern Japan may cause problems for the rice harvest.
(NHK)
Aug 16
The estimated number of visitors to Japan in July grew 16.8 pct from a year before to 2,681,500, a record high on a monthly basis, the Japan National Tourism Organization said Wednesday.
(Jiji)
Aug 16
The Japan Tourism Agency plans to urge "ryokan" Japanese-style inn operators to set separate fees for stays and meals, agency officials said Wednesday.
(Jiji)
Aug 16
The organizing committee for the 2020 Tokyo Olympics and Paralympics said Tuesday that it has received a total of 2,042 applications in a campaign to solicit ideas for official mascots for the quadrennial sporting events.
(Jiji)
Aug 16
Kumamoto Prefectural Police have arrested the 30-year-old male manager of a talent agency over the alleged sexual assault of an intoxicated teenage girl in Kumamoto City, reports Nippon News Network.
(tokyoreporter.com)
Aug 16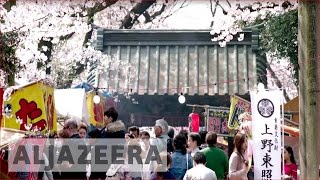 Japan's cautious consumers are starting to loosen up, spending more on cars and home appliances and offering hope that domestic demand - and not just exports - will be strong enough to reflate an economy that has been sluggish for many years.
(Japan Today)
Aug 16
Prime Minister Shinzo Abe made a tamagushi ritual offering at his own expense to Yasukuni Shrine on Tuesday, the 72nd anniversary of the end of World War II.
(the-japan-news.com)
Aug 16
In telephone talks held Tuesday morning, Prime Minister Shinzo Abe and U.S. President Donald Trump confirmed their cooperation to deal with a possible North Korean missile launch that might travel over Japan toward waters off Guam.
(the-japan-news.com)
Aug 16
A high-level Japanese government official denounced a Korean bus company Tuesday for putting "comfort woman" statues on its five buses running in Seoul, urging the Korean government to take "appropriate measures."
(koreatimes.co.kr)
---