US President Donald Trump has arrived in Tokyo for the first leg of his 5-nation tour of Asia. This is his first visit to Japan since he took office.
Trump and Abe will play golf later on Sunday with Japan's top golfer, Hideki Matsuyama. The 2 leaders and their wives will then have dinner together.
On Monday, Trump will visit Emperor Akihito and Empress Michiko. He is also scheduled to have talks with Abe, and meet with families of Japanese citizens abducted by North Korean agents in the 1970s and 80s. The meeting may include a former abductee who returned in 2002.
Trump and Abe will then hold a joint news conference.
During their talks, the leaders are expected to discuss North Korea's nuclear and missile threats.
They are also expected to jointly urge China and other countries to increase pressure on Pyongyang.
On the economic front, they are expected to agree to strengthen cooperation in the energy sector. They will also discuss further cooperation on foreign infrastructure projects.
The Trump administration is concerned about the US trade deficit with Japan.
Japanese officials are worried that Trump may seek negotiations for a bilateral trade deal, such as a free trade agreement. Japan has pushed to keep alive a multi-country pact called the TPP, which Trump ditched after taking office.
トランプ米大統領が東京・横田基地に到着。就任後、初の来日。
Feb 20
Fukushima Prefectural Police have arrested a 24-year-old man for allegedly killing his girlfriend, whose body is believed to have been left in their residence in Koriyama City since early this month, reports the Sankei Shimbun
(tokyoreporter.com)
Feb 20
A fighter jet from the US Misawa Airbase in northern Japan developed an engine fire on Tuesday morning and offloaded fuel tanks into a lake.
(NHK)
Feb 20
Investigative sources with the Chiba Prefectural Police have revealed that two men, a woman and a teenage girl arrested after a charred corpse was found in a burned-out residence in Inzai City were living inside a vehicle, reports the Sankei Shimbun
(tokyoreporter.com)
Feb 20
Japan's labor minister has apologized for having provided inaccurate figures to the prime minister in Diet debate on working system reform.
(NHK)
Feb 19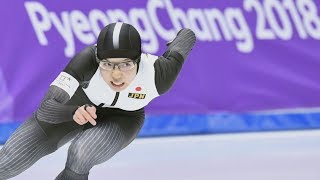 Nao Kodaira won the women's 500-meter speedskating event in the Pyeongchang Olympics on Sunday, becoming the first Japanese woman to win gold in the sport.
(Jiji)
Feb 19
An officer with the Osaka Prefectural Police shot and wounded a 25-year-old man in Miyakojima Ward on Sunday after he refused to drop a knife he was wielding, reports NHK
(tokyoreporter.com)
Feb 18
Tokyo Metropolitan Police have arrested a 26-year-old man for allegedly molesting a teenage girl on a street in Chuo Ward last year, reports Nikkan Sports
(tokyoreporter.com)
Feb 16
Tokyo Metropolitan Police have arrested four persons, including an organized crime member, over the alleged smuggling of more than 100 kilograms of marijuana inside wooden doors, reports NHK.
(tokyoreporter.com)
Feb 15
The education ministry released a draft Wednesday of revised curriculum guidelines for high schools, including the introduction of comprehensive history and public affairs as new compulsory subjects.
(Japan Times)
Feb 15
Officials with East Japan Railway Company say a metal part that went missing from a Shinkansen bullet train has been found. They say the problem did not disrupt services or cause any injuries.
(NHK)
---