A dashboard camera mounted inside a taxi in Sapporo captured footage of a passenger attacking the driver on Monday, reports TV Asahi
At around 11:00 p.m., the man began kicking the back of the driver's seat after he entered the cab in the Susukino nightlife quarter of Chuo Ward. One kick shattered the plastic panel separating the driver from the back seat.
When the driver halted the cab, the man began kicking the door. After it opened, he exited without paying the fare of 990 yen. As he fled, he threw his smartphone at the taxi.
"I was shocked," the driver said. "There's nothing that can be done [when a passenger] gets violent, such as by kicking."
According to the company that owns the taxi, the damage to the cab amounted to 140,000 yen. The company plans to lodge a complaint with Hokkaido Prefectural Police on Wednesday.
タクシーの車内で暴れる男の一部始終をドライブレコーダーが捉えていました。 タクシーの車内で怒鳴り、運転席を激しく蹴る男。男は6日夜、札幌市すすきのからタクシーに乗り込み、目的地までの行き方が違うと車内で暴れ出しました。
Jun 21
Police have arrested a teen suspected of involvement in a knife attack Tuesday on a 9-year-old boy -- causing serious head trauma -- who was returning home from school in Shizuoka Prefecture, local authorities said Wednesday.
(Japan Times)
Jun 20
Yuya Osako exacted sweet revenge for Japan on Tuesday as the Blue Samurai beat Colombia 2-1, becoming the first Asian side ever to beat a South American team at the World Cup.
(jacarandafm.com)
Jun 20
Japanese soccer fans have been celebrating their national squad's 2-1 win over Colombia in its first group match in the World Cup finals.
(NHK)
Jun 20
The head of a veterinary school operator at the center of a political scandal in Japan denies he ever had a meeting with Prime Minister Shinzo Abe to discuss a school project.
(NHK)
Jun 20
The House of Representatives passed a bill to introduce up to three casino-featuring integrated resorts in Japan at a plenary meeting Tuesday.
(Jiji)
Jun 20
The Japanese operator of a popular app that matches buyers and sellers of used goods has gone public.
(NHK)
Jun 19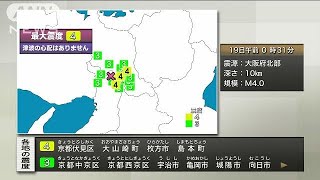 More than 20 tremors believed to be aftershocks of Monday's major earthquake have rattled the western Japanese prefecture of Osaka.
(NHK)
Jun 19
Police in Kitakyushu said Monday they have arrested a 27-year-old man on suspicion of fatally abusing his 4-year-son after he locked the boy inside a storage cabinet beneath a TV stand at their house.
(Japan Today)
Jun 19
The earthquake that struck western Japan on Monday morning battered the region's infrastructure, revealing the fragility of utility lifelines and transportation networks in one of the country's most densely populated areas.
(Nikkei)
Jun 18
A basketball referee was punched in the face by a high school player during a game in the western Japanese prefecture of Nagasaki on Sunday.
(NHK)
---