A 65-year-old man is believed to have killed himself with a hunting rifle Wednesday after first shooting his pet dog dead at his home in southwestern Japan, in a case in which police initially feared he had holed himself up and was a potential danger to other people.
The man shot himself in the head shortly after killing his dog at the apartment in Kitakyushu, Fukuoka Prefecture, early in the morning, when two gunshots were heard in quick succession.
The prefectural police, who initially treated the shooting around 6:10 a.m. as a case of an armed suspect holing himself up, deployed some 200 police officers around the building before finally entering it at 1:40 p.m. after the man had not responded to any calls to his home and mobile phone.
They found his body on the bed in the bedroom.
The police said there were no hostages involved in the incident and no other people were injured.
After hearing a gunshot, the man's wife found her husband holding the rifle and the dog lying dead on the floor of their apartment. She immediately fled to a neighbor's apartment, and the neighbor called the police.
The wife was quoted by investigators as saying her husband was working at a real estate company after serving as a Self-Defense Forces member and had been distressed due to work-related concerns.
The nine-story apartment is located about 500 meters south of JR Jinnoharu Station. After receiving the initial report, the police advised residents within 150 meters of the apartment to evacuate to such places as a school gymnasium, while police and media helicopters circled above the building.
8日午前6時10分ごろ、北九州市八幡西区穴生4丁目のマンション7階の部屋で、住人の男(65)が猟銃で飼い犬を撃ったと110番があった。約7時間半後に福岡県警の捜査員が部屋に踏み込み、寝室のベッド上で頭から血を流し死亡している男を見つけた。県警は、犬を射殺した直後、猟銃で頭を撃って自殺したとみている。県警によると、リビングにいた60代の妻は発砲直後に逃げ出し、別の階に住む女性を通じて通報。「夫は元自衛官。不動産関係の会社に勤めていたが、仕事で悩んでいた」と説明しており、男が精神的に不安定となり、突発的に撃ったとみられる。
Jun 21
Police have arrested a teen suspected of involvement in a knife attack Tuesday on a 9-year-old boy -- causing serious head trauma -- who was returning home from school in Shizuoka Prefecture, local authorities said Wednesday.
(Japan Times)
Jun 20
Yuya Osako exacted sweet revenge for Japan on Tuesday as the Blue Samurai beat Colombia 2-1, becoming the first Asian side ever to beat a South American team at the World Cup.
(jacarandafm.com)
Jun 20
Japanese soccer fans have been celebrating their national squad's 2-1 win over Colombia in its first group match in the World Cup finals.
(NHK)
Jun 20
The head of a veterinary school operator at the center of a political scandal in Japan denies he ever had a meeting with Prime Minister Shinzo Abe to discuss a school project.
(NHK)
Jun 20
The House of Representatives passed a bill to introduce up to three casino-featuring integrated resorts in Japan at a plenary meeting Tuesday.
(Jiji)
Jun 20
The Japanese operator of a popular app that matches buyers and sellers of used goods has gone public.
(NHK)
Jun 19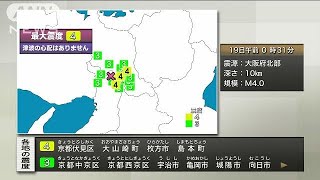 More than 20 tremors believed to be aftershocks of Monday's major earthquake have rattled the western Japanese prefecture of Osaka.
(NHK)
Jun 19
Police in Kitakyushu said Monday they have arrested a 27-year-old man on suspicion of fatally abusing his 4-year-son after he locked the boy inside a storage cabinet beneath a TV stand at their house.
(Japan Today)
Jun 19
The earthquake that struck western Japan on Monday morning battered the region's infrastructure, revealing the fragility of utility lifelines and transportation networks in one of the country's most densely populated areas.
(Nikkei)
Jun 18
A basketball referee was punched in the face by a high school player during a game in the western Japanese prefecture of Nagasaki on Sunday.
(NHK)
---