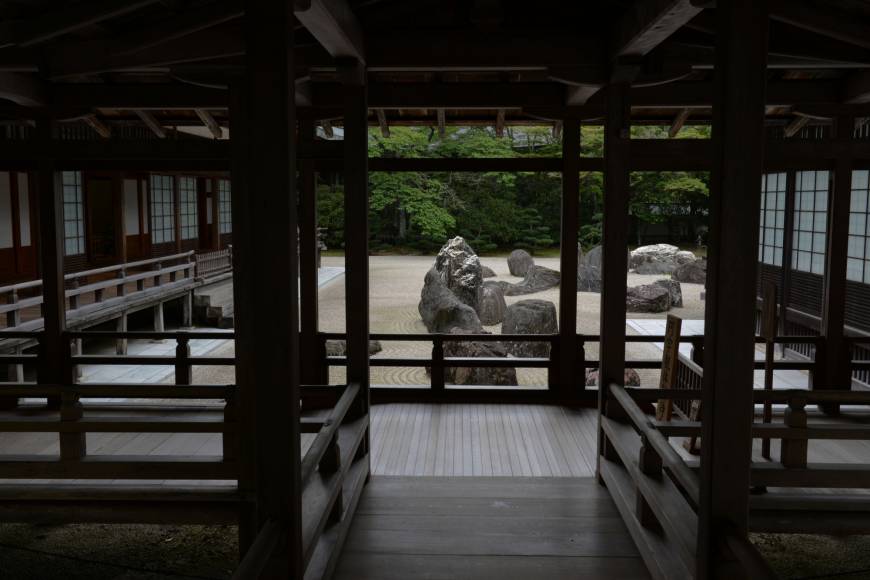 Even with its convenience stores, souvenir outlets, tour buses and boutique coffee shops, Mount Koya might be modestly alluded to as a Japanese Lhasa. There is no living being, of course, who embodies the doctrines of a religious order such as the Dalai Lama, but in the person of the saintly priest Kukai, who founded the temple complex in 816 as the center of the Tantric Buddhist sect known as Shingon Mikkyo, the mountain top finds an ecclesiastical figure of compelling and charismatic force.
A remarkable man --- a gifted calligrapher and scholar --- it's not difficult imagining Kukai as a mendicant monk, wandering through this mist filled mesa. In contrast to today's pilgrim, decked out in crisply laundered and ironed apparel, all effort circumvented or accelerated by modern amenities such as buses, Kukai's robes would likely have been saturated with damp and filth after months of walking through these forests, co-existing with leeches, snakes, monkeys and wild boar. The Buddha may have befriended animals, turning them into fellow travelers, but common pilgrims would have faced the animosities of the natural world without the benefit of divine protection or wizardry.
The notion of companionship on a spiritual journey is a recurring theme, though, on Mount Koya. Many of the white-clad pilgrims who stream through the town in the direction of Okunoin, a cryptomeria forest that is also a massive graveyard, place of worship, and repository for religious reliquaries, have dōgyō ninin (twin-person group) printed on their clothing, the words expressing the conviction that they are not alone, but making a pilgrimage in the company of none other than Kukai himself.
The faithful who come here to bond with the saint believe that he never really died, at least in the spiritually active sense, that he still meditates, sitting cross-legged, in the position his body was placed at death --- in a mausoleum in the deepest recesses of the forest. It's also possible that his body has crumbled into dust, as all mortals do, along with the cerements worn at death.
The transition from the present to the past, daily to sacred life, takes place in graduated stages. The cable car for the ascent to Mount Koya, cut into the side of the mountain to form a moving observation shelf, is a passage from Japan's unruly urban mash to a view of tidy, ceramic-roofed village homes, geometrically precise fields and, as the summit is glimpsed, nature reprised in slopes smothered in old growth forest.
It is just a few steps, passing across a small bridge, the Ichinohashi, into the forest-cemetery of Okunoin. Inhaling shredded wisps of incense at the core of Mount Koya is the acrid perfume of Buddhism itself, which compares our short existence to the burning of incense sticks. Here on the mountain, monks pour powdered incense over hot coals.
Sep 26
Tokyo's Ameyoko Market is the city's street food paradise. There is no debate. The market street runs for 400 meters along the Yamanote Line from Okachimachi to Ueno Station.
(ONLY in JAPAN)
Sep 21
Kansai International Airport in Osaka Prefecture fully reopened on Friday. Severe damage caused by a powerful typhoon earlier this month had forced the closure of most of its operations.
(NHK)
Sep 21
It may be a spring chicken compared to its film festival siblings in Tokyo, Yamagata and elsewhere, but the Kyoto International Film and Art Festival has reached an important milestone: its fifth anniversary.
(Japan Times)
Sep 20
The estimated number of visitors to Japan in August rose 4.1 pct from a year earlier to 2,577,800, marking single-digit growth for the second consecutive month due to recent disasters in the country, the Japan National Tourism Organization said Wednesday.
(Jiji)
Sep 19
Flight operations at Kansai International Airport in Osaka have been restored to about half the normal level, two weeks after a massive typhoon hit the island facility.
(NHK)
Sep 19
The government says the damaged access bridge for Kansai International Airport in Osaka, western Japan, will likely take around 8 months to fully repair.
(NHK)
Sep 19
Narita international airport was hit by a passenger check-in system glitch Tuesday, resulting in flight cancelations and delays, its operator said.
(Japan Today)
Sep 18
At 6 p.m. on one weekday in August an enthusiastic audience had almost filled Gion Corner, a theater of some 200 seats at the center of the Gion traditional entertainment district in the city of Kyoto.
(Japan Times)
Sep 15
Police in Kyoto referred to prosecutors Friday four officials of a hotel management firm for allegedly running an unlicensed private accommodation service, making it the first case of its kind since a private lodging law came into force in June.
(Japan Times)
Sep 15
Tokyo's Tsukiji food market will offer a final tour of its tuna auction site on Saturday, ahead of the market's closure next month.
(Jiji)
---