Police in Sasebo, Nagasaki Prefecture, said Sunday they have arrested a 30-year-old man on suspicion of killing the former manager of an automobile sales and insurance company that had gone out of business.
The suspect, Hideki Satake a part-time worker and resident of Kozasa, Sasebo City, is reportedly an acquaintance of the victim, police said.
According to police, just before 8 p.m. on Friday, Satake allegedly stabbed Ryuji Tomoshige, 66, in the throat and stomach with a deba knife (a specialty knife used for butchering fish) on the premises of the defunct company, Fuji TV reported.
A passerby saw Tomoshige lying on the ground near his car at 8:30 p.m. and called 110. Tomoshige was taken to hospital where he died about two hours later.
Satake is also suspected of fleeing with stolen cash, but left the weapon at the scene of the crime.
Police said Satake has admitted to the charge.
長崎県佐世保市で元経営者の男性が殺害された事件で、男性と面識のある30歳の男が逮捕されました。
Jun 21
Police have arrested a teen suspected of involvement in a knife attack Tuesday on a 9-year-old boy -- causing serious head trauma -- who was returning home from school in Shizuoka Prefecture, local authorities said Wednesday.
(Japan Times)
Jun 20
Yuya Osako exacted sweet revenge for Japan on Tuesday as the Blue Samurai beat Colombia 2-1, becoming the first Asian side ever to beat a South American team at the World Cup.
(jacarandafm.com)
Jun 20
Japanese soccer fans have been celebrating their national squad's 2-1 win over Colombia in its first group match in the World Cup finals.
(NHK)
Jun 20
The head of a veterinary school operator at the center of a political scandal in Japan denies he ever had a meeting with Prime Minister Shinzo Abe to discuss a school project.
(NHK)
Jun 20
The House of Representatives passed a bill to introduce up to three casino-featuring integrated resorts in Japan at a plenary meeting Tuesday.
(Jiji)
Jun 20
The Japanese operator of a popular app that matches buyers and sellers of used goods has gone public.
(NHK)
Jun 19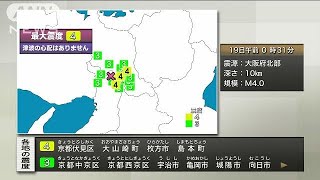 More than 20 tremors believed to be aftershocks of Monday's major earthquake have rattled the western Japanese prefecture of Osaka.
(NHK)
Jun 19
Police in Kitakyushu said Monday they have arrested a 27-year-old man on suspicion of fatally abusing his 4-year-son after he locked the boy inside a storage cabinet beneath a TV stand at their house.
(Japan Today)
Jun 19
The earthquake that struck western Japan on Monday morning battered the region's infrastructure, revealing the fragility of utility lifelines and transportation networks in one of the country's most densely populated areas.
(Nikkei)
Jun 18
A basketball referee was punched in the face by a high school player during a game in the western Japanese prefecture of Nagasaki on Sunday.
(NHK)
---