Japanese regional carrier Air Do becomes the latest airline struck by the global shortage of pilots, saying Thursday it has canceled 26 flights scheduled for February after already grounding 34 trips this month.
The new cancellations cover Feb. 1-7 flights between Tokyo's Haneda Airport and New Chitose Airport near Sapporo, affecting some 600 passengers who held reservations.
The Hokkaido-based airline suffered a wave of retirements in August and October by pilots capable of operating small aircraft. Air Do has increased hiring as well as training of co-pilots for promotion to captain. But the lengthy training time prompted the carrier to cancel the February flights, run with code-share partner All Nippon Airways, part of ANA Holdings.
Air Do plans no further cancellations in its fiscal second half beyond these two sets, a spokesperson said.
Japan's commercial aviation industry fears a serious shortage may hit around 2030, when a generation of pilots in the country is expected to retire en masse.
The global airline industry will need 980,000 pilots in 2030, more than double the 2010 level, the International Civil Aviation Organization estimates. Meeting this number will require the training of at least 50,000 pilots yearly. An annual shortfall of more than 8,000 is anticipated.
Jul 23
Sweltering heat continues to shroud most of Japan. Temperatures reached nearly 40 degrees Celsius in some places on Sunday.
(NHK)
Jul 22
Several beaches ravaged by the 2011 earthquake and tsunami in northeastern Japan have been reopened for bathing for the first time in 8 years.
(NHK)
Jul 21
Severe tropical storm Ampil is moving toward Japan's southwestern island of Okinawa, bringing strong winds and high waves.
(NHK)
Jul 21
New VR Zone attraction lets you take on Godzilla in an attack chopper…
(soranews24.com)
Jul 20
Temperatures in Kyoto rose as high as 39.8 degrees Celsius on Thursday, tying the city's record high logged on Aug. 8, 1994, the Japan Meteorological Agency said.
(Jiji)
Jul 19
The number of foreign tourists who visited Japan in the first half of this year hit a record high for the period.
(NHK)
Jul 19
Japanese temples are offering their facilities as tourist accommodation, an initiative aimed at wooing foreigners to rural Japan.
(Nikkei)
Jul 19
The Legoland Japan theme park in the central Japanese city of Nagoya will lower its admission fee for children, its operator said Wednesday, following complaints about high ticket prices.
(Kyodo)
Jul 18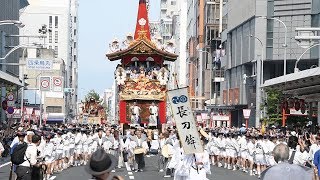 In Japan's ancient capital Kyoto, spectators braved sweltering heat to watch a series of colorfully decorated floats at the annual Gion festival on Tuesday.
(NHK)
Jul 17
Each year, a pair of the Aomori Prefecture town's fields are used to create amazing rice paddy art (or "tambo art," as it's called in Japanese).
(soranews24.com)
---