Japanese regional carrier Air Do becomes the latest airline struck by the global shortage of pilots, saying Thursday it has canceled 26 flights scheduled for February after already grounding 34 trips this month.
The new cancellations cover Feb. 1-7 flights between Tokyo's Haneda Airport and New Chitose Airport near Sapporo, affecting some 600 passengers who held reservations.
The Hokkaido-based airline suffered a wave of retirements in August and October by pilots capable of operating small aircraft. Air Do has increased hiring as well as training of co-pilots for promotion to captain. But the lengthy training time prompted the carrier to cancel the February flights, run with code-share partner All Nippon Airways, part of ANA Holdings.
Air Do plans no further cancellations in its fiscal second half beyond these two sets, a spokesperson said.
Japan's commercial aviation industry fears a serious shortage may hit around 2030, when a generation of pilots in the country is expected to retire en masse.
The global airline industry will need 980,000 pilots in 2030, more than double the 2010 level, the International Civil Aviation Organization estimates. Meeting this number will require the training of at least 50,000 pilots yearly. An annual shortfall of more than 8,000 is anticipated.
Dec 07
Narita International Airport near Tokyo is looking to ease congestion at one of its terminals.
(NHK)
Dec 03
Inui Street in the Imperial Palace in central Tokyo was opened to the public on Saturday, in time for the autumn foliage season.
(Jiji)
Dec 01
Local restaurants, souvenir shops and even some temples and shrines are hoping to cater to foreign guests with an international custom yet to be adopted in Japan: letting customers pay their bills with credit cards instead of cash.
(Japan Today)
Nov 29
The latest edition of the Michelin guide for Tokyo is due out on Friday with 82 new restaurants, including five new two-star establishments and 23 entities garnering single stars, Michelin said on Tuesday.
(Japan Times)
Nov 28
From a television commercial that gives a humorous twist to a theme park's impending closure to hotels staffed by robots, tactics to capitalize on company outings, and ads featuring Japanese pop idols and actors — theme parks in Japan are squeezing their creative juices to attract more first-time visitors and repeaters through avant-garde ways.
(Japan Times)
Nov 27
A new Tokyo Bay amphibious bus tour was launched Monday to service the expected influx of foreign tourists drawn to the city ahead of the 2020 Tokyo Olympics and Paralympics.
(Kyodo)
Nov 26
Railway fans have gathered in western Japan to see a steam locomotive get chugging again for the first time in 44 years.
(NHK)
Nov 25
Japan appeals to different people for different reasons. Some visit for the history or the food. Many stay for the martial arts, while others keep coming back for a dose of manga, anime and video-game culture. Still others come to enjoy the land — the huge span of scenery from the north of Hokkaido to Okinawa in the southwest, and the sharp changes such places undergo with the revolutions of season.
(Japan Times)
Nov 19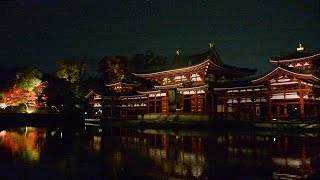 The Phoenix Hall of Byodoin temple, a UNESCO World Heritage site in Uji, Kyoto Prefecture, glows at night during a trial illumination on Friday.
(the-japan-news.com)
Nov 17
Osaka Governor Ichiro Matsui sought support for the western Japan prefecture's bid to host the 2025 World Exposition at a general meeting of the Bureau International des Expositions in Paris on Wednesday.
(Jiji)
---