In professional sumo, Yokozuna Grand Champion Hakuho has clinched his 40th tournament victory in the year's last tournament in Fukuoka.
The Mongolian champion finished the 13th day of the tournament on Friday, with 12 wins and one loss, followed by Hokutofuji and Okinoumi, with 11 wins and 2 losses a piece.
Both Hokutofuji and Okinoumi lost on the 14th day on Saturday, allowing Hakuho to secure his 40th title by forcing out his opponent Endo in the last bout, one day before the final day.
Hakuho further extended the career championship record he currently holds.
The Grand Champion said he had a good feeling of tension before the bout, and that he is relieved to have achieved his 40th title, which he had in mind before the tournament started.
Jul 23
The organizing committee of the 2020 Tokyo Olympics and Paralympics has unveiled the names of the mascots for the Games.
(NHK)
Jul 22
In sumo, Mitakeumi beat Tochiozan on the 14th day of the Nagoya tournament on Saturday to win his first title with 13 wins and one loss, ahead of the final day.
(NHK)
Jul 21
Tokyo Olympic organizers on Friday unveiled ticket prices for the 2020 Games ranging from 2,020 yen up to 300,000 yen, largely in line with prices at the London Olympics in 2012.
(Japan Today)
Jul 20
The Japan Swimming Federation conceded defeat on Thursday in its effort to have the Tokyo 2020 Olympics swimming finals aired domestically in the evening.
(Japan Today)
Jul 19
The schedule for the Tokyo Olympics has been broadly determined. Starting times of the marathon and other races along roads were moved forward in view of the hot summer weather.
(NHK)
Jul 19
The main stadium for the 2020 Tokyo Olympics and Paralympics, now under construction, has been shown to media 2 years ahead of the games' opening.
(NHK)
Jul 19
The International Olympic Committee and organizing committee for the Tokyo Games failed to agree on what time the swimming finals will be held.
(NHK)
Jul 18
The Tokyo Metropolitan Government invited the media to observe the construction sites for the 2020 Olympics and Paralympics venues on Tuesday, 2 years ahead of the games' opening.
(NHK)
Jul 18
Yomiuri Giants owner Shoichi Oikawa has resigned to take responsibility for a series of scandals involving players at the Japanese professional baseball team, the Giants said Tuesday.
(Jiji)
Jul 13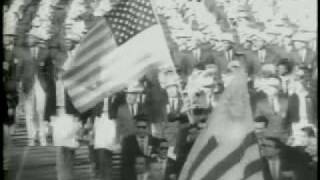 The torch relay for the 2020 Tokyo Olympics will start in Fukushima Prefecture, northeastern Japan, on March 26 of that year, the organizing committee of the games announced on Thursday.
(Jiji)
---