Local restaurants, souvenir shops and even some temples and shrines are hoping to cater to foreign guests with an international custom yet to be adopted in Japan: letting customers pay their bills with credit cards instead of cash.
As the country braces for a further tourism boom in the run-up to the 2020 Tokyo Olympics and Paralympics, major credit card companies are providing local businesses with portable devices so foreign customers can pay at the table -- a practice customary in their home countries.
In mid-September, a customer from Sweden seated at the bar at Rigoletto, a restaurant serving southern European cuisine in Tokyo's busy Shibuya district, swiped his card at his table. He said the convenience reminded him of being back home.
The format, in which customers simply enter their PIN numbers for verification into portable devices after a waiter presents the bill on a tablet, was introduced at the restaurant in April.
"More cards are being used, and these terminals are convenient for foreign guests who are used to paying at their table," said a restaurant employee.
Card company Mitsubishi UFJ Nicos Co launched the system at affiliated stores nationwide in November last year. Simply by downloading the app, customers can exchange data wirelessly with the portable device.
A company official who works in systems development said there has been a high demand for a payment method "which can be used anywhere inside shops," particularly among restaurants.
The Japanese government is aiming to see the rate of cashless payments via credit cards and other means double in the next 10 years to about 40 percent within the country.
Mar 25
Springtime cherry blossoms are drawing crowds of sightseers to the Imperial Palace in central Tokyo.
(NHK)
Mar 25
Local residents and tourists are visiting Kumamoto Castle in southwestern Japan to view cherry blossoms in a picturesque setting.
(NHK)
Mar 24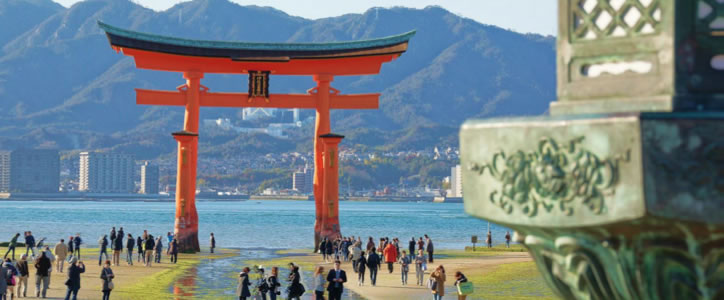 In 2017, Japan attracted a record number of foreign tourists – 28.69 million people which is 19.3% more than in the previous year. Being one of the most beautiful countries in the world, Japan is often listed on people's must-go-to places.
(newsonjapan.com)
Mar 24
Tokyo Customs and the conservation group WWF Japan launched a campaign Friday to warn foreign visitors about traveling with souvenirs made from ivory, notifying them that it is illegal to depart with such products.
(Japan Today)
Mar 23
Railway fans have flocked to Kyoto for a debut of new train cars that will take tourists to the ancient Enryaku-ji Temple in Mount Hiei.
(NHK)
Mar 23
The Legoland Japan Hotel and Sea Life Nagoya aquarium built next to the Legoland theme park in Nagoya.
(Japan Today)
Mar 22
After months of cold weather, which brought the heaviest snowfall in four years to Tokyo back in January, the days finally began warming up in the capital last week, with sunny skies and temperatures reaching highs of 22 degrees Celsius (71.6 degrees Fahrenheit).
(soranews24.com)
Mar 22
Many foreign tourists to Japan often wonder why public transportation, especially in areas of Tokyo renowned for their nightlife, is so limited after the last trains of the night.
(Kyodo)
Mar 21
Japan saw an estimated 2,509,300 visitors from overseas in February, up 23.3 pct from a year earlier, the Japan National Tourism Organization said Tuesday.
(Jiji)
Mar 20
A Somei-Yoshino cherry tree being monitored in Kochi reached full bloom on Monday, the Metrological Agency said.
(Japan Times)
---