While it's become common knowledge that many Japanese talent agencies prohibit idol singers from dating, there are similar rules in place at some Japanese high schools.
The logic is that teens should be focusing on their studies and wholesome extra-curricular activities, as opposed to squandering their precious youth trying to get a date (when exactly they are supposed to become interested in romantic companionship is a question anti-dating schools quietly sidestep in its entirety).
Tochigi Prefecture's Ashikaga High School isn't so strict as to have a blanket ban on dating, but its boys volleyball team, a regular competitor at national championship tournaments, does set internal limits on its members' love lives. Players aren't allowed to date anyone else involved with the volleyball program, such as the equipment managers, who in Japan are usually female students, so as to prevent jealousy and animosity from breeding among teammates.
However, young love isn't always so easily contained, and one boy on the team, a 17-year-old second-year student, began dating a first-year female student equipment manager. Their tryst was discovered, though, and it's now come to light that on June 29, the 66-year-old coach confronted the boy about violating the team's internal rule. After telling the boy to kneel on the floor in the traditional Japanese style, he began to berate the teen for his actions, kicking him in the chest repeatedly and striking him on the back when he toppled over, angrily declaring "This is corporal punishment."
Ashikaga High School principal Shigekazu Matsushita relayed all this at a press conference held on November 30. In addition to the above incident, the boy was assaulted multiple times by his teammates both in the dormitory in which he lived and in the school gymnasium.
Sadly, real life doesn't always operate like a feel-good youth sports movie, and despite the deplorable actions of the coach and players involved in the attacks, it's been another successful year for Ashikaga's volleyball team, which once again earned entry to the national high school tournament, scheduled to take place between January 4 and 8. Matsushita announced that the coach will not be travelling with the team to the venue, Tokyo's Metropolitan Gymnasium.
Startlingly, the coach will not be fired for the incident, though the school says he regrets his actions. Instead, he'll be allowed to serve out his current contract until its end at the conclusion of the school year in spring (the school has said his contract will not be renewed). Matsushita also said that the attacks on the boy by his teammates "are not recognized as incidents of bullying" by the school, one of the more reprehensible denials of bullying in recent memory.
Mar 25
Springtime cherry blossoms are drawing crowds of sightseers to the Imperial Palace in central Tokyo.
(NHK)
Mar 25
Two tires of a plane operated by low-cost carrier Peach Aviation Ltd went flat after landing at a southwestern Japanese airport Saturday morning, stranding the aircraft and causing the runway to be closed for over two hours.
(Japan Today)
Mar 25
Japan's High Energy Accelerator Research Organization, or KEK, has put into full operation the SuperKEKB accelerator in search of new physics to solve riddles left by a key theory on elementary particles.
(Jiji)
Mar 25
In Sumo, Yokozuna Grand Champion Kakuryu has won his 4th Emperor's Cup with one day left in the spring tournament.
(NHK)
Mar 25
An 88-year-old woman working as a visiting researcher at a university in Kyoto was conferred a doctorate on Saturday, making her the oldest person to earn such a degree, according to the institution.
(Japan Today)
Mar 25
Local residents and tourists are visiting Kumamoto Castle in southwestern Japan to view cherry blossoms in a picturesque setting.
(NHK)
Mar 24
A host of tourists and work trainees in Japan sought refugee status in Japan last year, fueling a jump in applications.
(Nikkei)
Mar 24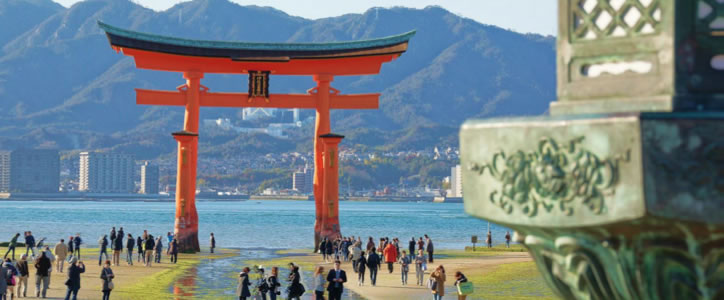 In 2017, Japan attracted a record number of foreign tourists – 28.69 million people which is 19.3% more than in the previous year. Being one of the most beautiful countries in the world, Japan is often listed on people's must-go-to places.
(newsonjapan.com)
Mar 24
Tokyo Metropolitan Police have arrested a 20-year-old man for allegedly assaulting a high school girl in an attempt to steal her underwear in Kita Ward, reports the Sankei Shimbun
(tokyoreporter.com)
Mar 24
The US military has shown to the media for the first time F-35B fighter jets deployed in Japan.
(NHK)
---