Tokyo Metropolitan Police have arrested five men for allegedly confining a male acquaintance inside a vehicle before stealing his possessions, including more than 2 million yen, reports the Sankei Shimbun
On August 31 at around midnight, Tsutomu Nishitani, 40, and his four associates allegedly forced the 26-year-old victim into a car at a parking lot in Nerima Ward. They then held him captive for about three hours and 30 minutes inside the vehicle as they assaulted him.
After taking the victim's house key, they visited his residence and stole his car, a set of golf clubs and some 2.2 million yen in cash.
Nishitani, who has been accused of confinement and robbery resulting in bodily injury, has remained silent regarding the charges while his associates are denying them, the Shakujii Police Station said.
Nishitani and his associates, one of whom is acquainted with the victim, surfaced as suspects after police investigated the victim's vehicle, which was found in the capital days after the incident.
東京・練馬区で男性を車で連れ回して暴行し、現金200万円以上を奪い取ったとして男ら5人が逮捕されました。 西谷勉容疑者(40)ら男5人はおととし8月、練馬区で当時26歳の男性を車で無理やり連れ回して暴行し、現金約220万円などを奪い取った疑いが持たれています。
Feb 21
Seven South Korean women attempted to smuggle gold into Japan late last month by concealing it in their rectums, officials from Aichi Prefecture's Chubu Airport said Tuesday.
(Japan Times)
Feb 21
The Japanese government says Emperor Akihito's abdication ceremony will be held next year on April 30th, the day he steps down, as a state event.
(NHK)
Feb 21
In a ruling handed down Tuesday on a high-profile surrogacy case involving a 28-year-old Japanese man, a Thai juvenile and family court accepted his claim for custody of 13 children whom he had through surrogacy in the Southeast Asian country.
(Jiji)
Feb 21
The Japanese government has decided to hold next year's Group of 20 Summit meeting in the western prefecture of Osaka. It will be the first time Japan has hosted the summit.
(NHK)
Feb 21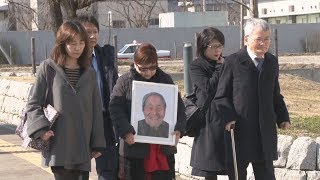 A Japanese court has ordered Tokyo Electric Power Company to pay about 142,000 dollars in damages to the family of an elderly man who killed himself amid an evacuation order during the 2011 Fukushima nuclear crisis.
(NHK)
Feb 21
Gangsters seeking to leave organized crime groups --- but who are in dire financial straits --- could soon get free accommodation and help with transportation costs in Fukuoka Prefecture under a unique program aimed at promoting integration back into society and in turn weakening the underworld syndicates.
(Japan Times)
Feb 21
A total of 213 firms and organizations in Japan were found to have mistreated technical trainees from abroad in 2017, down 10.9 percent from the previous year and falling for the second straight year, the Justice Ministry has said.
(Japan Times)
Feb 21
Tokyo Disney Resort operator Oriental Land will roll out a smartphone app in fiscal 2018 to relieve crowding issues that have frustrated guests at the popular theme park.
(Nikkei)
Feb 21
Japan's land ministry plans to remove utility poles and bury overhead cables along 1,400 kilometers of roads over the next 3 years.
(NHKん)
Feb 21
Tokyo Metropolitan Police have arrested employees at an antiquarian bookstore in Chiyoda Ward over the alleged possession child pornography, a case that is a nationwide first, reports TV Asahi
(tokyoreporter.com)
---