NTT Docomo on Monday announced its Japan Welcome SIM TM series will introduce Plan 0 to allow overseas visitors in Japan to access the Internet for free via the Docomo mobile network, from Tuesday. The free service will initially be available in Hokkaido and Niigata prefectures, after which other areas will be added sequentially.
Along with the addition of Plan 0, Japan Welcome SIM's Plan 1000 and Plan 1700 will be renamed as Plan S and Plan M respectively, and a Plan L will be newly added for large-volume users of high-speed data communications. These changes will also apply from Tuesday.
Docomo has launched various fee-based plans for Japan Welcome SIM since July, but Plan 0 is the first free plan in the series. Customers can qualify for the free service by viewing designated advertisements in their home countries before visiting Japan. Plan 0 is being offered in collaboration with local governments and business partners that are interested in targeting specific foreign visitors through advertisements and by setting various conditions for service usage, such as application periods, SIM pick-up periods, SIM handover locations, total SIMs to be offered, and more.
Japan Welcome SIM is provided as a 3-in-1 SIM card compatible with regular, micro and nano formats. Access to the Docomo network is provided for 15 days under various plans - Plan 0, Plan S, Plan M and Plan L. Plan 0 offers free Internet in exchange for viewing a certain number of video ads and completing a survey prior to arriving in Japan. Ad-free access at 128 Kbps is available for ¥1,080 (Plan S), or high-speed (max. 788 Mbps ) 4G access is available with Plan M (¥1,836 for 600 MB) and Plan L (¥2,376 for 1.2 GB).
Users can continue to enjoy the high-speed service by topping up their SIMs for ¥216 (100 MB), ¥756 (500 MB) or ¥1,296 (1 GB). Alternatively, the SIMs can be topped up with free high-speed data through methods such as watching video ads or completing surveys. Even after purchased high-speed data amounts have been used up, access to the network is still available at 128 Kbps for the remainder of the 15-day period.
Japan Welcome SIM applications are accepted in English, Japanese, Chinese, Korean and Thai at https://docomo.prepaid-sim.jp/lp.
Jun 20
Monday morning's deadly earthquake in Osaka has affected tourism in the region, with travelers at home and overseas canceling bookings in the affected areas.
(Japan Times)
Jun 18
Shinkansen bullet train services in western Japan have resumed following disruption caused by an M6.1 earthquake in the Osaka region.
(NHK)
Jun 18
For a Filipino man visiting Tokyo in May last year, the tour of the capital was supposed to be a fun sightseeing trip.
(Japan Times)
Jun 16
Japan's new law on minpaku (private lodging) businesses took effect Friday, but stringent rules may dampen the entry of homeowners into the market, despite hopes that it could help counter a shortage of accommodation amid a growing number of foreign tourists.
(Japan Times)
Jun 15
The Japanese government said Thursday foreign travelers with unpaid medical bills will be denied entry to the country in the future, with the number of foreign visitors set to surge in the run-up to the Tokyo 2020 Olympics and Paralympics.
(Kyodo)
Jun 15
The number of applications to conduct "minpaku" lodging business under a new Japanese law totaled 2,707 as of a week before the minpaku law goes into effect on Friday, according to Japan Tourism Agency officials.
(Jiji)
Jun 15
A day before a new law on minpaku (private lodging services) takes effect, Airbnb Inc. on Thursday welcomed the change and reinforced its commitment to the Japanese market with fresh initiatives.
(Japan Times)
Jun 12
Xiang Xiang, a giant panda cub at Tokyo's Ueno Zoo, showed off a playful personality in front of the press on Monday, the day before her first birthday.
(Jiji)
Jun 09
Airbnb says it has been obliged by Japanese authorities to cancel thousands of bookings ahead of the introduction of new rules.
(NHK)
Jun 09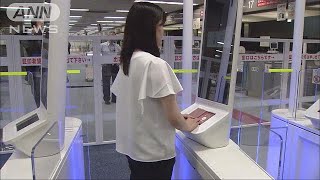 Japan's main international hub, Narita Airport, will start using facial recognition technology at immigration gates to shorten screening time and improve security.
(NHK)
---