Amid stalling inflation and ballooning government spending, the Japanese government is growing more dependent on the Bank of Japan's colossal monetary easing policy engineered by Gov. Haruhiko Kuroda.
The government's nomination of Kuroda to another five-year term Friday signals that his stimulus campaign will continue for the time being.
In addition to Kuroda, Tokyo also chose Waseda University professor Masazumi Wakatabe and BOJ Executive Director Masayoshi Amamiya to take over as deputy governors in March.
The BOJ now controls roughly 40% of all Japanese government bonds -- a share 3.4 times bigger than in December 2012, before it embarked on its qualitative and quantitative monetary easing. From taking over almost half the JGB market to defying convention by introducing negative interest rates, the bank has pursued some of the most drastic policies in its nearly 140-year history under Kuroda.
Macroeconomic conditions have improved significantly since. The Nikkei Stock Average has doubled on better corporate performance. Unemployment has dropped to 2.8% from 4.3%, putting Japan at full employment. Overseas growth has also helped, but monetary easing is undeniably a key driver for the country's second-longest economic recovery since World War II.
Meanwhile, the ruling Liberal Democratic Party and the government have become increasingly reliant on monetary easing. Pledging to bring Japan out of deflation, Prime Minister Shinzo Abe postponed a planned consumption tax hike twice while ramping up government spending. The national debt has grown by roughly 160 trillion yen ($1.5 trillion) in the last five years. Tokyo keeps expanding its budget without tackling reforms for a social security program under pressure from an aging population.
"The government is the biggest beneficiary of the BOJ's ultra-low interest rates," said Naohiko Baba, chief Japan economist at Goldman Sachs. Despite the growing national debt, Japan's interest payments decreased for the second straight year in fiscal 2017. Fiscal discipline has fallen by the wayside, since the government can issue bonds at historic low rates.
Sep 20
A policeman was stabbed to death by a knife-wielding man at a police box in the northeastern Japan city of Sendai early on Wednesday.
(Jiji)
Sep 20
The date of the wedding between Princess Ayako, the youngest daughter of Emperor Akihito's late cousin, and commoner Kei Moriya was officially set for Oct 29 in a traditional ceremony held Wednesday.
(Japan Today)
Sep 20
The estimated number of visitors to Japan in August rose 4.1 pct from a year earlier to 2,577,800, marking single-digit growth for the second consecutive month due to recent disasters in the country, the Japan National Tourism Organization said Wednesday.
(Jiji)
Sep 20
Bank of Japan Governor Haruhiko Kuroda said Wednesday that no change has been made to the central bank's resolve to attain its 2 pct inflation target at an early date.
(Jiji)
Sep 20
The 2020 Tokyo Olympic and Paralympic organizing committee adopted a plan on Tuesday to offer volunteers 1,000 yen per person a day as transportation expenses.
(Jiji)
Sep 19
Flight operations at Kansai International Airport in Osaka have been restored to about half the normal level, two weeks after a massive typhoon hit the island facility.
(NHK)
Sep 19
The government says the damaged access bridge for Kansai International Airport in Osaka, western Japan, will likely take around 8 months to fully repair.
(NHK)
Sep 19
Shinzo Abe is poised to win a third term as head of his political party on Thursday, putting him on track to become Japan's longest-serving prime minister and realize his dream of reforming the constitution.
(Japan Today)
Sep 19
The average land price in Japan as of July 1 increased 0.1 pct from a year before, the first rise since 1991, when the country's asset bubble era was ending, the land ministry said Tuesday.
(Jiji)
Sep 19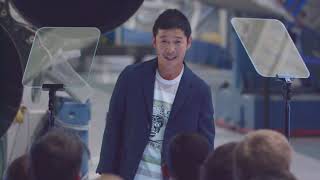 US spaceflight venture SpaceX says Japanese entrepreneur Yusaku Maezawa will become the first private passenger to fly around the Moon on its next-generation rocket.
(NHK)
---