Japan clamped down on hundreds of immigration law violators late last year, including those applying for refugee status to seek employment rather than protection in the country, the Justice Ministry said Tuesday.
Immigration authorities in Tokyo and Nagoya took action against a total of 341 foreign nationals for immigration violations, including overstays, between Nov 6 and Dec 1, according to the ministry.
They included 94 asylum seekers, with 80 of them withdrawing by the end of January their applications or appeals against decisions not recognizing them as refugees.
"Most of the 94 people applied (for refugee status) with the aim of seeking employment," said a ministry official.
From 2010 until mid-January, Japan had been granting work permits to all asylum seekers six months after they filed for refugee status to assist their lives during the screening process, which takes 9.9 months on average.
But in the face of a surge in the number of applicants believed to be seeking jobs, the country stopped offering the blanket work permit and introduced a stricter screening system.
Sep 20
A policeman was stabbed to death by a knife-wielding man at a police box in the northeastern Japan city of Sendai early on Wednesday.
(Jiji)
Sep 20
The date of the wedding between Princess Ayako, the youngest daughter of Emperor Akihito's late cousin, and commoner Kei Moriya was officially set for Oct 29 in a traditional ceremony held Wednesday.
(Japan Today)
Sep 20
The estimated number of visitors to Japan in August rose 4.1 pct from a year earlier to 2,577,800, marking single-digit growth for the second consecutive month due to recent disasters in the country, the Japan National Tourism Organization said Wednesday.
(Jiji)
Sep 20
Bank of Japan Governor Haruhiko Kuroda said Wednesday that no change has been made to the central bank's resolve to attain its 2 pct inflation target at an early date.
(Jiji)
Sep 20
The 2020 Tokyo Olympic and Paralympic organizing committee adopted a plan on Tuesday to offer volunteers 1,000 yen per person a day as transportation expenses.
(Jiji)
Sep 19
Flight operations at Kansai International Airport in Osaka have been restored to about half the normal level, two weeks after a massive typhoon hit the island facility.
(NHK)
Sep 19
The government says the damaged access bridge for Kansai International Airport in Osaka, western Japan, will likely take around 8 months to fully repair.
(NHK)
Sep 19
Shinzo Abe is poised to win a third term as head of his political party on Thursday, putting him on track to become Japan's longest-serving prime minister and realize his dream of reforming the constitution.
(Japan Today)
Sep 19
The average land price in Japan as of July 1 increased 0.1 pct from a year before, the first rise since 1991, when the country's asset bubble era was ending, the land ministry said Tuesday.
(Jiji)
Sep 19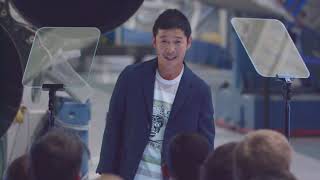 US spaceflight venture SpaceX says Japanese entrepreneur Yusaku Maezawa will become the first private passenger to fly around the Moon on its next-generation rocket.
(NHK)
---