Japan aims to speed space startups toward the final frontier by offering monetary aid from a pool of 100 billion yen ($940 million), as well as creating a human resource hub and weighing a legal path for commercial development on the moon.
The government will offer investments and loans over half a decade starting from fiscal 2018. Japan laid out a space business vision this fiscal year, aiming to double the scale of the sector to about 2.4 trillion yen by the early 2030s.
The country has been investing in more space startups in recent years, including Tokyo's Ispace, which aims to develop lunar resources; the Singapore-based but Japan-linked space debris cleaning company Astroscale; and iQPS, a miniature satellite developer based in the southern city of Fukuoka. But the candidates number less than 20 and have generally received just billions or hundreds of millions of yen, leaving Japan trailing competitors such as the U.S.
Under the initiative to be announced Tuesday, nascent startups will be eligible for aid of up to 10 million yen each to cover costs like research and patent applications. Companies that show promise of bringing products or services to market will be introduced to investors and venture capitalists. Those at the development stage will be able to draw from the 100 billion yen pool offered through bodies including the Development Bank of Japan and the Innovation Network Corp. of Japan, a public-private investment fund.
An agency will be set up to connect startups short on professional talent with seasoned rocket scientists and systems operators from the likes of the Japan Aerospace Exploration Agency and Mitsubishi Heavy Industries.
The government will also consider devising laws and policies to let businesses own plots of land they develop on the moon. Commercial development and land ownership on the moon are not forbidden under the Outer Space Treaty, a United Nations document dating to 1967, but Japanese businesses have had difficulty advancing on that front due to complicated standards. Japan probably will draft laws on the American model.
U.S. government bodies have cultivated some of the country's many space-related startups with subsidies and tax breaks. Rocket company Space Exploration Technologies, better known as SpaceX -- headed by Elon Musk, the entrepreneur behind electric vehicle maker Tesla -- is said to have received subsidies in the hundreds of millions or billions of dollars for development.
Jul 19
Temperatures rose further across Japan excluding northern regions on Wednesday, exceeding 40 degrees Celsius for the first time in five years, the Japan Meteorological Agency said.
(Jiji)
Jul 19
The schedule for the Tokyo Olympics has been broadly determined. Starting times of the marathon and other races along roads were moved forward in view of the hot summer weather.
(NHK)
Jul 19
The head of the International Monetary Fund says economic growth has started slowing in Japan and the euro zone.
(NHK)
Jul 19
The number of foreign tourists who visited Japan in the first half of this year hit a record high for the period.
(NHK)
Jul 19
The International Olympic Committee and organizing committee for the Tokyo Games failed to agree on what time the swimming finals will be held.
(NHK)
Jul 19
Prominent Japanese stage director Keita Asari died of malignant lymphoma in a Tokyo hospital on Friday. He was 85.
(Jiji)
Jul 18
More than a week after torrential rains in western Japan triggered landslides and flooding, over 200 people are dead and 16 are still missing.
(NHK)
Jul 18
A 36-year-old Filipino man arrested last year admitted Tuesday to raping and murdering a female university student in eastern Japan in January 2004.
(Japan Today)
Jul 18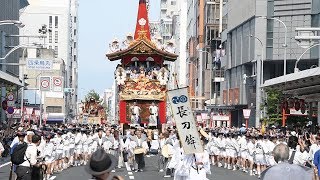 In Japan's ancient capital Kyoto, spectators braved sweltering heat to watch a series of colorfully decorated floats at the annual Gion festival on Tuesday.
(NHK)
Jul 18
Many retailers and consumers in Japan are welcoming the free trade pact with the European Union. They are expecting it to lower prices for a range of gourmet products and provide a boost to the economy.
(NHK)
---