Japan's catch of Pacific flying squid fell to a new all-time low in 2017, sending wholesale prices of the seafood to profit-squeezing highs for companies that process it into popular foods.
Often eaten as surume, a kind of fish jerky, flying squid is one of several kinds of seafood that have become scarce in recent years.
Last year's haul sank 15% to 53,000 tons, according to the JF Zengyoren national federation of fishing cooperatives. The squid catch has fallen by half in just two years. The previous low was plumbed in 2016.
Lighter catches have been blamed on changing sea temperatures, which impedes the spawning and growth of the squid. Critics have also pointed to overfishing by North Korean and Chinese fishing boats.
Wholesale prices of flying squid have climbed as a result. Last year's average price per kilogram came to 564 yen, a roughly 80% increase from two years earlier, according to JF Zengyoren.
Flying squid is often dried to make "surume," a squid jerky. (Photo by Tatsuya Inoue)
At Tokyo's Tsukiji fish market, flying squid fetched around 950 yen during the first week of April. Although that price is about 20% lower than the comparable week last year, it is nearly 10% higher than in 2015 and 2016.
Besides being dried, flying squid is stuffed with rice to make ikameshi, and its innards are fermented into shiokara, a pungent topping for rice.
Rising wholesale prices are hitting squid processors in the wallet. Procurement costs for those companies have doubled in five years, said Hideki Tonami, director of the National Cooperative Association of Squid Processors, calling the business environment "the toughest it has ever been."
Feb 16
Soft drink companies in Japan have put aside their long-held fear of losing market shares, moving to raise prices amid soaring expenses for labor and materials.
(Nikkei)
Feb 16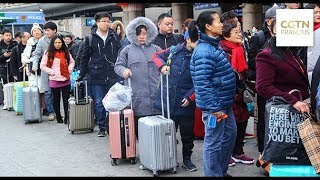 Reservations for travel overseas are surging for this year's 10-day Golden Week period, during which the Imperial succession is set to take place, according to a JTB Corp. official.
(Japan Times)
Feb 16
A fire broke out at a warehouse in Tokyo on Tuesday afternoon leaving three men dead and another man injured, while some flights at nearby Haneda airport were also disrupted by the incident.
(Kyodo)
Feb 15
The Japanese government has mapped out a bill to officially recognize the Ainu ethnic minority as an indigenous people of Japan.
(NHK)
Feb 15
Bullet train ticket machines have stopped working in many parts of Japan.
(NHK)
Feb 15
Tokyo Metropolitan Police have arrested a 58-year-old woman who while nude portrayed an elderly woman on a pay-to-view site, reports TV Asahi (Feb. 14).
(tokyoreporter.com)
Feb 15
Tokyo Metropolitan Police have apprehended a man who is suspected of slashing another man and a woman at a railway station in Bunkyo ward on Thursday, reports NHK (Feb. 14).
(tokyoreporter.com)
Feb 13
Around the world, people use chocolate treats to express sweet nothings on Valentine's Day.
(BBC)
Feb 13
As spring approaches in Japan, the country's weather forecasters face one of their biggest missions of the year: predicting exactly when the famed cherry blossoms will bloom.
(straitstimes.com)
Feb 13
A new outbreak of swine fever has been confirmed on a pig farm in Aichi Prefecture, central Japan. It is the third farm in the prefecture to be hit by the highly contagious disease.
(NHK)
---