Japan will charge a departure tax of 1,000 yen ($9.37) per person beginning next year, with plans to use the anticipated 40 billion yen raised annually to bolster tourism.
Foreigners and Japanese alike leaving the country by air or sea will pay the tax when they buy tickets, much like they do with airport facility fees. Travelers younger than 2 are exempted from the levy, which debuts Jan. 7. The tax bill obtained Diet approval Wednesday at the plenary session of the upper house.
Airlines and travel companies will need to update their booking system to collect the tax. "We are trying to gauge how big of an update," said an official from All Nippon Airways, the flagship airline under ANA Holdings.
Hankyu Travel International, strong in package deals, plans to mark the tax as a separate item from package prices, as it does with airport facility fees.
With tourism-related spending by the government likely to mushroom, many legislators asked for specifics on how the new revenue could be used, citing the costs to secure enough workers for understaffed customs operations as well as spending to set up integrated resorts with casinos.
来年1月から日本を出国する時に1人1000円が徴収されます。 11日の参議院本会議で成立したのは、「国際観光旅客税」、いわゆる「出国税」を導入する法律です。来年1月7日から、日本人、外国人ともに日本から出国する時に1人1000円が航空券代などに上乗せして徴収されます。
Jul 21
Severe tropical storm Ampil is moving toward Japan's southwestern island of Okinawa, bringing strong winds and high waves.
(NHK)
Jul 21
New VR Zone attraction lets you take on Godzilla in an attack chopper…
(soranews24.com)
Jul 20
Temperatures in Kyoto rose as high as 39.8 degrees Celsius on Thursday, tying the city's record high logged on Aug. 8, 1994, the Japan Meteorological Agency said.
(Jiji)
Jul 19
The number of foreign tourists who visited Japan in the first half of this year hit a record high for the period.
(NHK)
Jul 19
Japanese temples are offering their facilities as tourist accommodation, an initiative aimed at wooing foreigners to rural Japan.
(Nikkei)
Jul 19
The Legoland Japan theme park in the central Japanese city of Nagoya will lower its admission fee for children, its operator said Wednesday, following complaints about high ticket prices.
(Kyodo)
Jul 18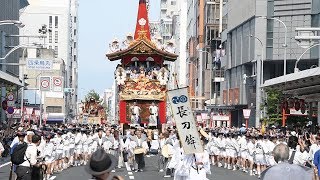 In Japan's ancient capital Kyoto, spectators braved sweltering heat to watch a series of colorfully decorated floats at the annual Gion festival on Tuesday.
(NHK)
Jul 17
Each year, a pair of the Aomori Prefecture town's fields are used to create amazing rice paddy art (or "tambo art," as it's called in Japanese).
(soranews24.com)
Jul 17
Tourist farms in Japan have been attracting hordes of foreign visitors who are placing fruit picking high on their travel itineraries as the global reputation of Japanese fruit grows.
(Japan Today)
Jul 16
The Japanese land ministry plans to revise the standards on barrier-free rooms at hotels to increase the number of guest rooms accessible to wheelchair users ahead of the 2020 Tokyo Olympic and Paralympic Games, informed sources have said.
(Jiji)
---