The whereabouts of a 27-year-old prison escapee remained unknown on Sunday, with a weeklong search involving some 6,600 police officers on a small forested western Japan island failing to nab the convicted thief.
Hiroshima and Ehime prefectural police have been pursuing Tatsuma Hirao on Mukaishima Island in the Seto Inland Sea since his escape on April 8 from a prison in the city of Imabari.
Police searchers have come up empty despite Hirao leaving clues of his whereabouts including fingerprints on cars he has broken into and on trash left over from confectionary and milk products he has consumed.
The unique geographical character of the island, which has a population of around 20,000, has thwarted police, its forest cover and hilly topography has prevented officers from making an effective search, they say.
The search has also been complicated by the 22 square-kilometer island having over 1,000 vacant houses which police cannot enter without permission of their owners, many of whom they are unable to identify.
Without access to the vacant houses, police are forced to investigate only from the outside, a senior police official said.
With seven thefts having occurred in a 2.5 km-wide area of the island between last Monday and Friday, Hirao is believed to be in possession of some cash.
Some police officers have speculated Hirao may be surviving on food found in vacant houses as well as items left as offerings at graves. In addition, there are citrus-fruit trees and unattended orchards that he could access.
Mar 23
A key part of the business model for convenience stores is their round-the-clock service. But a shortage of staffers is prompting some operators to consider shrinking their business hours.
(NHK)
Mar 23
A member of a sister group of the popular all-girl band AKB48 on Friday criticized the outcome of a probe into an assault against her as "lies," as the group's management company revealed the result.
(Japan Today)
Mar 23
The number of foreign residents in Japan had risen 6.6 percent at the end of 2018 from a year earlier, to reach a record high of some 2.73 million, Justice Ministry data showed on Friday.
(Japan Times)
Mar 22
The cherry blossom season officially arrived in Tokyo on Thursday after officials from the Meteorological Agency confirmed that more than five blossoms had opened on a Somei-Yoshino cherry tree at Yasukuni Shrine in Chiyoda Ward.
(Japan Times)
Mar 22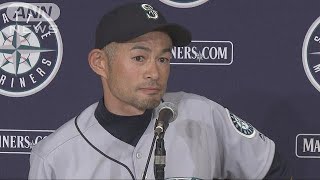 Japanese baseball legend Ichiro Suzuki of the US Major Leagues' Seattle Mariners has announced his retirement.
(NHK)
Mar 21
Cherry trees came into bloom Wednesday in the southwestern prefecture of Nagasaki, the first blooming of the "Somei Yoshino" variety in Japan this spring, according to the Japan Meteorological Agency.
(Japan Today)
Mar 21
Police on Wednesday arrested an American man on suspicion of fatally stabbing his Japanese wife at a court where they were to settle a divorce.
(Japan Today)
Mar 21
The unmanned space probe Hayabusa2 has detected small amounts of minerals containing water on the surface of the asteroid Ryugu, a Japanese research team has said.
(Japan Times)
Mar 21
Police on Thursday arrested a 14-year-old junior high school boy on suspicion of attempted murder after he stabbed a classmate at their school in Saijo, Ehime Prefecture.
(Japan Today)
Mar 20
The head of the Japanese Olympic Committee has announced he will step down when his term expires in June.
(NHK)
---