Osaka has been considered something of a pioneer in LGBT rights in Japan. Back in 2013, Yodogawa Ward was the first government body in the country to officially declare support for LGBT communities. While merely a symbolic gesture at first, it has spread into a larger movement of sensitivity that now includes all wards in Osaka.
Sweeping regulations have been made in efforts to accommodate all lifestyles in municipal affairs such as filling out applications that require gender and training staff to be open to a wider range of needs from all citizens.
Among all these changes, the city had decided to affix a rainbow flag marker and message that LGBT people were welcome to use their Kamutoteki Toilets or "multipurpose restrooms." These are single-person restrooms designed to accommodate men, women, people with babies, people in wheelchairs… pretty much anyone who would need to use a toilet or change a diaper.
Wikipedia
By the beginning of this year, these rainbow signs could be seen on about 240 restrooms in public spaces around Osaka. However on 20 April, Osaka announced that the signs would no longer be used after they had received complaints from LGBT groups.
At first I thought I could see why: although their hearts seemed to be in the right place, there was something weird and tone-deaf about declaring a toilet available to a group of people it had already been available to. It would be like McDonald's starting a campaign with the slogan: "LGBT can eat our Big Macs!"
But it turned out I was wrong. According to city officials, LGBT groups complained that by placing the rainbow marks on certain toilets, members of those communities would feel as if they were being identified as such by their choice of restrooms.
May 20
Japanese Director Hirokazu Kore-eda's "Shoplifters" has won the Palme d'Or at the Cannes Film Festival.
(NHK)
May 19
The Japanese government has presented a plan to add the subject of information to university entrance examinations, in order to test skills such as programming.
(Jiji)
May 19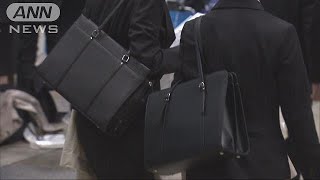 The employment rate for people who graduated from Japanese universities in spring this year came to 98.0 pct as of April 1, the highest since the survey started in 1997, the labor and education ministries said Friday.
(Jiji)
May 18
More than 90 percent of child abuse and sexual crime victims and their families didn't receive compensation from their assailants, nor public financial assistance, largely due to the lack of awareness on the consultation services available, police data showed Thursday.
(Japan Times)
May 15
Kyoto University has removed a number of signs put up by student groups around campus. But new ones protesting the removal were posted soon after.
(NHK)
May 14
Two high school girls died in a plunge from a building in Ashikaga City on Friday in what police are viewing as a double suicide, reports the Sankei Shimbun.
(tokyoreporter.com)
May 11
Japanese Crown Princess Masako has expressed her hope to inherit the Imperial tradition of sericulture from Empress Michiko, sources in the Imperial Household Agency said Thursday.
(Jiji)
May 11
Japan's Kyoto University has opened a large research base in the jungles of the Amazon basin in Brazil.
(Jiji)
May 10
Japan's Finance Ministry has held an in-house seminar on ways to prevent sexual harassment, following the recent resignation of the ministry's top bureaucrat.
(NHK)
---