Tokyo Metropolitan Police on Monday announced the arrest of a 28-year-old man who allegedly stole liquor from a host club in Tokyo to sell via the marketplace app Mercari earlier this year, reports the Sankei Shimbun
On April 12, Kenta Ishizaki, an employee in the construction industry living in Yaizu City, Shizuoka Prefecture, allegedly trespassed into the club, located in the Kabukicho red-light district of Shinjuku Ward, and stole one bottle of brandy (valued at 340,000 yen) and 13 bottles of high-end sake (1.44 million yen).
Ishizaki, who has been accused of theft, admits to the allegations, according to the Shinjuku Police Station.
After the theft, Ishizaki sold the liquor via Mercari. The bottles were shipped to customers from convenience stores and other locations, police said.
Ishizaki became a person of interest after the examination of security camera footage.
Within the jurisdiction of the Shinjuku Police Station, there have been about a dozen similar thefts. Ishizaki is under investigation in those cases, police said.
ホストクラブからブランデーなどを盗んだ疑いで男が逮捕されました。 石崎健太容疑者(28)は先月12日、東京・新宿区歌舞伎町のホストクラブに侵入し、ブランデーなどの高級な酒13本、合わせて144万円相当を盗んだ疑いが持たれています。
May 20
Japanese Director Hirokazu Kore-eda's "Shoplifters" has won the Palme d'Or at the Cannes Film Festival.
(NHK)
May 20
Tokyo Metropolitan Police are hunting for the male perpetrator who slashed a man in Shibuya Ward on Friday night, reports Fuji News Network
(tokyoreporter.com)
May 19
Aichi Prefectural Police have arrested a 22-year-old man over the fatal stabbing of another customer at an internet cafe in Nagoya on Thursday, reports NHK
(tokyoreporter.com)
May 19
Japanese teenage shogi chess sensation Sota Fujii has set a new record. The 15-year-old high school freshman has become the youngest player to achieve the rank of 7th-dan.
(NHK)
May 19
Narita International Airport is set to mark on Sunday the 40th anniversary of launching operations, at a time when airports in Asia are fiercely competing for the status of transport hub in the region.
(Jiji)
May 19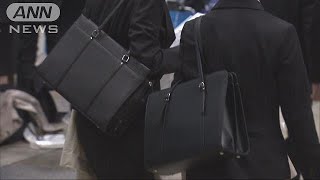 The employment rate for people who graduated from Japanese universities in spring this year came to 98.0 pct as of April 1, the highest since the survey started in 1997, the labor and education ministries said Friday.
(Jiji)
May 19
Torrential rain has hit northeastern Japan. The Meteorological Agency is warning of landslides, overflowing rivers and flooding in the region.
(NHK)
May 18
Kyoto City officials have discovered about 100 bamboo plants in the city's Arashiyama district vandalized.
(NHK)
May 17
The Diet, Japan's parliament, enacted Wednesday a bill requesting political parties and organizations to even out the number of male and female candidates in public offices elections as much as possible.
(Jiji)
May 17
Tokyo Metropolitan Police have arrested a female professional wrestler over the alleged used of stimulant drugs, reports TBS News
(tokyoreporter.com)
---