A 22-year-old woman has been arrested in Adachi Ward in Tokyo on suspicion of fatally stabbing her boyfriend.
According to police, Mitsuko Kiguchi, a resident of Adachi Ward, is suspected of stabbing Naosumi Kasahara, also 22, and a resident of the same ward, in the neck with a knife on the night of May 13 or early on May 14, Fuji TV reported.
Kiguchi is believed to have been in a relationship with Kasahara, and attempted suicide on May 9.
Police said Kiguchi called her older brother on Monday night and told him what she had done, and he then called them. They went to Kasahara's apartment and found him dead on the sofa. Kiguchi was slumped beside him, with one of her wrists slit. She was taken o hospital and is in a stable condition.
Police said Kiguchi has admitted to the charge and quoted her as saying: "I knew what I was doing when I stabbed him." She also said she was dissatisfied with the relationship and that Kasahara had not paid back some money he owed her.
東京・足立区で元交際相手の男性を包丁で刺して殺害したとして、22歳の女が逮捕されました。 会社員の木口光子容疑者は13日から14日にかけ、足立区島根のアパートの一室で部屋に住む笠原直純さん(22)の首を包丁で刺して殺害した疑いが持たれています。
Mar 23
A key part of the business model for convenience stores is their round-the-clock service. But a shortage of staffers is prompting some operators to consider shrinking their business hours.
(NHK)
Mar 23
A member of a sister group of the popular all-girl band AKB48 on Friday criticized the outcome of a probe into an assault against her as "lies," as the group's management company revealed the result.
(Japan Today)
Mar 23
The number of foreign residents in Japan had risen 6.6 percent at the end of 2018 from a year earlier, to reach a record high of some 2.73 million, Justice Ministry data showed on Friday.
(Japan Times)
Mar 22
The cherry blossom season officially arrived in Tokyo on Thursday after officials from the Meteorological Agency confirmed that more than five blossoms had opened on a Somei-Yoshino cherry tree at Yasukuni Shrine in Chiyoda Ward.
(Japan Times)
Mar 22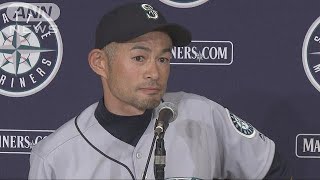 Japanese baseball legend Ichiro Suzuki of the US Major Leagues' Seattle Mariners has announced his retirement.
(NHK)
Mar 21
Cherry trees came into bloom Wednesday in the southwestern prefecture of Nagasaki, the first blooming of the "Somei Yoshino" variety in Japan this spring, according to the Japan Meteorological Agency.
(Japan Today)
Mar 21
Police on Wednesday arrested an American man on suspicion of fatally stabbing his Japanese wife at a court where they were to settle a divorce.
(Japan Today)
Mar 21
The unmanned space probe Hayabusa2 has detected small amounts of minerals containing water on the surface of the asteroid Ryugu, a Japanese research team has said.
(Japan Times)
Mar 21
Police on Thursday arrested a 14-year-old junior high school boy on suspicion of attempted murder after he stabbed a classmate at their school in Saijo, Ehime Prefecture.
(Japan Today)
Mar 20
The head of the Japanese Olympic Committee has announced he will step down when his term expires in June.
(NHK)
---