The world's first cloned cow died of old age Monday, according to the prefectural government of Ishikawa.
The female cow, Noto, was 19 years and 10 months old when she passed away.
Officials announced Tuesday that an autopsy showed she was not suffering from any diseases at the time of her death.
According to the livestock experiment station of the prefecture's agriculture and forestry research center, Noto stopped moving about and began having breathing troubles around May 4.
The cow recovered enough to eat feed by itself after being administered special nutrients. But the animal's condition suddenly worsened Monday afternoon before dying.
Noto was born as a twin in July 1998 in a joint project with Kindai University using somatic cells of an adult cow. The technology used to create Dolly the sheep in Scotland in 1996 was used to create the two cows. Its sibling, Kaga, is alive and being taken care of at the livestock station. The two cows both gave birth to their own calves as well.
Mar 23
A key part of the business model for convenience stores is their round-the-clock service. But a shortage of staffers is prompting some operators to consider shrinking their business hours.
(NHK)
Mar 23
A member of a sister group of the popular all-girl band AKB48 on Friday criticized the outcome of a probe into an assault against her as "lies," as the group's management company revealed the result.
(Japan Today)
Mar 23
The number of foreign residents in Japan had risen 6.6 percent at the end of 2018 from a year earlier, to reach a record high of some 2.73 million, Justice Ministry data showed on Friday.
(Japan Times)
Mar 22
The cherry blossom season officially arrived in Tokyo on Thursday after officials from the Meteorological Agency confirmed that more than five blossoms had opened on a Somei-Yoshino cherry tree at Yasukuni Shrine in Chiyoda Ward.
(Japan Times)
Mar 22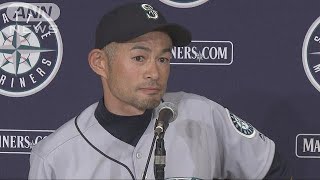 Japanese baseball legend Ichiro Suzuki of the US Major Leagues' Seattle Mariners has announced his retirement.
(NHK)
Mar 21
Cherry trees came into bloom Wednesday in the southwestern prefecture of Nagasaki, the first blooming of the "Somei Yoshino" variety in Japan this spring, according to the Japan Meteorological Agency.
(Japan Today)
Mar 21
Police on Wednesday arrested an American man on suspicion of fatally stabbing his Japanese wife at a court where they were to settle a divorce.
(Japan Today)
Mar 21
The unmanned space probe Hayabusa2 has detected small amounts of minerals containing water on the surface of the asteroid Ryugu, a Japanese research team has said.
(Japan Times)
Mar 21
Police on Thursday arrested a 14-year-old junior high school boy on suspicion of attempted murder after he stabbed a classmate at their school in Saijo, Ehime Prefecture.
(Japan Today)
Mar 20
The head of the Japanese Olympic Committee has announced he will step down when his term expires in June.
(NHK)
---