Japan's Finance Minister Taro Aso says he will forfeit one year's ministerial salary and take responsibility for his ministry's role in document tampering.
The documents in question relate to the controversial sale of state-owned land to school operator Moritomo Gakuen.
Aso said, "Government officials should never falsify administrative documents, or submit those falsified documents to the Diet. It is extremely regrettable such things happened. And the way officials handled records of negotiations was extremely inappropriate. I deeply apologize."
On Monday, the Finance Ministry released the findings of an in-house investigation. It listed 20 senior bureaucrats who will face disciplinary action.
The report concluded the falsifications were effectively ordered by then-chief of the Financial Bureau, Nobuhisa Sagawa. Sagawa repeatedly defended the Moritomo deal last year. He resigned amid the controversy the ministry plans to deduct money from his pension.
A former subordinate of Sagawa will also be given a suspension, in this case it's for one month. The other officials will face a range of disciplinary action including official warnings and salary deductions.
In 2016, the Finance Ministry sold the land to Moritomo Gakuen, for a fraction of the market value.
The Prime Minister's wife, Akie Abe, was set to be the honorary principal of a new school on the land, sparking allegations of favoritism.
Then this year, the Finance Ministry admitted to the document tampering, including the removal of references to Akie Abe and politicians.
森友学園を巡る文書の改ざん問題で4日、財務省は佐川氏の指示による改ざんだったと認めました。一方、麻生財務大臣は、なぜ改ざんされたのかについては分からないと繰り返している。  麻生財務大臣:「決裁を得た行政文書を改ざんし、それを国会等に提出するようなことは、あってはならないこと。
Mar 23
A key part of the business model for convenience stores is their round-the-clock service. But a shortage of staffers is prompting some operators to consider shrinking their business hours.
(NHK)
Mar 23
A member of a sister group of the popular all-girl band AKB48 on Friday criticized the outcome of a probe into an assault against her as "lies," as the group's management company revealed the result.
(Japan Today)
Mar 23
The number of foreign residents in Japan had risen 6.6 percent at the end of 2018 from a year earlier, to reach a record high of some 2.73 million, Justice Ministry data showed on Friday.
(Japan Times)
Mar 22
The cherry blossom season officially arrived in Tokyo on Thursday after officials from the Meteorological Agency confirmed that more than five blossoms had opened on a Somei-Yoshino cherry tree at Yasukuni Shrine in Chiyoda Ward.
(Japan Times)
Mar 22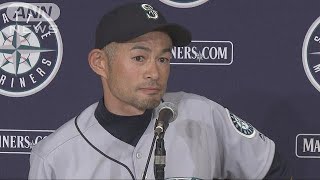 Japanese baseball legend Ichiro Suzuki of the US Major Leagues' Seattle Mariners has announced his retirement.
(NHK)
Mar 21
Cherry trees came into bloom Wednesday in the southwestern prefecture of Nagasaki, the first blooming of the "Somei Yoshino" variety in Japan this spring, according to the Japan Meteorological Agency.
(Japan Today)
Mar 21
Police on Wednesday arrested an American man on suspicion of fatally stabbing his Japanese wife at a court where they were to settle a divorce.
(Japan Today)
Mar 21
The unmanned space probe Hayabusa2 has detected small amounts of minerals containing water on the surface of the asteroid Ryugu, a Japanese research team has said.
(Japan Times)
Mar 21
Police on Thursday arrested a 14-year-old junior high school boy on suspicion of attempted murder after he stabbed a classmate at their school in Saijo, Ehime Prefecture.
(Japan Today)
Mar 20
The head of the Japanese Olympic Committee has announced he will step down when his term expires in June.
(NHK)
---